Kenai Dipnetting Logistics
The Kenai River is a unique dipnetting fishery in that all the amenities of home are available close by. You can spend a morning dipnetting, an afternoon at the movies, and an evening at an Italian restaurant if you like. You can camp out at the beach, but take the kids to a burger joint for lunch. You can bring the RV and stay at a full-service campground, and you can drop your fish off at a processor and pick it up, vac-packed and frozen, on your way home. It's all there.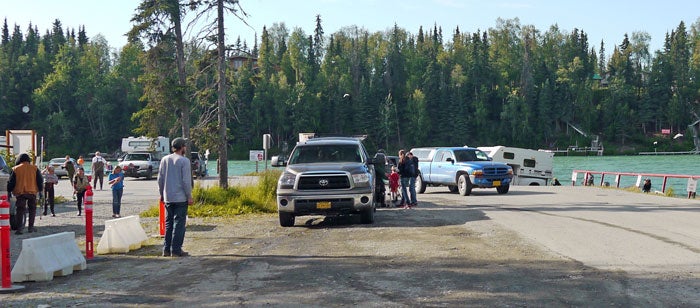 (Courtesy City of Kenai)
Logistics
The lower Kenai River is a three-hour drive from Anchorage (about 160 miles), and nine hours from Fairbanks (515 miles), making this a substantial time investment for some. Many dipnetters from Anchorage come only for one or two tides, but a significant number of them spend several days or even a week or more. For many, it's the big trip of the year, and they spend all year planning it. The lower Kenai has all the amenities of home, so even if you forget something, you'll find it in the area.
Though there are normally ample places to park and camp, it gets really jammed during dipnetting season. Advance planning is essential, or you may end up driving all that way and finding no place to sleep. All campgrounds, parking and boat launches are fee-based. Most places take credit cards, but bring some cash just in case. Some do not take reservations.
Boaters should expect significant delays getting launched and taking out. To get around this, some boaters launch at any of several launches upriver. The upstream boat launches are usually plugged with dipnetters as well, particularly during the prime times of a couple hours before and after high tide. This is when fish usually move into the lower river. Unless you are staying at one of the riverside campgrounds that offers boat dock facilities, you will need to plan on pulling your boat out of the water every day, as there are no public moorings on the river.
Lodging
In terms of lodging, there are many places to stay in the Kenai / Soldotna area, ranging from hotels to cabins, RV parks and campgrounds. Any lodgings besides public campgrounds are going to cost in the neighborhood of $100 / night. Some are substantially more. In a pinch, those with campers could always opt to spend the night in the Fred Meyer parking lot in Soldotna; they have ample parking in the back lot. There is no charge for this service, and you are just a few steps away from your morning coffee when the store opens. If your idea of camping is something other than a few acres of asphalt parking lot, you could opt for any of several public and private campgrounds along the Kenai River. Some of these offer fish cleaning stations, which is a very important consideration for dipnetters. Here is an overview of some of the popular places.
Camping Options
The two most popular public camping areas are on the north and the south beaches, at the river's mouth. These put you directly on the beach, in the heart of the action. If you prefer something less rustic, there are a lot of options in the area. Refer to the following listings for specifics.
Key to Amenities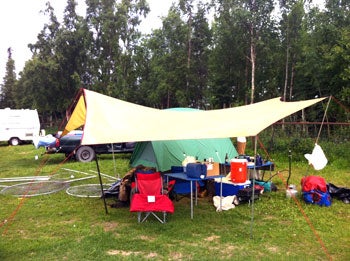 Public Restrooms

Showers
RV Parking
RV Hookups
Cabins

Drinking Water
Camping
Picnic Tables

Hiking Trails

Wheelchair / ADA Access
Boat Rentals

Boat Ramp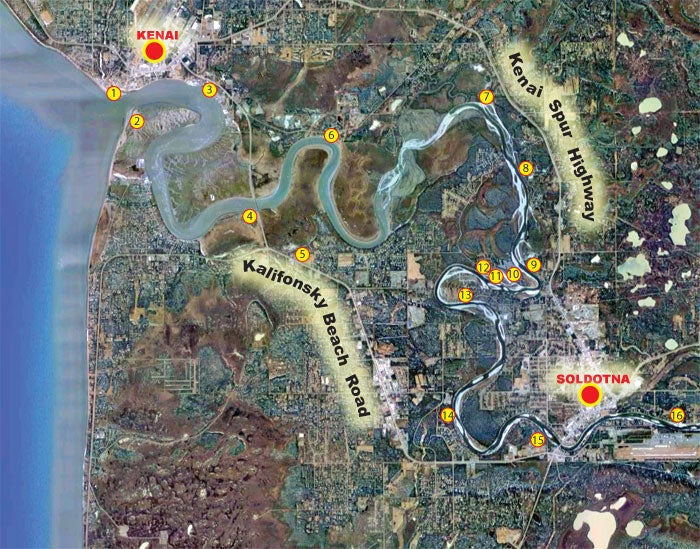 1. North Beach. Camping on the north beach is on a fee basis, and fills up very quickly. Some of the camps are elaborate affairs involving cabin tents, large dome tents, awnings and tarps. Some of these camps remain in place for a week or two during the peak of the season, with friends and family members rotating in and out. That said, camping on any of the beaches in a large tent is not generally recommended, because of wind. Go with a camper shell on a pickup or a low-profile tent and large sand spikes. Security is a concern on the beaches, so do not leave valuables in your tent, unattended.
Amenities:

2. South Beach. The easiest place to camp without having to worry too much about not getting a spot is to camp on the south side beach. But aside from a few portable toilets, there are no amenities there, and you have to drive along the beach for almost a mile and a half from the access road to the camping area. You need a four-wheel-drive vehicle with the proper tires for soft sand. But if you can make it work, south-side camping might be the way to go. The downside of camping on the south side is wind, which can be quite ferocious at times, and it blows right at you off of Cook Inlet. If at all possible, use a low-profile mountaineering tent and sand spikes to anchor it down. Alternatively, if you have a shell or a camper on a truck, you solve the whole issue.
Amenities:

3. Kenai City Docks Boat Ramp. This is the main boat ramp for the lower river. It will be totally jammed during dipnet season. Expect a wait of an hour or two, or even longer. This ramp cannot be used at very low tides. Dipnetting is prohibited in this area, and in the area where the commercial fishing boats are moored (see detailed map below).
Amenities:


4. Warren Ames Bridge. Species: Dolly Varden, rainbow trout.
Amenities:

5. Diamond M Ranch Resort. (private) RV parking, hookups, rest rooms, tent camping, drinking water, showers, laundry, fish cleaning area.
Amenities:



6. Cunningham Park. Limited amenities, no camping.
Amenities:

7. Eagle Rock. Despite information to the contrary, there is no camping at Eagle Rock. Eagle Rock is the closest boat launch to the dipnetting area, with the exception of the Kenai City Docks.
Amenities:


8. The Pillars State Park. MP 4.2 Kenai Spur Highway. Boat launch.
Amenities:

9. Stewart's Landing. (private) Boat ramp, RV parking.
Amenities:

10. Kenai Riverbend Campground. (private) One of the best-equipped facilities on the lower Kenai. Over 300 RV spaces, hookups, dump facilities, cabins, motel rooms, tent camping, laundry, rest rooms, showers, and fuel.
Amenities:




11. River Quest Resort RV Park. Species: (private). Well-equipped facility with RV parking and hookups, fully-furnished cabins, shower and laundry, boat launch and fish cleaning facilities.
Amenities:




12. Ciechanski State Recreation Site. No camping. The facilities here are of little interest to dipnetters; the site was mostly installed to provide rest room facilities to boaters on the Kenai River.
Amenities:

13. Big Eddy State Recreation Site. This site is of little use to dipnetters, however it's a nice quiet place for a picnic lunch.
Amenities:

14. Slikok Creek State Recreation Area. This site is of little use to dipnetters, however it is a great pit stop for boaters on the Kenai River.
Amenities:

15. Centennial Campground. Large campground with room for tents, RV parking, hookups, campers. Includes rest rooms, drinking water, firewood, fire pits, picnic areas, fish cleaning area and boat launch. Very close to downtown Soldotna.
Amenities:




16. Swiftwater Campground. Public, fee-based campground located behind the Fred Meyer on Swiftwater Park Road in Soldotna. No reservations accepted, so it's first come, first served. Get there early! Includes 40 sites for RV or tent camping. No hookups, but a dump station is located near the entrance, and another near the south side of the Fred Meyer parking lot. Also includes picnic tables, fire rings and a boat launch.
Amenities:



---
Caring for Your Catch
Proper care of your fish is a primary concern for dipnetters, and each of the areas on the Kenai River presents its own challenges.
If the ambient temperature is in the mid-60's or above, clean and ice your fish immediately after catching them; the flavor and texture will be incredible.
Handling Your Fish on the Beach Areas
If you're fishing either of the beach areas, caring for your fish is your greatest challenge, especially on warm, sunny days. If you're flying solo, it's even worse. Your best option is to bring a cooler loaded with enough ice to hold your catch, while leaving room for fish. Stash a few more iced coolers in your vehicle, and swap them out as you fill a cooler. If that's not an option, consider filleting a few fish at a time on the beach, then hauling the fillets up to your vehicle where you can get them on ice right away. In no case should you wait more than an hour or two to get your fish iced. If you encounter warm sunny weather, consider covering your fish with a wet burlap bag; it will keep them much cooler, while protecting them from the sun. If you're working with a partner, one of you can net fish while the other bleeds, guts and ices them.
Fish Handling at the Warren Ames Bridge
If you're fishing either side of the Warren Ames bridge, your biggest challenge is dealing with the mud. Especially if you're fishing at low tide. It coats your waders, it bogs you down, and it gets all over your fish. If at all possible work with a partner. When you catch a fish, lift the net out of the water above the mud, and swing it around so your partner can grab it without dragging it through the mud. It's not always possible to do this, especially if the fish is not hung up in the net very well, so you'll have to handle each fish differently. If the fish does get a lot of mud on it, you can stun it and carry it down to the river for a rinse before you clean it.
If you're alone and fishing is good, you will likely keep fishing while fishing is hot. You can get by for an hour or so by bonking and bleeding your fish, placing them up in the tall sedges at the top of the bank; the vegetation will keep the fish shaded and cool, in addition to preventing them from becoming coated with mud. It's a short walk to your vehicle from either of these areas, so filleting your fish and getting them on ice quickly should not be an issue here.
Local Processing Options
Cleaning your fish in river water is not the best idea; the water in the lower Kenai is turbid with glacial silt, and often contaminated with fecal coliform bacteria from the thousands of gulls that congregate in this area to feed on salmon waste left behind by dipnetters. Exposing the flesh of your fish to this water will contaminate it.
If you're staying at a local campground, they may offer a fish cleaning station with clean water. This is your best option. For premium fillets, the fish should go completely through rigor mortis before it is filleted, so you may need to only gut and head your fish before packing them in ice. Refer to our fish cleaning page for details, or give Jon Rowley's article a read. He's a retired commercial fisherman who runs a consulting service advising high-end restaurants on proper care of fish. The article will change the way you take care of your fish. You can find it AT THIS LINK. In short, Mr. Rowley recommends only three steps for cleaning your fish in the field:
Stun the fish
Bleed the fish
Gut the fish
Everything else, the filleting, packing and freezing are done after the fish goes completely through rigor mortis, which can take up to three days. Obviously it needs to be iced properly during this time, and monitored.
The lower Kenai River has several processing facilities, and there's another one toward Soldotna along the Kenai Spur Highway toward Soldotna. These places will fillet your fish, and vacuum pack it and flash freeze it for you, and will hold it until you are ready to head home. This can work very well with groups that plan to fish the river for several days, as it eliminates the need to rush home prematurely, to get the fish in the freezer. Most of these places give you a price break if your fish is already filleted.
Where to Find Ice
Ice can be in short supply during the peak of the dipnetting season on the Kenai. If you plan to fish the second and third week in June, you are better off bringing ice from home. If you forget to bring ice, it's a good idea to make an ice run as soon as you roll into Soldotna or Kenai. Otherwise you run the risk of not finding any locally and having to cut your trip short, just to take care of your fish. Here are some places you can find ice in the area.
Kenai City Docks. The cannery at the docks sometimes sells flaked salted ice by the five-gallon bucketful (bring your own buckets). Expect to pay a little more for this ice than you will pay at local grocery stores. But this ice keeps your fish much colder, and it's the best ice for your fish; in years when the cannery sells ice to dipnetters, it's worth the price.
Gas Stations with Mini Marts. Several gas stations in the area also sell ice, but these places are usually the first to run out.
Supermarkets. There's a large supermarket on the main drag in Kenai, and they usually have an ample supply of ice. This store is usually open until 11pm, so if you come off the river late, you might be in luck. If they're out, you may be able to find ice in Soldotna, ten miles back toward the Seward Highway.
Sporting Goods Stores. There are several sporting goods stores in Soldotna that carry ice.
Pre-Ice Your Coolers. Ice will keep longer if you chill your coolers before you load them with ice at home. The night before your trip, fill each cooler with ice and place them in a cool, shady area. The next day before your departure, drain the ice water out of your coolers and top them off with fresh ice.
Other Activities in the Area
There's a lot to do in the Kenai-Soldtna area! There's a movie theater in Kenai and another over on Kalifonski Beach Road. Kenai has a bowling alley, and dining opportunities range from fine dining to fast food, with everything in-between. There are a number of coffee kiosks in the area as well. Finally, the city has a number of parks that can provide a great place for a picnic lunch away from the dipnetting crowds. The Eric Scout Hansen Park offers an excellent view from the bluff north of the river mouth, and is often a first-stop for dipnetters looking to determine success levels without having to drive down to the beach.
Other Amenities and Dipnetting Supplies
Did you fall in the river? Wash and dry your clothes in the local Laundromat. Lose a dipnet to a huge king salmon, or need replacement netting? A number of vendors in the area carry these supplies.
Where are the Fish?
When dipnetters aren't catching or cleaning fish, they're sitting on the tailgate of their pickup wondering where the fish are. Any time you get a group of dipnetters together, you will hear several theories of how to predict the arrival of the proverbial and greatly anticipated "Wall of Fish" all dipnetters dream of. Here are a few theories:
You won't catch anything when the commercial boats are out. Experience has shown that this is simply not true. Commercial fishing boats off the Kenai River are restricted to fishing very specific zones, and the fishery is specifically managed to meet in-river escapement.
Large numbers of fish will hit the Kenai three days after a large spike in the OTF. This has shown time and again to be inaccurate. Sometimes it works out that way, and other times it does not. You cannot plan your dipnetting trip based upon OTF numbers exclusively.
Strong south winds will blow reds ashore at the mouth of the Kenai. Say what?
Experienced dipnetters know that even with all the preparation involved in putting a dipnetting trip together, you can't catch fish that aren't there. Dipnetting the Kenai is all about timing. But the salmon in Upper Cook Inlet (UCI) are a shared resource, with commercial, sport, subsistence, personal use and the ecosystem itself all struggling for an allocation. The Alaska Board of Fisheries is tasked with ensuring that all groups are fairly represented. In 1979, a project was launched for the purpose of estimating the total sockeye salmon return, including the timing of the run, in order to prevent over harvest, and to assist in estimating efficient commercial fishing operations. This project, the Offshore Test Fishery (OTF) consisted of chartering a commercial fishing vessel to conduct sample fishing at six established locations across the Inlet, located on a straight line from Anchor Point to the Red River Delta. The locations were selected with the belief that these locations would offer the best assessment of the numbers and timing of the sockeye salmon moving up the Inlet. In 2012, a similar project was launched north of the original OTF, with seven stations located on a straight line across the inlet from the general vicinity of the Kenai River mouth to the northern tip of Kalgin Island and on into Redoubt Bay. The purpose of the second OTF was to estimate the distribution of sockeye and silver salmon passing through to northern Cook Inlet. Both the southern and the northern OTF are conducted every year, and the findings are used to coordinate the timing and duration of commercial and subsistence openings, primarily for sockeye salmon.
---
Celebrate Diversity! Pick up Someone's Trash!
Very few Alaskans were born here, and most of those came from parents or grandparents who moved here from somewhere else. At the same time, we live among people who can trace their ancestry back to a time when Alaska was a very primitive place, devoid of the modern trappings of development. So Alaska is an amazing melting pot of diverse cultures, with vastly diverse perspectives on nature, the environment, and on how we conduct ourselves in the field. Most of the cultures represented in Alaska today have their roots in a strong love for the outdoors, and an intensely personal environmental ethic. Traditional Samoan culture has a very high regard for the environment and man's place in it. Filipino culture embraces a concept they call "pakikisama", or "harmony", in which getting along with others is respected. They also incorporate the principle of "hiya", or "shame". It's a sense of social decency that drives them to comply with public norms of behavior. Japanese culture embraces the notion of living with nature, as opposed to the Western concept of taming nature. Alaska native culture embraces a love for the land and the creatures that live on it, recognizing man's role as a participant in nature. Western culture, though having gone through times when care for the environment took a back seat to industrial progress, has come full-circle to now setting high standards of environmental protection and accountability. Gone are the days when tossing beer cans into the weeds at the old fishing hole, or flipping cigarette butts into the river were accepted practices. Now, we pick up after ourselves and those around us.
As interest in Alaska grows, we are seeing an increase in the numbers of people on our rivers and lakes. Some of these people come from places where strong environmental ethics were not in place, and they are bringing that here. We are seeing an increase in trash left behind by people who should know better. A bag full of trash, left lying where a trash can used to be, will attract other people to leave their trash in that place as well. Let's break that cycle, by hauling out our own trash.
Regardless of your cultural or social background, we are all Alaskans, and we share a strong environmental perspective. We don't want our home to become like some of the places we came from. The Alaskan environmental ethic drives us to not only haul out our own trash, but to bring along a couple of extra bags to pick up after other people as well. We teach our children to do the same, because this is our cultural norm. Many of the dipnetting sites in Alaska have no trash facilities, and garbage left behind by some becomes a burden others must clean up. Let's take the initiative to show our love for this amazing place by cleaning up after ourselves, and by leaving no trace of our campsites.
---
Resources
If you plan to fish anywhere on the Kenai Peninsula, you need a copy of Dave Atcheson's "Fishing the Kenai Peninsula" in your rig. If you're new to the area, a copy of The Milepost will help you plan your trip, providing maps and detailed information on the locations of campgrounds, cabins, places to eat, fuel stops and much more. While you're in the bookstore, you might also check out our maps of Kachemak Bay State Park, Kenai River (includes only the middle and lower sections of the river, from Skilak Lake to the mouth), and the Northwestern Kenai Peninsula map, which includes only the areas around Kenai, Soldotna, Sterling, Kasilof, and Nikiski. These are road maps, but they also show campgrounds, fishing areas and available species. Finally, check out Scott Haugen's excellent book, "Bank Fishing for Steelhead and Salmon" for excellent tips that will work on the Kenai River, Deep Creek and other places on the Kenai Peninsula.
---
Need More Information About Alaska Dipnetting?
We've got you covered! Check out the Dipnetting Menu on the left side of this page, or click one of the links below for more information.
Alaska Salmon Run Charts | Dipnetting Intro | Dipnetting Gear | Dipnetting Techniques | Caring for Your Catch
Dipnetting Locations
Check out the following links to the various dipnetting locations in Alaska.
Copper River | Kasilof River | Kenai River | Fish Creek | Susitna River | Twentymile River