Dipnetting the Copper River: Logistics
The Copper River dipnet fishery presents some serious challenges to a lot of dipnetters, especially those Alaskans from outside the area. For most dipnetters, fishing the Copper is a major annual undertaking, requiring multiple days away from home in a location far from the nearest supplies. If you're fishing the Copper, you have to think of everything, you have to be completely self-contained, and you have to be ready for anything.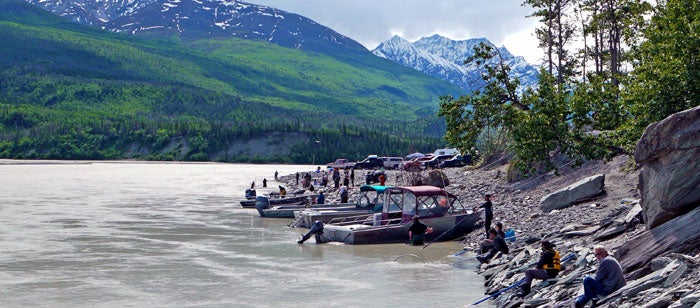 Timing
The main focus of the Copper River dipnet fishery is on sockeye (red) salmon. There are two major runs, and dipnetters have the benefit of advance notice of approximately when each run will arrive in the dipnetting area. The Alaska Department of Fish and Game operates a sonar counter at Miles Lake, about 70 miles downstream of the dipnetting area. Over time dipnetters have learned that it takes the fish anywhere from ten days to three weeks to make it from the sonar counter to the dipnetting area. Of course high or low water can influence the arrival time of the fish, and their availability to dipnetters. On the average, the first run peaks around June 3rd, and the second run around July 14th, at the Miles Lake sonar counter. This means that dipnetters can expect peak numbers of sockeye to arrive in the dipnetting area around mid-June, and again in the last week of July. To hedge your bets, especially if you are able to commit only two or three days at the river, keep an eye on our Dipnetting Forum for reports from people who are there or are just returning from the river. Note that not all dipnetters are successful, so you will have to do a mental average from the reports you read in order to calculate your options.
A king salmon run occurs simultaneously with the first run of reds.
Silvers also run the Copper, and they show up in August, with the run tapering off by mid-September. Dipnetting a few fresh silvers can be a great way to wind up the summer, and you'd be hard-pressed to find a more scenic place to do it than the Copper River.
Current Dipnetting Report
The charter fishing operators at O'Brien Creek provide a free call-in fishing report hotline, which is updated regularly to reflect river conditions and fishing activity. Call this number before you head to Chitina!
Hem's Personal Use Dipnetting Hotline: 1 (907) 823-2200
Dipnets and Supplies
Careful attention to detail is very important when you're preparing for a Copper River trip, especially if you are driving several hours to get there. Chitina has a number of amenities, but you won't find spare dipnets there, or an extra net bag, fish cleaning supplies, or another cooler. You need to bring all those things and more with you. In many ways, a Copper River dipnetting trip is a step back into the old Alaska, where everyone had to do for themselves, without a lot of modern conveniences.
Meals and Meal Planning
Because most Chitina dipnetting excursions involve an overnight stay or three, meal planning is important. At the minimum, toss some items in a cooler and plan on cold meals. Many campers bring along a cookstove and a small barbecue grill. If you use charcoal in your grill, be prepared to haul the ash and residue for disposal at home, as there are no trash facilities in the area. If you opt to cook over a campfire instead, use a fire ring or other established fire pit, and bring your own firewood. Cutting firewood is prohibited in this area, and with all the dipnetters that fish Chitina every year, there isn't much dead wood left anyway.
There is a small grocery store in Chitina, where you may pick up a few items you may have forgotten, but generally you need to bring everything with you. There's also a general store north of the Egerton Highway cutoff, and they have some items. After that, you've got to drive to Glennallen, which is an hour and a half away (67 miles).
The Chitina Hotel offers a wide variety of meals, from ribeye steaks to burgers and salads. Prices are about what you would expect in smaller towns in Alaska, and the hours are a generous 7am-11pm through the month of October. This is a great place to eat, especially if you're tired of your own cooking! There is also a burger place across the street that is reported to offer some great food as well.
Trash
There are no trash pickup facilities in the Chitina area. This includes designated campgrounds. You may see piles of trash bags in certain locations, but these are not trash dump locations! DO NOT leave any trash behind! Plan on burning your paper garbage if you are in a location with a fire ring or designated campfire location, or, better yet, haul it back home where it can be properly disposed of. Plan on bringing along a couple of extra trash bags to haul out trash left behind by other dipnetters. Let's take care of this place, to help ensure it will be available to us in good condition later!
Coolers and Ice
It is of paramount importance that you keep your fish cool after you harvest them, and this can be a real challenge on the Copper River. The Interior frequently sees daytime temperatures in excess of 80ºF, so providing a way to keep your fish cold is an important challenge. Some dipnetters opt to haul a chest freezer on a trailer or in the back of a pickup, complete with a generator and a fuel supply to keep it running. In that situation, you might consider bringing along a vacuum-sealer in order to package your fish on-site. The biggest challenge with this type of setup is in finding clean water in which to rinse your fish as you process them. Several tributary streams are in the area, however it is illegal to leave fish waste in these areas (it attracts bears, and it creates a mess for other dipnetters to deal with). If the freezer is out of the question for you, you're looking at coolers (ice chests).
In recent years a new style of cooler has appeared on the market. With thicker, insulated walls, these heavy-duty coolers keep your fish colder longer than the standard cooler. Another huge plus is that they can be locked, and the claim is that a bear cannot get into them. But they present three issues. First, they weigh about three times what a similar-capacity standard cooler weighs. Second, the thicker sidewalls and lids make them substantially larger than a similar-capacity standard cooler. And finally, the cost can be over ten times the cost of a standard cooler. If you can swing the extra cost, these coolers will certainly keep your fish colder, longer than standard coolers. The key to making ice last in these thicker-walled coolers lies with cold-soaking them well in advance of your trip. Ice them down at least the day before the trip, then drain and re-fill them with ice. The thicker insulation on these coolers traps heat as well as cold, which is why you need to give them plenty of time to absorb the cold temperature from your ice.
Standard coolers will work fine in all but the warmest weather, especially if you take extra precautions. Here are a few tips. First, cold-soak your coolers for a full day before your trip. Fill them with ice and place them in a cool, shaded location for several hours. Then, just before your trip, drain the meltwater out of them and top them off with fresh ice. Next, keep your coolers in a shaded area in the field. If you're hauling a cooler on the back of the ATV on the trail into the canyon, get the cooler off the machine and into the shade as soon as you can. Next, choose white coolers if possible. Red, green or blue coolers absorb heat from the sun. Also avoid opening and closing your coolers unless absolutely necessary. Keep the valves closed, so the ice water remains inside until you load them with fish. Finally, you could consider placing your coolers in water, provided you can secure them from drifting away. The Copper River is very cold, and exposure to it will help keep your coolers very cold.
What Size of Coolers?
Cooler size depends a lot on what you're going to do with your fish. Some dipnetters prefer to bleed, head and gut their fish at the river, and fillet and process them at home, while others will fillet their fish in the field. If you're using 48-quart coolers, you can expect to fit around ten whole fish (not filleted) of average size, plus enough ice to keep them cold for two or three days at 70ºF ambient temperatures. To help with cleanup later, consider putting your fish in plastic trash bags before putting them in the coolers, but secure the top of the trash bags to keep melted ice water out of them.
Where to Get Ice?
Your best bet is to bring ice with you. Although ice is available in Chitina, on busy weekends it could be sold out. Purchase ice in Chitina for the return trip home. Some dipnetters know where to find ice or snow along the road on the way to Chitina. But in winters with little snowfall, these ice and snow patches may not exist. Use caution with this approach! And just in case you need it, bring along a small shovel and an ice chipper. You never know when you might run into an opportunity to collect some free ice along the way! Roadside ice is mostly gone by the month of July, however some dipnetters have had success finding roadside ice along the highway south toward Thompson Pass as you head toward Valdez. Finally, some dipnetters opt to purchase ice from the fish processors in Valdez. This flaked, salted ice will keep your fish much colder, however it's a hundred miles from the Egerton Highway cutoff to Valdez, a four-hour round trip. Something to consider, anyway.
Dipnetters from Anchorage or Fairbanks often load their coolers up with ice before leaving town. Anchorage-based dipnetters have access to commercially-produced flaked salted ice that can be purchased from local fish processors.

Safety on the Copper River
The Copper River is a very dangerous waterway; among the top most dangerous road-accessible rivers in the state. This is due to a number of factors. First, the Copper is a glacial river. This means that the water is very cold, and that it carries a heavy load of powdered rock, a result of its tributary glaciers scouring out the bedrock. This powdered rock, sometimes called glacial flour, remains in suspension from the headwaters of the Copper, until it flows to the sea. This silt can penetrate your clothing, weighing you down and causing you to sink faster than you normally would in a non-glacial river. Next, the Copper is very swift and deep in places, particularly in Wood Canyon, just below the Chitina-McCarthy bridge. The canyon walls are very steep in places, and even in the places that are not quite so steep, rockslides are commonplace. The rock in this area is mostly shale, consisting of large flat slabs of rock, with sharp edges. These rocks can be very unstable, and a careless dip netter can easily start a small rockslide just by walking across some areas. Such rockslides can carry you right into the river.
If you're dipnetting the canyon, it's generally recommended that you avoid wearing waders. Instead, where knee-high rubber boots. If you do fall in, kick off your boots if necessary, so you can attempt to swim to shore. Some fishermen opt to secure a rope to the bank, and the other end around themselves. In this way they can either self-rescue, or they can be pulled in by fellow dipnetters, should they fall in the river. Ensure that your rope is short enough to prevent you from falling into the river in the first place, and all you may get is a few bumps and bruises on the rocks.
Note that many ropes are secured to rocks in popular dipnetting areas, and it is common for dipnetters to use and re-use these ropes to secure themselves to the rocks. ALWAYS test these anchor points, as ropes become frayed or unsafe to use. It's usually best to bring your own ropes and secure them properly before use. Some dipnetters use a rescue harness to secure themselves to the rope. This can make it easier for helpers to pull you out of the water.

Parking & Camping
One of the challenges faced by Chitina dipnetters involves the confined nature of the parking and camping facilities. Frankly, Chitina was not built with large crowds of people in mind, therefore camping facilities are very limited, and are on a first-come, first-served basis. Some are fee-based, with toilets and other amenities, whereas others are little more than a wide spot in the road that can accommodate a few vehicles. Come early for the best selection, and cruise the area before putting your stakes down! Here is an overview: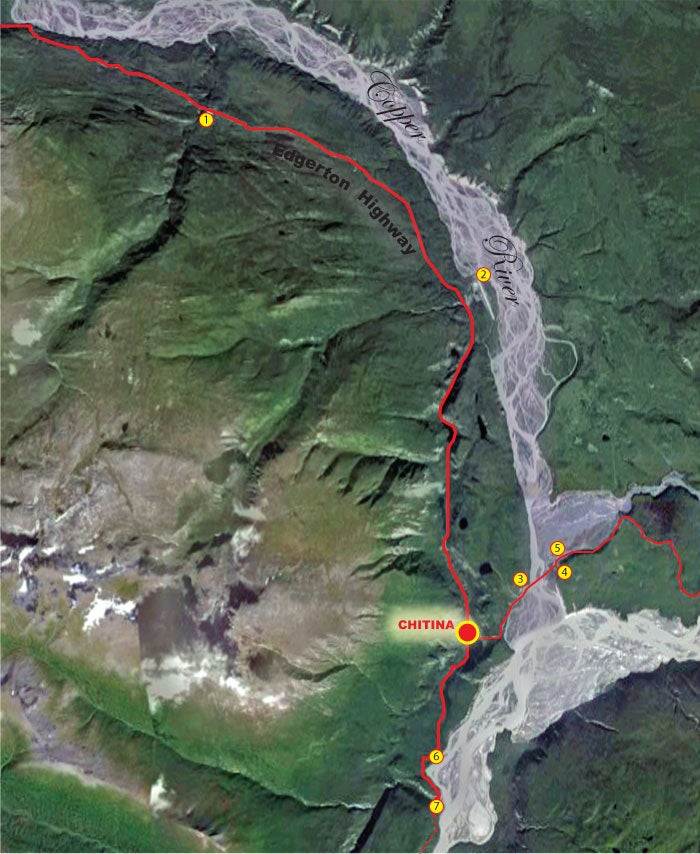 1. Liberty Falls Campground. Located about ten miles north of Chitina, along the Egerton Highway, the Liberty Falls State Recreation Site offers scenic forested camping in a quiet setting. There are ten campsites, with no RV size limit, toilets, clean water and handicap access. If you're tent camping, please use the tent platforms, where provided, to prevent additional wear and tear on the land. There is a fee per vehicle, with a maximum stay limit of fifteen days.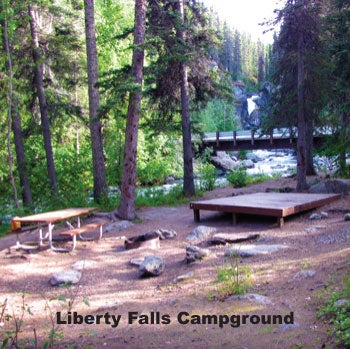 2. The Chitina Airport. The airport is located about five miles north of Chitina, along the Egerton Highway. It offers limited parking, including the opportunity to car-camp. This area is off-limits to personal-use fishing.
3. Chitina-McCarthy Bridge, west side. Some parking exists on either side of the road in this popular dipnetting area, but parking spaces disappear quickly during peak periods. You are allowed to camp in your vehicle, however tent camping is very limited and impractical in this location.
4. Copper River Campground. Located on the east banks of the Copper River, just across the Chitina-McCarthy bridge is an established campground, with water, toilets, and RV camping opportunities. Sites are limited, and there is one pull-through campsite for larger RVs or trailers.
5. Camping Near the Bridge. Located on the opposite side of the McCarthy Road from the Copper River Campground is a small network of dirt roads that are used to access the rivers, and nearby fish wheels. Primitive camping is possible in this popular area, however there are no amenities or toilet facilities.
6. O'Brien Creek Access Road Turnout. There's a large turnout here, which is large enough to accommodate RVs, campers and tents. It will be full during peak periods, even though it is some distance from the river. This is a popular place for folks hauling ATVs for accessing Wood Canyon via the Copper River Highway, as the alternative is to park at O'Brien Creek, which has a steep dirt road that prevents larger rigs from descending to O-Brien Creek.
7. O'Brien Creek. This area offers free public parking (space is very limited), and two camping areas owned by Ahtna Corporation. These are fee-based, with few amenities. Porta-potties are located in the public parking area, and one of the campsites offers tent platforms. The only water offered here is what is flowing in O'Brien Creek and the Copper River itself. See our Copper River Dipnetting Locations page for a more complete description.
Legal Considerations
The Alaska State Troopers patrol this area during dipnetting season. The two most common citations issued, by far, are:
1. Failure to record your catch. Before you leave the beach, boat, or other dipnetting area, you are required to record your catch on your dipnetting card. The law specifically states that this must be done before you leave the specific location where you were dipnetting. Some dipnetters believe that they can wait until they are ready to leave for home. This is not the case! Fill out your card before you leave the beach.
2. Failure to clip the fins on your fish. The regulations require dipnetters to clip both tips of the caudal fin (the tail) on all dip netted fish, before those fish are hidden from view. The term "hidden from view" includes placement of fish in a cooler, a garbage bucket, or other container where the fish may be concealed, and removal of fish from the location where they were caught.
Speeding is another common violation in this area, and it is rigorously enforced. There are a number of locations along the Edgerton Highway where reduced speeds are posted. Be extra-careful; these reduced speed areas are in place to protect folks who live in the area.
ATV Use
Folks who fish Wood Canyon have three choices: hike in, use a boat, or use an all-terrain-vehicle (ATV). Hiking in requires you to bring a sturdy backpack for hauling your fish out, and a few plastic trash bags for pack liners. If you're bringing your ATV, there are some things you should know. First, you need to bring spare parts for components that could wear out. This includes a spare tire and the tools to change it. Bring plenty of fuel. If you're hauling your machines on a trailer, you can park at several locations. Some dipnetters park at O'Brien Creek, but you will be parking your rig and the trailer on native corporation land. Because your vehicle and the trailer take up two parking spaces, you need to pay double the fee to park. Review our map on this page for an overview of other parking places.
Remember that ATVs are not allowed on the regular highway or the McCarthy Road! You can be cited by the Alaska State Troopers for riding your ATV on the paved road.
Boats
Some dipnetters bring their own boat in order to fish Wood Canyon. Make sure your boat is in good mechanical condition, as a breakdown in the canyon, especially if you go far downstream, could mean a long wait for help. If you do break down, try to remain tied off as close to the canyon entrance as possible. The farther you go downstream, the fewer people you will encounter. If at all possible, make your way to the east bank, climb up to the old road and hike back out to O'Brien Creek to get help if need be.
Boats can be launched at the east side of the Chitina-McCarthy Road bridge, and at O'Brien Creek.
Fuel is available in Chitina, however outboard oil is not. Bring your supplies with you!
Trespass Issues
There is hardly any public land in this area, and most of it is limited to right-of-ways associated with the road system, and lands below the "mean high-water mark" of the Copper River. Outside of these areas, expect to encounter private lands owned by either the Chitina Native Corporation, or Ahtna Native Corporation. In some cases you are allowed to camp on or otherwise trespass on native corporation lands, however user fees are usually charged for access or for camping. These lands are not fenced and may not even be posted. Do not camp outside known public lands unless you have permission to do so and have paid the appropriate fees.
Conservation Concerns
Heavy human use during dipnetting season has taken a toll on the environment in the Chitina area. Please do your part to minimize negative impacts and to restore damage done by others in the following ways:
Pick Up Trash. Everything you bring with you to Chitina needs to leave with you as well. This means that you should haul all your trash home (there are no trash facilities there), and haul out a little extra in order to clean up after other dipnetters.
No Cutting of Firewood. Use designated fire pits for your campfire, and bring your own wood. Cutting firewood in this area is prohibited.
Consider Releasing all King Salmon. Alaska's king salmon population has dropped in many areas in the last few years. Even though personal-use and subsistence fishermen are allowed to retain a certain number of king salmon as part of their harvest quota, many fishermen are opting to release all king salmon they catch, in order to help the species reproduce. Personal-use and subsistence salmon limits are very liberal anyway, and the retention of a king salmon will make little difference in how much fish you bring home. Consider releasing your kings.
Safety Aspects
The Copper River is very dangerous on several levels, and extreme caution should be exercised on or around this river.
Glacial Silt is carried down the Copper in massive quantities. If you fall in, the silt penetrates your clothing, weightnig you down and making it very difficult to remain on the surface, especially if you're not wearing a life jacket. Remedy: wear your PFD at all times!
Cold water. The Copper River emerges from glacial runoff, with water temperatures in the low 40's. Hypothermia sets in very quickly if you are immersed in this river.
High turbidity. Because the water is nearly opaque as a result of the heavy silt load it carries, obstacles just beneath the surface are all but impossible to see. For the boater, this can spell real trouble on the Copper.
Swift current. The Copper flows an average of 57,400 cfs (cubic feet per second) at the mouth. In the canyon, where the flow is more constricted, large eddies and other flow reversals occur next to the cliffs where some dipnetters work the river. If you fall in, the swift current makes it almost impossible to self-rescue.
Local wildlife. Brown bears are found along the Copper, so be very careful when dipnetting in secluded locations. Occasionally seals will follow the salmon run upstream from the ocean, and on rare occasions a dipnetter will end up with a seal in their net. Be on your guard!
The bottom line: Never dipnet the Copper River unless you are wearing a properly-fitting, high-visibility PFD, and it is secured to your body.
Note that there is no trash service at this location. Bring enough trash bags to haul out your own trash, and a couple of extras to pick up after other dipnetters. Together we can keep the Copper River fishery clean!
Caring for Your Catch
One of the biggest logistical challenges dipnetters face is the proper care of their salmon harvest. This is especially true in the summer months, when daytime temperatures approach 80ºF. Ice your fish down as soon as possible, keep your coolers in the shade, and get your fish home and processed as soon as possible. Additional tips on fish care and processing can be found on our Caring for your Catch page.
---
Celebrate Diversity! Pick up Someone's Trash!
Very few Alaskans were born here, and most of those came from parents or grandparents who moved here from somewhere else. At the same time, we live among people who can trace their ancestry back to a time when Alaska was a very primitive place, devoid of the modern trappings of development. So Alaska is an amazing melting pot of diverse cultures, with vastly diverse perspectives on nature, the environment, and on how we conduct ourselves in the field. Most of the cultures represented in Alaska today have their roots in a strong love for the outdoors, and an intensely personal environmental ethic. Traditional Samoan culture has a very high regard for the environment and man's place in it. Filipino culture embraces a concept they call "pakikisama", or "harmony", in which getting along with others is respected. They also incorporate the principle of "hiya", or "shame". It's a sense of social decency that drives them to comply with public norms of behavior. Japanese culture embraces the notion of living with nature, as opposed to the Western concept of taming nature. Alaska native culture embraces a love for the land and the creatures that live on it, recognizing man's role as a participant in nature. Western culture, though having gone through times when care for the environment took a back seat to industrial progress, has come full-circle to now setting high standards of environmental protection and accountability. Gone are the days when tossing beer cans into the weeds at the old fishing hole, or flipping cigarette butts into the river were accepted practices. Now, we pick up after ourselves and those around us.
As interest in Alaska grows, we are seeing an increase in the numbers of people on our rivers and lakes. Some of these people come from places where strong environmental ethics were not in place, and they are bringing that here. We are seeing an increase in trash left behind by people who should know better. A bag full of trash, left lying where a trash can used to be, will attract other people to leave their trash in that place as well. Let's break that cycle, by hauling out our own trash.
Regardless of your cultural or social background, we are all Alaskans, and we share a strong environmental perspective. We don't want our home to become like some of the places we came from. The Alaskan environmental ethic drives us to not only haul out our own trash, but to bring along a couple of extra bags to pick up after other people as well. We teach our children to do the same, because this is our cultural norm. Many of the dipnetting sites in Alaska have no trash facilities, and garbage left behind by some becomes a burden others must clean up. Let's take the initiative to show our love for this amazing place by cleaning up after ourselves, and by leaving no trace of our campsites.
---
Need More Information About Alaska Dipnetting?
We've got you covered! Check out the Dipnetting Menu on the left side of this page, or click one of the links below for more information.
Alaska Salmon Run Charts | Dipnetting Intro | Dipnetting Gear | Dipnetting Techniques | Caring for Your Catch
Dipnetting Locations
Check out the following links to the various dipnetting locations in Alaska.
Copper River | Kasilof River | Kenai River | Fish Creek | Susitna River | Twentymile River