Dipnetting the Copper River: Where to Go
The Copper River fishery provides subsistence fishermen with the longest stretch of river in the state where subsistence fishing is allowed, starting at Slana and extending all the way downriver to the Chitina-McCarthy bridge. Even the personal-use fishery covers more river miles than any similar dipnetting fishery in the state, with almost 30% more fishing area than is offered on the Kenai River personal-use fishery. The real challenge on the Copper lies in finding places to fish or even to access the fishing areas without trespassing on private land.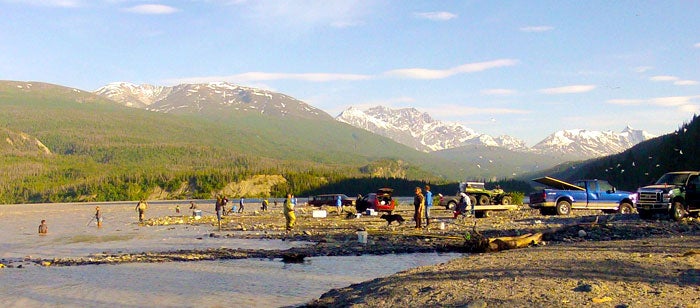 Land Managers
The Chitina Native Corporation and Ahtna, Incorporated, are native corporations that represent the interests of Alaska natives indigenous to the area. They are the two largest private land owners along the Copper River. The State of Alaska owns all land "below the mean high water mark", and the land on either side of established roads in the area. Roadway lands are controlled by the Alaska Department of Transportation ("DOT"). In some places such as the Copper River Highway, the public right-of-way extends for 150' from the center line of the road bed to either side of the roadway. Near the Chitina-McCarthy bridge, the public right-of-way extends out to 300' either side of the center of the road. In most cases, these public right-of-ways are the only way to access the Copper River without trespassing on private lands. The land below the "mean high water mark" usually becomes the only means of actually fishing the river without trespassing on private lands.
Subsistence fishermen, while enjoying a much larger section of river in which to fish, face similar conditions in their area, because most of the lands bordering the Copper River above the Chitina-McCarthy bridge are privately held, either by one of the native corporations or by private individuals.
Therefore the Copper River fishery is unique in all of Alaska, and it behooves the personal-use dip netter or the subsistence fisherman to know where and how the river can be accessed, along with appropriate places to camp without trespassing or paying an access fee.
Current Dipnetting Report
The charter fishing operators at O'Brien Creek provide a free call-in fishing report hotline, which is updated regularly to reflect river conditions and fishing activity. Call this number before you head to Chitina!
Hem's Personal Use Dipnetting Hotline: 1 (907) 823-2200
Locations
The focus of this page is on places to fish in the personal-use area only. The subsistence fishery is discussed in another section.
The Personal-Use fishery is allowed only from the downstream edge of the Chitina-McCarthy Bridge, downstream to an ADFG marker located 200 yards upstream from the Haley Creek confluence. This area is closed to other types of fishing. There are several popular locations to dipnet in this section of the Copper River, and the purpose of this section is to show you the main locations, while leaving the reader plenty of room for discovery of their own "secret spots".
The Bridge
The Chitina-McCarthy Bridge is the beginning point of the personal use fishery, and there are some great fishing opportunities here, along with other points of interest. Here's an overview of what's going on in the bridge area: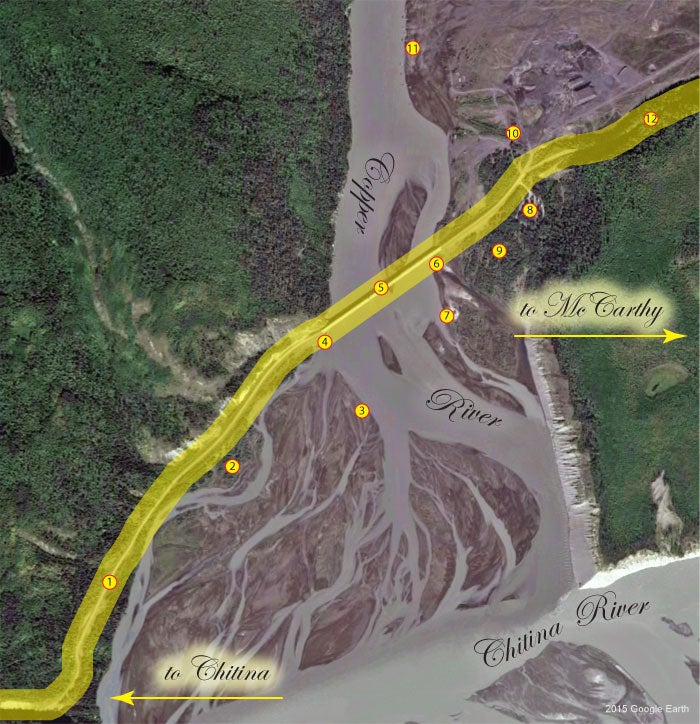 1. McCarthy Road. This road runs east out of Chitina to the Copper River.
2. Sandbar Access. This location presents a number of dirt tracks that are used to access the sand bars along the southwest side of the Copper River at the confluence with the Chitna River. It's a popular access corridor during low water, however care should be used to avoid crossing braids of the river with your vehicle (including ATVs). The Copper is an anadromous stream, and in order to protect our salmon runs, our laws prevent crossing such streams with vehicles of any kind, while water is flowing through these channels. If the channels are devoid of flowing water, no problem. If they are running, park and cross on foot.
3. Sandbar Dipnetting Location. This area downstream of the bridge is popular during low water, when vehicle access is possible. Use extreme caution here, especially during warm weather. Warmer temperatures in the Interior hasten glacial melt, causing the Copper River to rise. Because you have to cross several channels to get to this location, a long stay in this area could leave you stranded. If you notice the water rising, check the channels behind you to ensure you can get back across. The most popular methods in this area are the sweep and the conga line. The current may be too swift in this area to allow stationary dipnetting (post method). It is not recommended to camp in this area, or to drive heavier vehicles here, for risk of getting stuck in soft sand. 4-wheel-drive strongly suggested.
4. Bridge Dipnetting Location. The bridge is a very popular location to use the conga line, however space is limited. Park along the highway and walk down the bank on the southeast side of the highway. Though shorter pole lengths can be effective in this area, dipnetters often use extremely long poles up to and exceeding 40 feet in this location. These nets often require two handlers; one to work the net end and the other to help support the pole during upstream travel and to help deploy it when the drift starts.
5. The Chitina - McCarthy Bridge. The downstream edge of the bridge marks the dividing line between the subsistence fishery (upstream) and the personal - use fishery (downstream).
6. The Copper River Boat Launch. This is the only official boat launch in the area. The launch itself is unimproved, with a substrate of sand and gravel. Four-wheel-drive is recommended. Boats are used for accessing the personal-use fishery, and for the subsistence fishery upstream. The character of the launch area changes constantly, due to fluctuations in water levels. If you're new to launching boats in the river, this is not the place to practice! Get in and get out, because space is very limited. Boat-based charter operations are available here.
7. Boat Launch Dipnetting Location. The beach in this area is a popular dipnetting location during certain water levels, however if you go too far downstream fishing can be poorer, as the main channel deviates away from the bank here. In low water, cross the small channel to access the island farther out. Use caution in warmer weather, as rising water levels may make crossing the channel back to shore difficult or impossible.
8. Copper River Bridge Campground. A campground offering several sites large enough to accommodate larger travel trailers and motor homes. There are pull-through campsites. Picnic tables are provided, along with rest rooms and water. Very limited number of sites available during dipnetting season.
9. Private Ahtna Land. No camping in this area.
10. Camping near the Bridge. Just about any kind of rig can work here, from pickups with campers, to motorhomes, to travel trailers and pull-outs. Tent camping is good here as well, however some areas are exposed to the sometimes-heavy winds that roar down the Copper River valley. There is some native land here, with associated fess.
11. Fish Wheels. The beach in this area is the most visible area for fish wheels used for the subsistence fishery. If you're in the area and you want to see a fish wheel in action, this is the place. This area extends upriver past the Kotsina River confluence. The area outside the mean high water mark of the Copper River is private Ahtna land.
Note that there is no trash service at this location. Bring enough trash bags to haul out your own trash, and a couple of extras to pick up after other dipnetters. Together we can keep the Copper River fishery clean!
O'Brien Creek
The O'Brien Creek area is accessed by traveling due south out of Chitina along the O'Brien Creek Road. This area offers unimproved camping, along with private tent platform campsites on a fee basis. There are port-potties here, but no other amenities.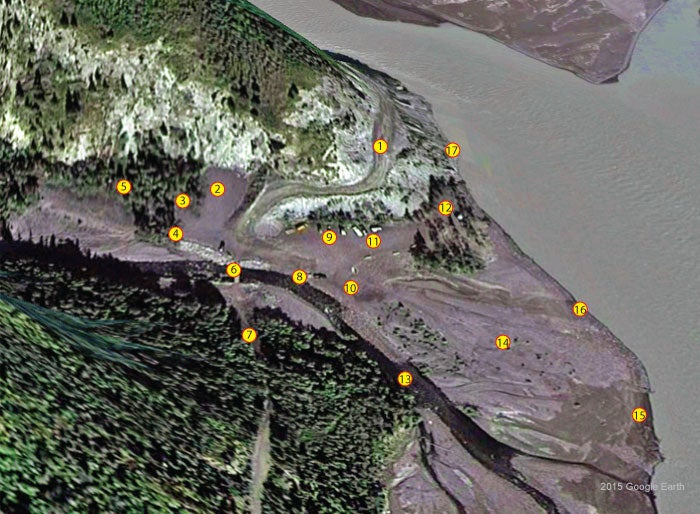 1. The O'Brien Creek Road, as it descends to the O'Brien Creek area. There are a couple of larger turn-outs along the road between Chitina and O'Brien Creek, which can accommodate motor homes, travel trailers, campers and the like. Tent camping in these pull-outs is also possible.
2. Public Parking. There is no charge for parking / car camping here.
3. Coffee / Espresso Kiosk. An entrepreneurial soul from Fairbanks set up a small coffee shop here, for those in need. Some snacks are also available. Cash only.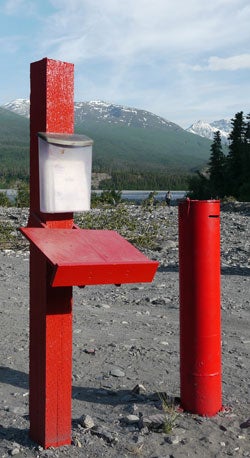 4. Chitina Corp. Fee Station. Lands west of this location are owned by Ahtna, and camping here is on a fee basis. Some tent platforms are available, and camping is allowed along O'Brien Creek as well. No amenities are provided. Cash or check. Fill out the slip and drop it in the Iron Ranger. Place the ticket stub on your dashboard.
5. Chitina Native Corp. Camping Area (fee based).
6. O'Brien Creek Bridge. ATV access only. If you plan to dipnet the canyon and are using an ATV to access the area, this is where you cross the creek.
7. Copper River Highway. Formerly the railroad bed for the Copper River and Northwestern Railway (CR&NW, facetiously referred to as the "Can't Run and Never Will" railroad), the line that was intended to link Cordova with Chitina. The line was in use from 1911-1938 and was primarily used for transporting copper ore from Kennecott mine to Cordova. In 1945 a project was undertaken to replace the railroad with a highway. This project was underway when the 1964 Good Friday Earthquake knocked one of the spans loose from the so-called "Million Dollar Bridge". The span was temporarily repaired, but the road project was eventually abandoned. The old road is in use from the Cordova side, all the way to the Copper River Bridge. From the Chitina side, it is little more than an ATV trail running through Wood Canyon, and a dangerous one at that. Landslides have wiped out part of the road, just a short distance from O'Brien Creek. It's 7.14 miles from the bridge at O'Brien to Haley Creek.
8. Charter Customer Fish Cleaning Station. O'Brien Creek offers a charter boat service, dropping dipnetters off at strategic locations in Wood Canyon, just downstream. A trailer is usually parked in this location, which provides fish cleaning tables and water pumped from O'Brien Creek for charter customers only.
9. Rest Rooms. A permanent toilet facility has been constructed here, and may be augmented by Porta Potties during periods of peak use. Do not dispose of trash in the toilets! It's extremely difficult to remove. This is the only toilet facility in the area. Please use it!
10. Chitina Corp. Fee Station. If you intend to park out on the O'Brien Creek flood plain or launch a boat there, you must pay the fee at the Iron Ranger here. The Chitina Native Corp. owns the land on the other side of the cement dividers.
11. Public Parking. This is the only other public parking area at O'Brien Creek. All other parking in this area is fee-based.
12. Hem / Copper River Charters. This is where you get in line to get on a charter boat to dipnet the canyon. Because there is often a waiting period to get on the boat, it is customary to leave a cooler, a net, or a bucket to hold your place in line. Be there when it's your turn, or you have to start all over again.
13. O'Brien Creek. You are allowed to clean your fish in the creek. Just make sure all fish waste is tossed into the main current, where they will end up in the Copper River. Do not put the fish waste where it will accumulate in back-eddies and attract bears.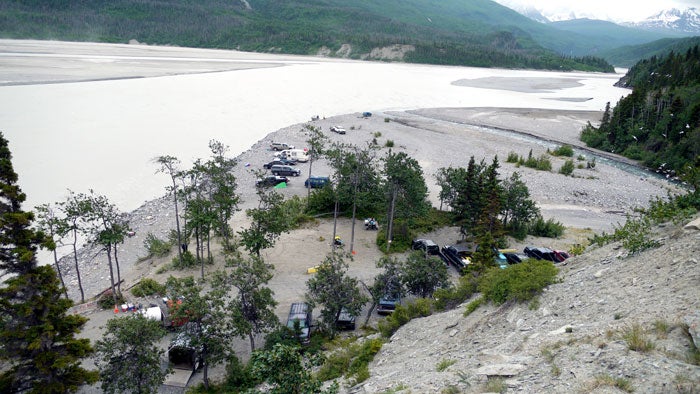 14. O'Brien Creek Alluvial Plain. Car-camping and parking is allowed here on a fee basis. If you are pulling a trailer, you must pay double the fee as you are taking two parking places. This area gets quite crowded during peak periods.
15. Boat Launch. This is not technically a boat launch, nor are there launch fees involved. But boats are commonly launched here, due to the gradually-sloping bottom at most water levels. Launching is at your own risk, and the native corporation is not responsible for mishaps.
16. Shore-Based Dipnetting. The beaches along this area are very popular for dipnetting. Common methods are post, sweep and conga line, depending on the current speed / water level.
17. Dipnetting Along the Rocks. Some dipnetting opportunities exist in this area, however footing is treacherous, and the rocks are very loose. Use extreme caution if you go into this area.
Note that there is no trash service at this location. Bring enough trash bags to haul out your own trash, and a couple of extras to pick up after other dipnetters. Together we can keep the Copper River fishery clean!
Wood Canyon
The canyon is a very productive area to dipnet, however it is also very dangerous. People have died here, victims of poor footing on loose shale, combined with cold-water shock and being weighed down with glacial silt that can penetrate clothing quickly. In some areas, anglers are known to tie themselves off to shoreline structures in order to avoid falling in the water. Common wisdom suggests that if you intend to tie off, do so in a manner that will prevent you from ending up in the river to begin with.

Safety on the Copper River
The Copper River is a very dangerous waterway; among the top most dangerous road-accessible rivers in the state. This is due to a number of factors. First, the Copper is a glacial river. This means that the water is very cold, and that it carries a heavy load of powdered rock, a result of its tributary glaciers scouring out the bedrock. This powdered rock, sometimes called glacial flour, remains in suspension from the headwaters of the Copper, until it flows to the sea. This silt can penetrate your clothing, weighing you down and causing you to sink faster than you normally would in a non-glacial river. Next, the Copper is very swift and deep in places, particularly in Wood Canyon, just below the Chitina-McCarthy bridge. The canyon walls are very steep in places, and even in the places that are not quite so steep, rockslides are commonplace. The rock in this area is mostly shale, consisting of large flat slabs of rock, with sharp edges. These rocks can be very unstable, and a careless dip netter can easily start a small rockslide just by walking across some areas. Such rockslides can carry you right into the river.
If you're dipnetting the canyon, it's generally recommended that you avoid wearing waders. Instead, where knee-high rubber boots. If you do fall in, kick off your boots if necessary, so you can attempt to swim to shore. Some fishermen opt to secure a rope to the bank, and the other end around themselves. In this way they can either self-rescue, or they can be pulled in by fellow dipnetters, should they fall in the river. Ensure that your rope is short enough to prevent you from falling into the river in the first place, and all you may get is a few bumps and bruises on the rocks.
Note that many ropes are secured to rocks in popular dipnetting areas, and it is common for dipnetters to use and re-use these ropes to secure themselves to the rocks. ALWAYS test these anchor points, as ropes become frayed or unsafe to use. It's usually best to bring your own ropes and secure them properly before use. Some dipnetters use a rescue harness to secure themselves to the rope. This can make it easier for helpers to pull you out of the water.

Never dipnet the canyon alone! If you fall in the river, you will need all the help you can muster to get out of the water.
Here is an overview of the canyon fishery.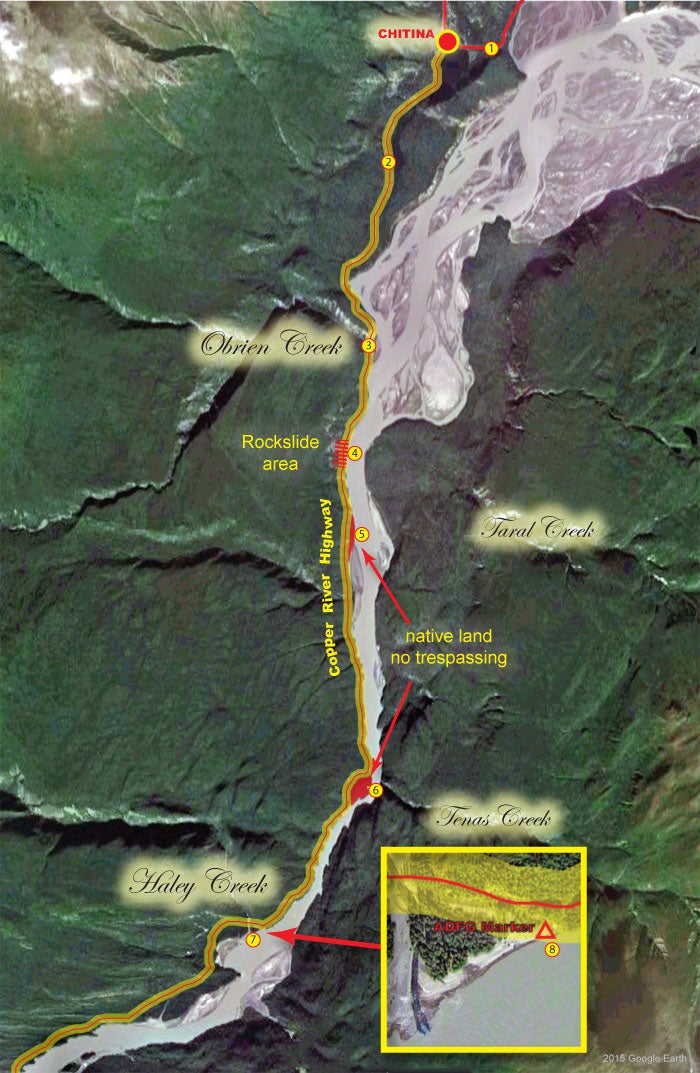 1. McCarthy Road.
2. Copper River Highway. We have marked the highway to generally reflect the 150' public easement extending from the centerline of the roadway. Use this as a general guideline only, and contact the Ahtna and Chitina Native corporations for details on private lands in the area. With the exceptions of the public right-of-way associated with the Copper River Highway, and the lands near the river below the mean high water mark, all lands bordering the Copper River in this area are private. Do not trespass on private lands!
3. O'Brien Creek Area. Whether you are fishing the canyon by boat or by ATV, O'Brien Creek is the jump-off point.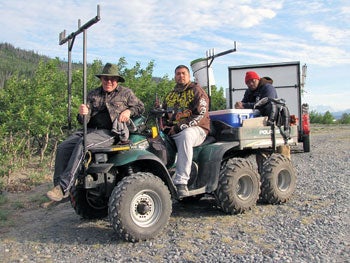 4. Rock Slide. A large rock slide buried part of the road in this area. Proceed at your own risk!
5. Native Land. There is a parcel of land at the upstream end of a large sandbar at the confluence of Eskilida Creek that is both outside the 150' public right-of-way and above the mean high water mark of the river. That makes this area private land and off-limits to the general public.
6. Native Land. The roadway deviates away from the river here, creating a pocket of private land. This area is off-limits to the general public.
7. Haley Creek. Below this point, dipnetting is prohibited.
8. ADFG Marker. This marker, located 200 yards upriver from the Haley Creek confluence, marks the deadline for the personal - use fishing area on the Copper River. Also note that the area downstream of the marker, with the exception of the beach immediately adjacent to the river, is private land owned by Ahtna Corporation. No Trespassing!
Note that there is no trash service at this location. Bring enough trash bags to haul out your own trash, and a couple of extras to pick up after other dipnetters. Together we can keep the Copper River fishery clean!
Caring for Your Catch
As with all fishing opportunities anywhere, the result of a successful fishing trip is a cooler full of delicious food! But a Copper River trip usually requires a few additional steps to ensure you arrive home with a supply of fish that's in prime condition. For most people the Copper River is a long way from home, so they may opt to remain at the river for several days. And because the fishery takes place in the Interior during the summer months, you can plan on warm or even hot (by Alaska standards) weather, with daytime temperatures in excess of 80ºF. Because this fishery is intended as a way for Alaskans to gather a year's supply of salmon, you need to go prepared to deal with a large quantity of fish. Bring plenty of coolers, and fill them with ice before you leave home.
Fish should be stunned (bonked on the head) and bled as soon as they are caught. Most dipnetters keep their fish on a stringer in the water until they can process them (keeping live fish on a stringer is technically illegal in Alaska, because sport anglers sometimes retain a fish alive either to transplant into another body of water, or to replace if they catch a larger one). When it's time to process your fish, you may either gut them and do the processing at home under cleaner, controlled conditions, or you may opt to fillet them on site, discarding the fish waste into the Copper River. The latter is the preferred method, as it returns a lot of biomass back into the ecosystem where it belongs.
Regardless of the method used, fish should be iced as soon as possible, and great care taken to ensure that they remain cold until you can get them home and into the freezer. There are many more details involved in fish processing, and we suggest having a look at our Fish Processing Page for additional tips and ideas that will help you arrive home with premium food for your family.
---
Celebrate Diversity! Pick up Someone's Trash!
Very few Alaskans were born here, and most of those came from parents or grandparents who moved here from somewhere else. At the same time, we live among people who can trace their ancestry back to a time when Alaska was a very primitive place, devoid of the modern trappings of development. So Alaska is an amazing melting pot of diverse cultures, with vastly diverse perspectives on nature, the environment, and on how we conduct ourselves in the field. Most of the cultures represented in Alaska today have their roots in a strong love for the outdoors, and an intensely personal environmental ethic. Traditional Samoan culture has a very high regard for the environment and man's place in it. Filipino culture embraces a concept they call "pakikisama", or "harmony", in which getting along with others is respected. They also incorporate the principle of "hiya", or "shame". It's a sense of social decency that drives them to comply with public norms of behavior. Japanese culture embraces the notion of living with nature, as opposed to the Western concept of taming nature. Alaska native culture embraces a love for the land and the creatures that live on it, recognizing man's role as a participant in nature. Western culture, though having gone through times when care for the environment took a back seat to industrial progress, has come full-circle to now setting high standards of environmental protection and accountability. Gone are the days when tossing beer cans into the weeds at the old fishing hole, or flipping cigarette butts into the river were accepted practices. Now, we pick up after ourselves and those around us.
As interest in Alaska grows, we are seeing an increase in the numbers of people on our rivers and lakes. Some of these people come from places where strong environmental ethics were not in place, and they are bringing that here. We are seeing an increase in trash left behind by people who should know better. A bag full of trash, left lying where a trash can used to be, will attract other people to leave their trash in that place as well. Let's break that cycle, by hauling out our own trash.
Regardless of your cultural or social background, we are all Alaskans, and we share a strong environmental perspective. We don't want our home to become like some of the places we came from. The Alaskan environmental ethic drives us to not only haul out our own trash, but to bring along a couple of extra bags to pick up after other people as well. We teach our children to do the same, because this is our cultural norm. Many of the dipnetting sites in Alaska have no trash facilities, and garbage left behind by some becomes a burden others must clean up. Let's take the initiative to show our love for this amazing place by cleaning up after ourselves, and by leaving no trace of our campsites.
---
Need More Information About Alaska Dipnetting?
We've got you covered! Check out the Dipnetting Menu on the left side of this page, or click one of the links below for more information.
Alaska Salmon Run Charts | Dipnetting Intro | Dipnetting Gear | Dipnetting Techniques | Caring for Your Catch
Dipnetting Locations
Check out the following links to the various dipnetting locations in Alaska.
Copper River | Kasilof River | Kenai River | Fish Creek | Susitna River | Twentymile River