Lake Trout
For many Alaska anglers, the lake trout remains shrouded in mystery. A denizen of deepwater lakes, he defies most traditional angling techniques and remains unavailable to most sportsmen who simply cannot figure out how to catch him. He dwarfs other trout by his sheer size, he fights like a bull, and when at last he arrives on the surface after a long battle, his colors leave an angler breathless with awe. They are beautiful fish.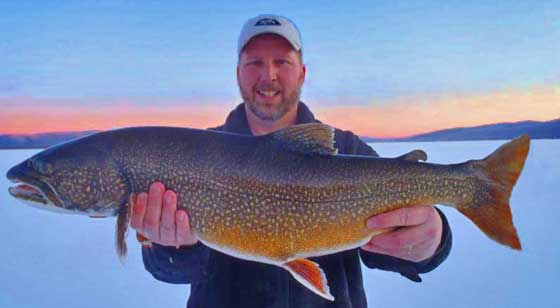 Life History / Biology
Lake trout spend almost all their lives in deep, coldwater lakes, with smaller fish occasionally wandering into outlet or inlet rivers short distances in the summer, where they feed on salmon eggs, fry and other baitfish. They spawn at night over gravel bottoms, and the fry feed on small zooplankton, eventually moving up to insects and finally other fish. They are very long-lived, with some specimens verified at over sixty years of age. The current state record is a 47-lb. fish taken from Clarence Lake, in Region 3 between the Denali and Glenn highways. The fish was caught during the summer of 1970. A film that was shot in the southern Brooks Range in the 1960's, "This is My Alaska", shows some very large lakers being caught in foothill lakes of the southern Brooks during spring ice-out.
Seasons
Regions & Methods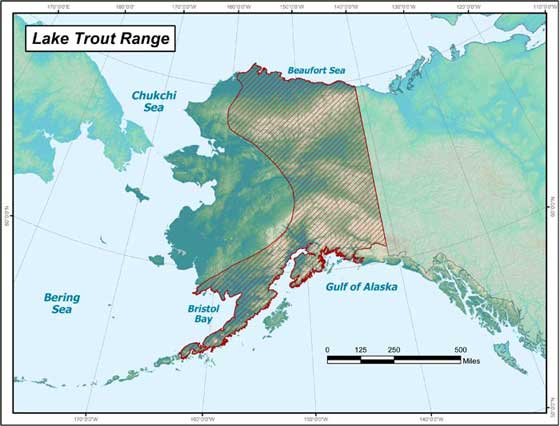 (ADFG Map)
Lake trout may be found in most regions of Alaska, with some notable exceptions. Although they prefer lakes, they can at times be encountered in outlet streams or in river systems during parts of the summer where they are drawn to feed.
There are no lake trout in Southeast Alaska
Lake trout are found in many lakes on the Kenai Peninsula. The deep, clear waters of Hidden Lake offer classic summer trolling opportunities, together with ice fishing in the winter months. Skilak Lake, a glacial lake, has a good lake trout population, but the silty water makes trolling mostly ineffective. It is best suited to shore-based fishing near inlet streams (including the upper Kenai River). Trail Lakes and Tustemena Lake both offer similar opportunities. 
Trolling for Lake Trout
One of the most effective methods for catching lakers is trolling. It all starts in the spring as soon as the ice comes off the lake. The fish can be found plying the shallows, where the water is oxygenated, warmer, and where baitfish can be found. Fly-fishermen can troll streamers in these areas, or you could opt for a bait-caster or spinning outfit, pulling pixee spoons, vibrax spinners, floating or mid-depth rapalas or other minnow-type plugs.
As summer arrives and lake water warms, fish move into deep water. This requires a change in tactics. Trolling is still the best option; use banana weights or divers to keep your line in the depths. In some situations a downrigger is required. Flashers or dodgers can make a big difference in attracting larger fish. Other lures to consider are Flatfish, Kwikfish, J-plugs, Wiggle Warts and deep-running Rapalas.
Your chances improve exponentially with the use of a fish-finder, as lakers tend to move around a bit and are found at various depths in the water column.
Shore-Based Lake Trout Fishing
The clearwater inlets to glacial lakes offer some of the best opportunities for lake trout in the spring. Fish tend to concentrate into these areas where the water is clear and prey easier to locate. Shore-based anglers should try spoons and spinners, together with plugs resembling baitfish. Bait fishermen have good luck with herring or salmon roe on the bottom or suspended just off the bottom, where bait is legal. Fly fishermen can do well with streamer patterns in these areas.
Ice Fishing Techniqes for Lake Trout
Additional Resources for Alaska Lake Trout Fishing