GEAR REVIEW: Helly Hansen Impertech Raingear
Are you in the market for a really good set of rain gear for your Alaska trip? One of the best brands going is Helly Hansen. Impertech is the brand of choice for many fishing and hunting guides in Alaska. If it's tough enough for guiding, it's worth a look.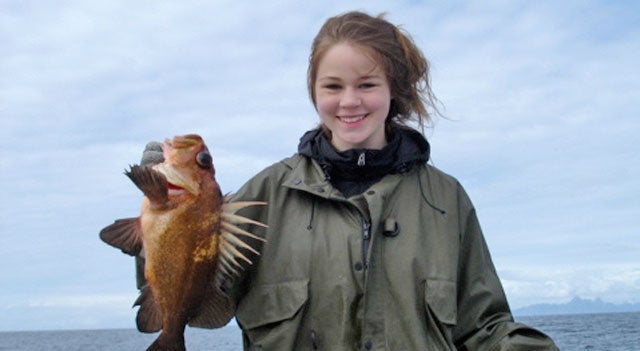 Known best for their commercial-grade raingear used by the commercial fishing fleet, their introduction of the "Impertech" line, a very light-weight, completely waterproof design, was met with open arms by the sport hunting, fishing, and outdoor community in Alaska. Several styles are available:
Helly Hansen Impertech Raingear

| | | |
| --- | --- | --- |
| Model | Features | Color |
| | Mid-thigh length, velcro sleeve closures, cape back for ventilation, attached drawcord hood stows in collar, zipper front with snap storm flap, draw cord at bottom. | OD Green, Camo, Light Yellow, Navy, Black |
| | Knee length, velcro sleeve closures, cape back for ventilation, attached drawcord hood stows in collar, zipper front with snap storm flap, draw cord at bottom. | OD Green, Camo |
| | Pull-over style with chest zip, left chest pocket with snap closure, neoprene cuffs, drawcord hood stows in collar, drawcord adjustment at hem. | Two-tone Ochre / Black, OD Green, Camo |
| | Knee-length leg zippers, heavy-duty clip-type elastic suspenders, double thickness at knees and seat, Internal pocket on bib, snap-type slack adjustment at waist. | OD Green, Camo, Light Yellow, Navy, Black |
| | Elastic waistband and draw cord, 13" zipper and snap adjustment at hem. | OD Green, Camo, Light Yellow, Navy, Black |
Features and Construction
Impertech raingear is made with a knit polyester base cloth that's coated with a very stretchy urethane membrane. This means it is not breathable; instead, it's 100% waterproof. So you don't need to worry about leaky seams typical of most breathable raingear, but you do get that clammy feeling that comes from your body moisture being trapped inside. Some of the jackets are ventilated in the shoulderblade area, but in most cases prevention is the cure. If you must wear your rain gear, try to avoid heavy work that may cause you to sweat. On the other hand if you are hiking in the rain, ventilate by opening the front zipper a bit and leave the gauntlets loose (for those jackets that have this feature). Take it off if it's not raining. Some prefer to use it to shed wind, and it certainly does this very well, however it is at the expense of accumulating moisture inside. Use Windblock clothing to shed wind instead.
The smooth urethane coating makes Impertech raingear whisper-quiet in the woods, a very important feature for hunters.
Both the bibs and the waist-height pants have leg zips that allow you to put them on or take them off without removing your hip boots or hiking boots, a very nice plus.
Helly Hansen has been fairly liberal with pockets on the jackets, but the only pocket you'll find on the pants is the chest pocket on the bibs. It's very convenient; even dipnetters put their Personal Use Permits and a pen in there, to record fish as they are caught.
The entire Impertech line comes in OD Green or Camouflage (AP Real Tree HD), and some models come in Navy, Yellow, or Black.
Deluxe Jacket
If you're looking for simplicity in a mid-length rain jacket, the Deluxe Jacket is what you need. It comes to mid-thigh, has a stowable attached hood, and roomy side pockets with storm flaps. Ventilation is via an overlapped cape-style vent on the upper back / shoulder area. The sleeves have velcro closures, making it easy to cinch the sleeves down over gloves to keep water from running up your arms. This jacket is a good choice if you're wearing the bib rain pants or chest waders. The waist pants can leave you partially exposed at the waist area.
Guide Coat
The Guide Coat is an excellent choice if you're wearing hip boots, eliminating the need for rain pants. It's long enough to allow you to sit on a hillside without getting your rear wet if you're glassing for wildlife and such.
Bib Rain Pant
The bibs are perfect for dipnetting or charter fishing on clear days, to keep fish slime off your clothes. Be sure to wear your rubber boots on the boat! On rainy days, bibs are great and they eliminate the need to wear a really long rain jacket.
Waist Pant
The waist pants are a great match-up for the parka, which more than covers the waist area. They're also great for walking through dew-soaked grass on clear mornings, as a means of preventing getting your clothes soaked. The leg zips are convenient for putting the pants on over boots. Finally, consider wearing them over breathable chest waders while you're busting through the brush on your next hunt. The raingear quiets the normally noisy waders, and it offers huge protection from abrasion. You might get another season or two out of your waders this way.
Conclusions
Helly Hansen Impertech raingear is the personal favorite of many Alaska hunting and fishing guides, and it has earned this reputation by meeting the high standards of individuals who need light, rugged raingear that works without failure.