---
Bill Hauser

Bill Hauser grew up in Wisconsin, where he quickly developed a love of nature, fishing, and all sorts of outdoor activities. His love of nature led to inquiries, challenges, and a desire to learn. This was woven through his college years at the University of Wisconsin and in graduate schools at Montana State University and the University of Maine, where he earned a PhD in zoology. This led to a 40-year career in the natural sciences and in fisheries. After several years and different jobs, Bill arrived in Alaska in 1980, to work as a fisheries biologist with the Alaska Department of Fish and Game. He has had the good fortune to experience much of what Alaska hast to offer through both his work assignments and his personal activities. He has published a book, "Letters from Alaska, the Inside and the Outside", which depicts his experiences in a variety of locations across Alaska. He also writes a monthly column about fish biology, "Fish Talk", which appears in the Alaska Flyfishers newsletter. Bill and his wife Karel live in Anchorage, where they raised their children, Bill and Donna.
---
Rich Johnson
Rich Johnson was born, raised, and still lives in Anchorage, Alaska. He has spent most of his life with a fishing rod of some sort in his hands and has been fly fishing since his late teens. An avid fly tyer, most of his tying for fishing is concentrated on creating or altering existing patterns that will be more successful on the local road system streams and rivers he fishes most of the time. An active member of the Alaska Fly Fishers for almost 30 years, he organizes the annual fly fishing seminar and participates in their monthly tying clinics. He has been published in Fish Alaska magazine, and in other online venues.
---
René Limeres
René Limeres has been involved in flyfishing most of his life. Originally from the East Coast, he came up to the Last Frontier in the late 1970's to pursue his dream of guiding and outdoors writing. Since then, he has led hundreds of float fishing expeditions across the remote vastness of southwest Alaska and Russia's far east. He's had dozens of articles and photos printed in major sporting magazines, given numerous seminars on fly fishing Alaska and Russia, and, as publisher and major contributor to "Alaska Fishing: The Ultimate Angler's Guide", has created what many consider the fishing "Bible" for the 49th state. His other major interests include gardening, homesteading, Nordic skiing, environmental activism and music. He currently resides with his family just north of Anchorage. Check out his website for more information on his publications and fishing programs.
---
Tom Reale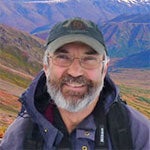 Since moving to Alaska in 1984, Tom has hunted, fished, hiked, camped, sailed, backpacked, and cross-country skied from the Southeast panhandle to the North Slope.  He and his wife Elaine spend as much time in the Alaska outdoors as possible, pursuing big and small game and fresh and saltwater fish.  He's a volunteer Hunter Education instructor for the Alaska Department of Fish and Game, a StreamWatch volunteer with the U.S. Forest Service on the Russian River, an active member of the Outdoor Writers Association of America, and a certified Wilderness First Responder.
Examples of Tom's work and his contact information can be found below.
---
Michael Strahan
Mike has been a fixture on the hunting scene in Alaska since 1985. He conducted his first float hunt on the Noatak River in 1989 and was soon heavily involved in the research and development of numerous modifications to existing rafting setups, for use in float hunting contexts. At that time float hunting was becoming very popular in Alaska, but there was little information available on the subject, so in 1991 Mike began teaching a seminar series titled, "Float Hunting Alaska's Wild Rivers". The information was so popular among the hunting community that Mike compiled some of it into book form, which was published in January 2008. Float Hunting Alaska's Wild Rivers has become the bible of float hunting in Alaska. In addition to these things, Mike is also the owner of Outdoors Directory and has written much of the material on the site. He has been an active member of our forum community since it was launched. Mike also operates a hunt consultation service, which is designed to help hunters increase their chances of success through good area selection, choosing a reliable air charter service, knowing proper hunting tactics for the location chosen, and many other aspects of conducting an expedition hunt in the remote regions of Alaska.
Mike can be reached at any of the following links:
website |  This email address is being protected from spambots. You need JavaScript enabled to view it. |  Facebook
---
Pete Wedin
Pete Wedin, his wife Debra, and their two sons moved to Soldotna in the spring of 1981 after getting a look at Cook Inlet during the 1979 gillnet season. Commercial fishing was what drew Pete to Alaska and that and carpentry work sustained him until after the Exxon Valdez oil spill. During that career, he fished many different salmon fisheries around the state and bought his own longliner.In 1992 he began running a halibut and salmon charter boat out of Deep Creek, for Alaskan Adventure Charters. In 1997, when his youngest son headed for college, Pete and his wife bought their own charter boat, moved to Homer, and started Captain Pete's Alaska, a charter fishing outfit based in Homer.
---