One of the most unusual fish found in Alaska is the sheefish. It was known at one time by the French term "poissons inconnu," which meant "unknown fish." People still use the term "iconnu" occasionally, though "sheefish" is more common. A member of the whitefish family, sheefish grow to very large size and are eagerly sought after by anglers. Older sheefish live up to 30 years and obtain lengths over 40 inches. The state record tipped the scale at 53 pounds. Biologists believe there are sheefish out there that weigh over 60 pounds.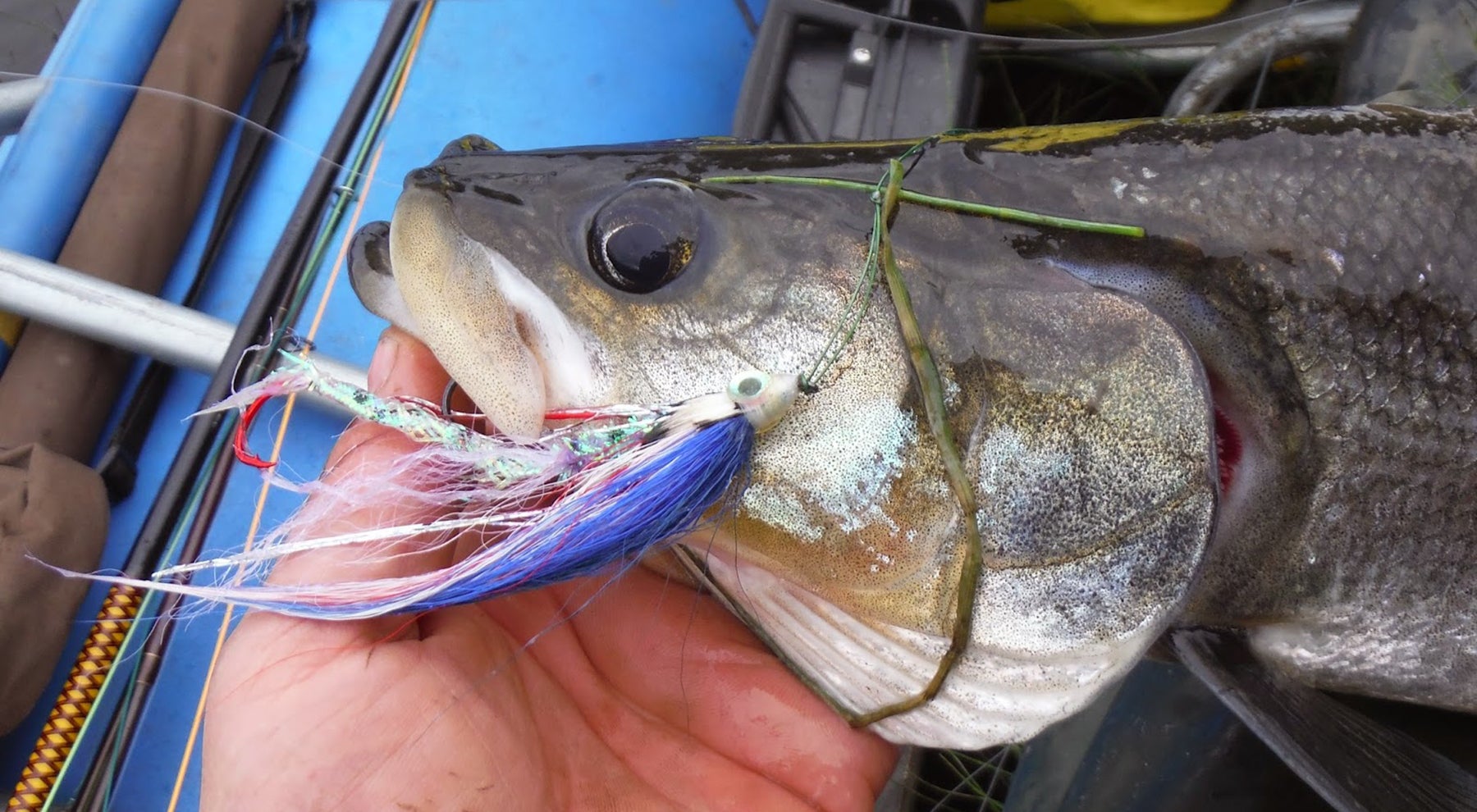 Distribution
Sheefish are found only in the Arctic and subarctic in North America and in Asia. Northwest Alaska, north of the Arctic Circle, has some of the largest and oldest shellfish in the world.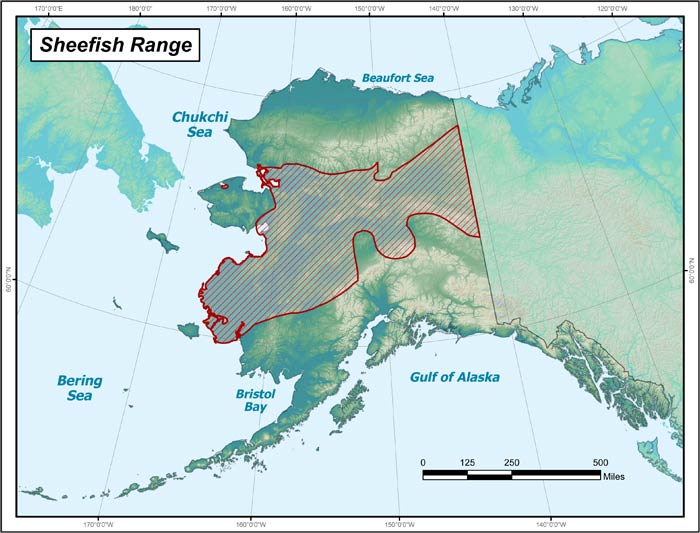 (ADFG Map)
Sheefish in Alaska break out into five distinct groups, with each group presenting differences in size and behavior. Some populations remain in one area year-round, while others participate in extensive spawning migrations. It is believed that fish in the Nowitna, Black, Porcupine, and upper Yukon River and the Minto Flats area are present in those areas year-round. Fish from the lower Yukon and the Kuskokwim River spend the winters in the delta regions and migrate upstream during breakup to spawn. The Kobuk and Selawik rivers host perhaps the largest Sheefish in the state, and these fish overwinter in brackish water in Hotham Inlet and Selawik Lake. Survey samples of Kobuk and Selawik fish harvested in early spring have found herring in their stomachs, while lower Yukon and Kuskokwim fish actively feed on hooligan in the spring. In estuarial environments, they also eat sticklebacks and other brackish-water baitfish.
Where to Find Sheefish
Sheefish are found in several rivers in Alaska, and if you're there during the summer and fall, you have an excellent chance of catching them. Here are some of the more popular areas:
Alatna River
Black River
Holitna River
Hoholitna River
Hotham Inlet
Kobuk River
Koyukuk River
Kuskokwim River
Minto Flats
Nowitna River
Porcupine River
Selawik River
Selawik Lake
Yukon River
Tactics for Sheefish
Anglers catch sheefish year-round, but the best time for sport anglers to catch them is during summer and early fall before spawning commences. Sheefish spawn in late September and early October, and during this time, they stop feeding. Following spawning, they head downstream and resume feeding as they head to wintering areas downstream. During winter, anglers target them by jigging through the ice. That is a common practice in Selawik Lake.
Adult sheefish are predatory, and this makes them susceptible to many types of lures. Spinning or baitcasting rigs with 12-20lb. line are ideal for sheefish, while a 6-7wt fly rod hits the mark for fly-fishing. Sheefish will hit any baitfish imitation, and the bigger, the better. Spin-fishermen need an assortment of red and white Daredevil-type spoons in the largest sizes you can find, together with Krocodile spoons and larger Pixee spoons. Fly-fishermen should go for any of the larger tarpon-type streamer flies, which are fished deep. However, in some cases, sheefish are caught closer to the surface, so a floating line isn't a bad idea either.
If you're ice fishing for sheefish, bring along a throw bag for water rescue in the event someone falls through the ice. A throw bag is a floating bag with a handle that allows you to throw the bag to the person in the water while holding onto the other end.
Fly-Fishing for Sheefish
Taking on larger sheefish on fly gear is not for the faint-of-heart! Sheefish are strong fish that will test the limits of your gear beyond the breaking point. While you will find fish in deeper water during the day, few things can match the excitement of sight-casting to individual fish you can find in the shallows when the sun is low on the horizon. This is where a floating line, long leaders, and baitfish patterns come into their own.
Fly-Fisherman's Sheefish Tacklebox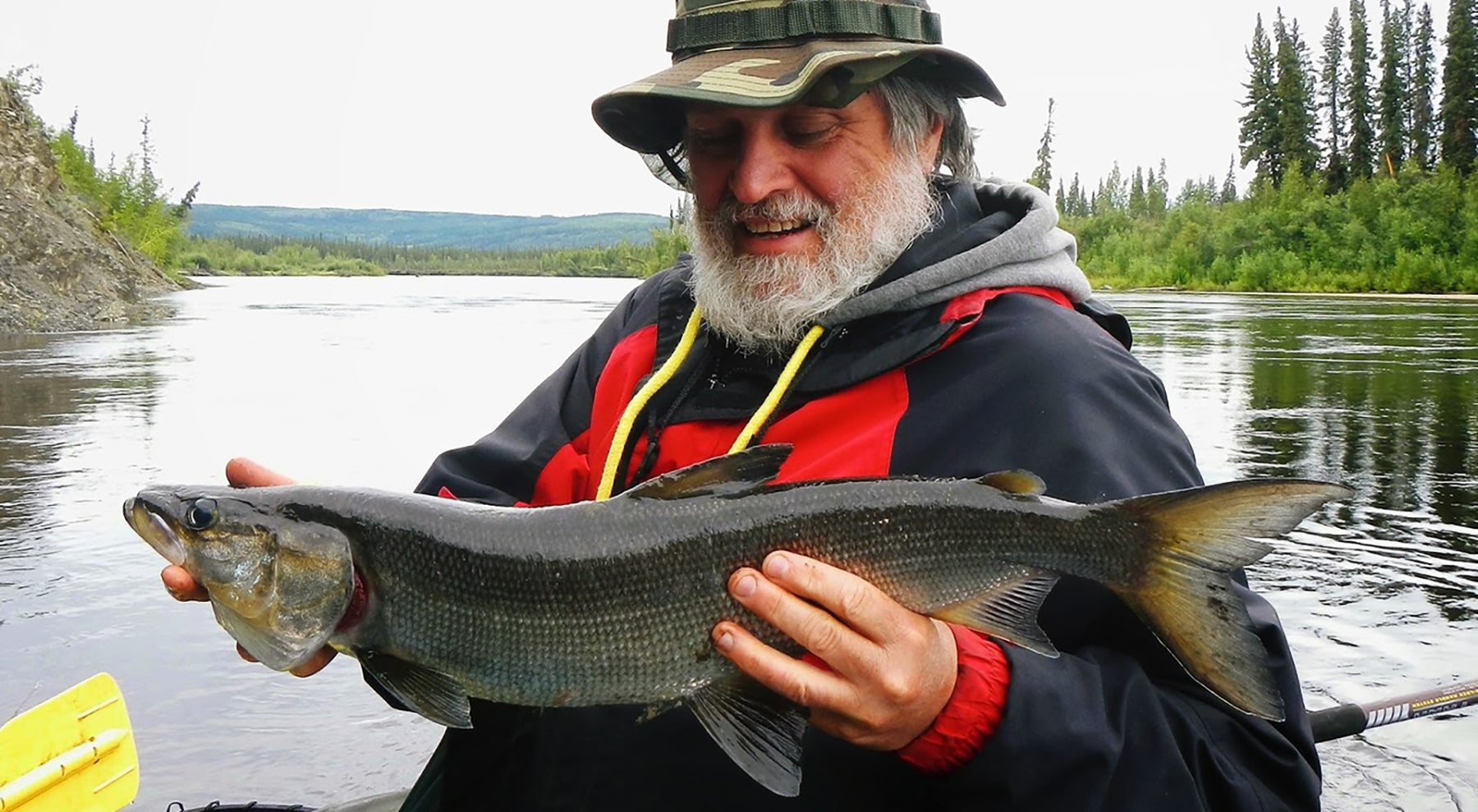 Spin or Drift-Fishing for Sheefish
Spin or drift-fishing for sheefish is almost always an incidental affair by anglers looking for pike or salmon. Rods and reels suitable for these species are usually also up for the task of catching sheefish. Cast into deep pools when the sun is at its peak, but concentrate on shallower riffles in the early morning or late evening hours, as fish move into shallower water to target baitfish. Spinning rods should be in the medium to medium-heavy action with 20# fluorocarbon line. Go with 20# braid for drift-fishing.
Spin-Fisherman's Sheefish Tacklebox
Sheefish Fishing Resources