GEAR REVIEW: Kuiu Super Down Insulating Layer
By Brian Mason
Over the past several years I have been increasingly reaching for outdoor clothing made of natural fibers. Like many other outdoorsmen, this transition began with merino wool socks, and eventually led me to favor wool for almost all of my layering needs. Still, like most others, I had long believed that synthetic insulation fibers continued to be the best choice for sleeping bags, jackets, or anything else that stood a reasonable chance of getting wet. For anyone who has hunted Alaska, it is a simple reality that it's only a question of when a hunter will get wet, not if.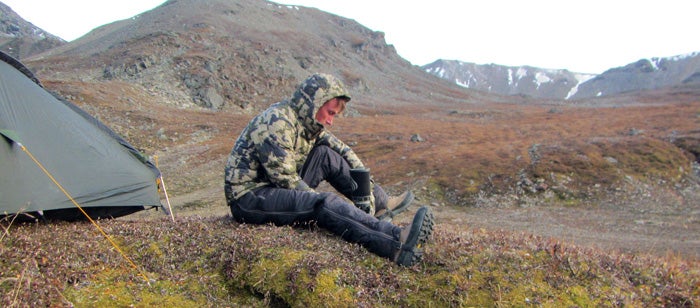 That said, when Kuiu became one of the first hunting gear providers to incorporate down into their insulation layers, I was intrigued. I'll admit to a healthy bit of skepticism, but I had been wearing Kuiu outerwear for a few years (the Chugach rain gear and Attack pants, to be specific), and I had thus far been impressed with their quality and ability to withstand Alaskan conditions. Still, it had been common knowledge passed down from my father and others before him that down is a poor choice at best, and in truly wet weather it could be a dangerous choice of insulation. Down is incredibly light and warm compared to synthetic fibers when dry, but when wet down loses its loft and thus its ability to trap warm air against one's body. The idea behind treated down is that the feathers are coated with a water-repellent layer that will shed moisture and thus remove the inherent problem with down in wet environments. To be specific, Kuiu's Super Down products are filled with Toray Quixdown. Toray has developed a water-repellant coating that is applied to the feathers. They claim that this coating makes each down cluster essentially waterproof, and in so doing removes the one major downside to down as an insulation option.

The Test
Over the past two seasons I have used the Kuiu Super Down hooded jacket and pants in a wide range of conditions. I started with a sheep hunt in early August, continued to use them on caribou hunts later in the season, had them on while pursuing sheep again (only this time in the snow!), and when chasing predators over the winter. The next season they were along on bear hunts in the alpine, when calling moose as September frosts set in, on a remote October hunt for goats, and while still-hunting deer in the rainforests of Southeast Alaska. I am a somewhat reluctant gear tester, in that I feel that I can only really recommend a product if I've put it through the conditions that other Alaska hunters are likely to face and, just as importantly, the time afield. Almost all gear seems great right off the shelf, but we all want gear that is going to stand up to the abuse of regular use across multiple seasons. Simply put, I put Kuiu's Super Down gear through the wringer before bringing this review forth.
My first impression is that this jacket and pant combo is incredibly warm for its weight and girth, and is absolutely up to the task of providing adequate warmth on hunts stretching into early winter. Admittedly, I tend to burn hot, but I never felt like I was under-dressed despite spending more time than I cared for in cold conditions. The weight and packability led me to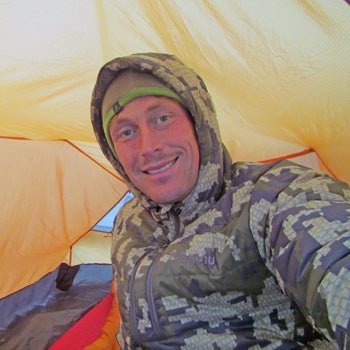 carry the jacket and pants at all times, which is something I could not say for the synthetic jacket and pants that I used on previous trips.

The experience that really convinced me of the quality of treated down in general and this jacket/pant combo in particular was my 2nd sheep hunt of 2014 (CLICK HERE for an account of that hunt and additional comments on the gear). After multiple days of climbing and hiking, I found myself tracking a band of rams in the midst of a fierce snowstorm. Despite my best efforts, it was one of those moments where staying totally dry was an impossibility – mitigating moisture was the best I could hope for, and those tracks in the snow kept me going long after I should probably have turned back. At the end of the day I was more wet than I care to be, my hair frozen to my head with rivulets of water dripping down my back as I returned to a snow-covered tent without the afterglow of a successful harvest to warm me. I wanted to give this gear a thorough test, but I confess that I was concerned as I climbed in to my tent to begin a long night already damp. My sleeping bag was lightweight and also contained treated down, so if this system was going to fail at trapping heat when wet, I was in trouble.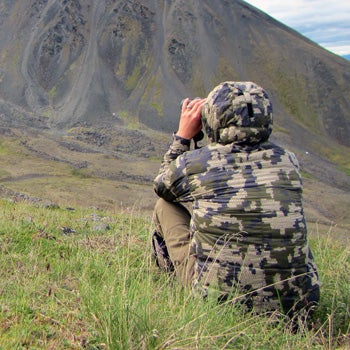 It turns out that my concerns were completely without merit. To my great surprise, not only did I remain warm throughout the night, but I woke much drier the next morning than I had been the previous evening. I kept my down jacket and pants on throughout the night – more out of concern for my safety than for any testing purposes. I figured that if my clothes or sleeping bag lost loft due to all of the water I was exposed to, I might retain a bit of warmth by using them together. Instead, what I found is that my clothing retained its loft – I was plenty warm from the start despite the plummeting temperatures – and in the morning it became clear that what moisture I brought into the bag with me was progressively wicked away through the night.
It should be noted that this gear is not intended to serve as outerwear. While very effective when in damp conditions, appropriate care should be taken to keep any insulation layer as dry as possible for best performance. While I sometimes used this gear without a shell, it should be coupled with a rain or snow shell as weather dictates. In addition, to save weight a very light material is used in the construction of this jacket/pant combo. Even if skies are clear, it would be wise to keep a lightweight shell on hand if rock scrambling or alder breaking is on the menu.
On all other hunts I have done over the past two years I have had similar results. I've never lacked for warmth with this gear, and neither have I noticed a dip in performance when hunting in wet conditions. This has become my go-to combination, as it saves me a solid three pounds over my previous setup while providing superior performance. I know that there are skeptics of down, but I for one am convinced.
While I shed my Super Down layers on the final stalk on my sheep hunt, having insulating layers that withstood the cold and wet conditions I encountered was critical to my efforts, and allowed me to stay in the mountains long enough to connect on a ram.
-Brian Mason, Chief Forum Admin and gear junkie, Alaska Outdoors Supersite