A guided hunt in Alaska is the quintessential North American hunting experience. You are hunting rugged, remote wilderness where the streams and lakes are clear and icy-cold, the mountains stand in sharp contrast against a blue sky and you have close encounters with wildlife that may have never seen a human before. You will be tested both physically and mentally, and you will surprise yourself as your mind and body rise to the challenges of the hunt, and you find yourself doing things you never thought possible. It's the stuff dreams are made of, and you will have stories to tell around the campfire for years to come.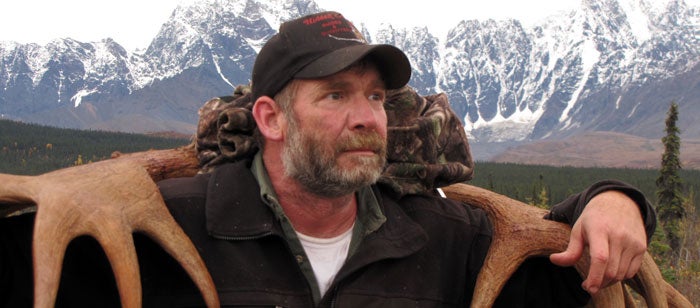 Guide Qualifications
Choosing a reputable Alaska guide service can be a challenging endeavor. This is especially true in Alaska, where great variations in species, hunting conditions, and weather patterns require guides to specialize. Therefore a guide familiar with hunting in one area may know little or nothing about hunting in another area of the state. The costs involved in an Alaska hunt require hunters to use good judgement in choosing a guide service. Here are some tips. To begin with, it's important to realize that there are several classifications of guides in Alaska. Here is an overview of each:
Class-A Assistant Guide
Must be 21 or older, must possess a current first aid card, may not contract to guide or outfit a hunt, must be employed by and supervised by the contracting registered guide, may take charge of a camp (provided the supervision requirements are met), and may not guide outside the GMU for which the license is issued.
Assistant Guide
Must be 18 or older, must have hunted big game in Alaska 2 or more years, must possess a current first aid card, may not contract to guide or outfit a hunt, must be employed by and supervised by the contracting registered guide, and may not take charge of a camp unless the contracting registered guide is participating in the hunt, or a registered guide or Class-A assistant guide is physically present and supervising the hunt.
Registered Guide
Must be 21 or older, must possess practical field experience in specific skills related to hunting in Alaska (as enumerated by the Big Game Commercial Services Board) must pass a certification exam or provide evidence of 25 years of experience as a Class-A assistant guide, must pass a certification examination for at least one Game Management Unit (GMU), must have hunted for parts of at least five years in a manner contributing to their competency as a guide has been licensed as either a Class-A assistant, or assistant guide in Alaska for at least three years must possess proof of insurance or financial responsibility if required may contract to guide or outfit hunts in GMUs for which he is licensed.
Master Guide
In addition to meeting the requirements for registered guide, a master guide: Must have been a licensed registered guide in Alaska for at least 12 of the 15 years prior to applying for a master guide license, and must submit a list of at least 25 clients he has personally guided, from which the state receives a favorable evaluation from at least 10 of the clients listed .Only a person carrying a valid master guide license is allowed to advertise as a master guide.
This is Your Guide Speaking...

"Ask for references for successful and unsuccessful clients; this will give you a much better picture. Second, physical conditioning is very important. Ask the guide about the terrain and other physical aspects of the hunt, so you can prepare yourself physically. Being in good shape increases your enjoyment of the hunt, and your chances of success. Lastly, in packing for your hunt it's important to stick to a checklist. Most reputable outfits will send you a list of what you need. Some hunters tend to over-pack, which creates problems in getting it all to the field. Check with your guide before you add anything to that list; for example, is he bringing a spotting scope? He probably is, and you don't need two. The importance of discussing the gear with your guide cannot be over-stated; it helps you avoid over-packing and it develops a rapport with your guide that will be a huge help in the field." -Bob Summers, Deltana Outfitters
---
Finding a Hunting Guide
There are many ways to find a guide service. Some hunters attend outdoor shows where guides advertise. Others read magazine articles that feature guided hunts. Some rely on referrals or other forms of advertising. Of all of these methods, referrals are one of the best because they put you in direct contact with someone who knows the guide service. The rest of these methods put you at risk of booking with a shady operator, so you must be careful to check everything. If you don't know where to start, contact the Big Game Commercial Services Board for a list of licensees. They can narrow the list down a bit if you can tell them what species or area you plan to hunt. Tell them what you want to hunt, and generally where, and they will give you a list of operators in that area. THIS LINK provides a current list of licensees, organized by GMU in which they operate.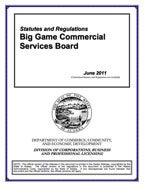 Some hunters want to have a basic understanding of the guide regulations before they book a hunt. Here is an overview of the statutes put in place by the Alaska Board of Game, the government body responsible for maintaining the guide program in Alaska.
How can you know if the guide you are considering has any game violations, or if he / she has a good record? Contact the Big Game Commercial Services Board. Give them the name of the guide service and they can tell you if the guide has been convicted of any violations.
Interview The Guide Service
Once you have a list of guide services to contact, you need a list of questions for your interview with them. Here are some ideas.
Get their complete contact information. Names, addresses, phones, email, and website are all things you can use to learn more about them, and to contact them if you have additional questions.

Experience. How much experience do they have with the species and location you are after? If they are new to the area they're hunting, ask why. If the guide service itself is new, that could work in your favor. New guides often offer better rates than seasoned guides with many years behind them. On the other hand, it's possible that they might not know what they're doing.

Equipment. What brands of gear do they use, and what condition is it in? You don't want to spend two weeks in a leaky tent, or float a river in a raft with pinhole leaks in it.

Duration of hunt. Many guided hunts are ten days in length, but some guides count your fly-in and your fly-out days as part of your hunt. Alaska law prohibits you from hunting on your fly-in day, and on your fly-out day you cannot really expect to hunt because you are packing up to leave. So a ten-day hunt becomes an eight-day hunt. Ask about that or you could end up with less hunt time.

Talk about your expectations. If this is your first Alaska hunt, let them know. 
Check References
Always ask your guide to provide references for the last two or three years. In most cases you will receive a "filtered" list of clients who are likely to say complimentary things about the service, but you can often discover critical things about the quality of the operation by asking the right questions. Additionally, you can inquire in our Alaska Hunting Forum. Half of our forum community are Alaska residents, and chances are, someone in there knows the outfit. Though our forum rules don't allow negative comments, if the news is not good, a member might discuss that with you privately. On the other hand, if it's a good outfit you will be sure to hear about it in our Alaska Hunting Forum. Who knows? You might even find a forum member who was a past client of the guide service you are asking about. Here are some questions to ask a reference:
How many hunters did the guide service have in camp?

How experienced were the guides and assistant guides?

Was the equipment in good condition?

What was the food like?

What did you do on an average hunt day?

Did you experience any unexpected costs?
This is Your Guide Speaking...

"Over my years guiding hunters in Alaska, three things stand out in my mind, that hunters need to understand when they book an Alaska hunt. First, you have to have realistic expectations. Trophy-sized animals are by definition rare. We don't have any 40-inch rams tied up in a willow thicket somewhere. You also have to be realistic about your physical capabilities. Second, to be blunt, if you can't afford to come home skunked, you probably should not book an Alaska hunt. It's a hunt, not a shoot. We do a good job with the things that are within our control, but after that, it's hunting. And finally, very rarely do animals come into camp and surrender. You have to go where they are! Sometimes that means a lot of hard work; long hikes, steep climbs, uncomfortable glassing sessions in the rain. If you can do these things, you'll have a much better hunt." -Mike "Buck" Bowden, Master Guide, Hidden Alaska Guides and Outfitters
What to Expect in Guide Camp
Participating in a guided hunt involves much more than just showing up with your gear and hitting the hills. Let's look at some expectations and some of the details you should be aware of in guide camp.
Your First Day in Camp
The first day of a guided hunt is filled with excitement. You may or may not have been met at a local hotel by representatives of the outfit. In such cases, they may be able to sell you the licenses and tags you need. In other cases, you can buy those at local sporting goods outlets, or you could order them in advance.
If it's a fly-out hunt, be advised that Alaska regulations require a pre-flight briefing covering the safety equipment on board and the proper operation of the Emergency Locator Transmitter (ELT) in the event of an accident. Each aircraft is also required to carry enough survival gear aboard to hold you until rescue personnel arrive, in the event of an "unscheduled landing" (a crash). In most cases the aircraft will also carry the personal gear of whomever is flying. So this is the flight where you want to have your rifle, pack and duffel bag along. Hard rifle cases will, in most cases, remain behind at the hangar or in your rig. They're too bulky for fly-out. If you need one, you could consider bringing along a soft case for your rifle, but the only place you will need it on your entire hunt is in the airplane on the way to and from camp.
Once you've arrived, you will probably stow your gear in the tent or cabin, and make the rounds to introduce yourself. Make it a point to meet the camp cook; and let them know if there are any dietary issues of concern (this must be mentioned well in advance of your hunt as well, for obvious reasons). Your guide will likely tour you around the camp, to ensure you know where everything is. Next, you may need to check the zero on your rifle or you may want to fling a few arrows if you are archery hunting. Not to worry about scaring game with those shots; Alaska law forbids you from hunting the same day you fly in a bush plane. You won't start hunting until the day after you fly in.
Note that most guides are very serious about keeping the area clean. Ask where you are to dispose of trash, where the latrine is, and so forth. If you smoke, take the effort to dispose of your cigarette butts properly, instead of tossing them on the ground.
Gear
Most outfits will send out a gear list in advance of the hunt, and they may recommend specific items or brand names. Listen to them carefully! They know what works and what does not work in their area. Review the gear list with them over the phone well in advance of your hunt. This gives you the opportunity to field test some of the new items well in advance, so you are comfortable with them and know how everything works.
Expectations
Unmet expectations are one of the greatest hunt killers you can imagine. And there are expectations on both sides; you are expecting certain things of your guide and of the hunt itself, and your guide has some expectations of you. Let's look at both areas.
To begin with, unless the guide service is a one-man operation, you are probably not going to be guided by the "Main Man"; the operator of the service. In some cases the owner may be your guide, if you have arranged this in advance. Just don't expect that without advance arrangements. This is often a disappointment to hunters who don't know otherwise. So, who will your guide be? In most cases it will be either an Assistant Guide or a Registered Guide (see qualifications above). They may or may not have direct experience in the specific location you are hunting (ask about this in advance if you are concerned), but that should not be a problem as long as they know how to find game in the area. If they are new to the area, they should have received some instruction from the contracting guide, so they know where to go and so on. 
The second area of expectations has to do with your chances of finding and taking game. Some of this depends on the guide's skills, some depends on your skills and physical ability, and some depends on the random factors of weather and the behavior of the quarry sought. In some cases moose will simply stop calling and hold up in the heavy brush, or bears might become nocturnal. Sheep might move out of the area. You just never know, and you need to be ready for such things. You should know that though Alaska has the highest number of available big-game species in the country, we also have the lowest density of big-game animals in the country. Simply put, there's a lot of real estate here without a living thing on it for most of the year.
Physical Aspects of the Hunt
There's an old saying, "By the time you can afford a guided hunt, your body can't cash the check." Often this is close to the truth. Some Alaska hunts are extremely physical. Dall sheep hunts and goat hunts are especially tough, because of the terrain hunted. Moose hunts can be fairly easy, unless you're hunting them in boggy muskeg swamps, in which case your legs will take a beating. Float hunts can be easier in some respects, but if you have to get out and drag the boat through the shallows or hike out on the tundra much, that can all change. You owe it to yourself to get in shape before the hunt. Work your core, work your legs and do some cardio work (treadmill, elliptical, etc.). Upper body strength is important too, but the legs and core are much more so.
Dealing with the Meat
Your guide will ensure the meat is properly cared-for at the kill site, and he will pack it in for you as well. In some cases, it's in your best interest to share the packing duties; the sooner you get done packing that moose into camp, the sooner you can start hunting caribou! Other guide services have paid packers to take care of this. Check with your guide in advance to be sure you have the right pack and you know what to expect.
Some hunters prefer leaving some of the game meat with their guide, and many guides rely on this to help get through the winter. Alaska's game laws allow hunters to donate meat to anyone, as long as the appropriate Transfer of Possession Form is filled out. On the other hand, many hunters want to bring meat home. In such cases, your guide service can make recommendations for local processors or help you get it packaged for shipping as cargo. Review this information with your guide in advance.
Trophy Issues
Most hunters intend to retain big-game trophies from their hunt. Your guide should provide initial caping and skinning, along with fleshing and salting. By the time your cape leaves the field, it's ready to ship to a taxidermist. There are a number of Alaska-based taxidermists, and of course you can ship it to your taxidermist back home. Antlers can be problematic on the trip home, with some airlines refusing shipment as baggage, and others charging exorbitant fees for their transport. Ask your guide service for the best options in your case.
Tipping
Though they might not talk about it openly or in their printed material, tipping is certainly appropriate on a guided hunt. Come prepared with cash to tip your guide, the packer and the camp staff (including the cook). The amount can vary, but 10% for your guide is not out of the question, followed by lesser amounts for those who did not spend as much time directly with you. Avoid leaving gear as a tip, unless you have discussed it with "the Man in Charge" first; most guides are particular about their gear and already have what they need. The owner of the outfit is not usually tipped, unless he actually guided you or if it is a one-man operation.
---
Let's Get Started!
If you are considering hiring an Alaska hunting guide, check our Directory! We have hundreds of listings there, with guide coverage of the entire state of Alaska. Begin your research in the Directory.