Seldovia Roadside Fishing and other Activities
Seldovia offers some of the best fishing for halibut, lingcod, rockfish, king salmon, and yelloweye in all of Southcentral Alaska. The charming town is one of the true gems of Southcentral Alaska. Before the completion of the Seward Highway in 1958, Seldovia was the largest town on the lower Kenai Peninsula. But the highway put Homer on the road system, and Seldovia's population began to decline. In terms of fishing opportunites, though, the prospects out of Seldovia are equal to Homer, with the pleasant prospect of being much closer to popular fishing areas for halibut, rockfish and lingcod. Equally important to many, Seldovia offers a peaceful respite from the hustle and bustle of Homer's summer tour traffic. You come in from a day of fishing and bask in the summer sun along the waterfront, enjoying a cold beverage with friends. It's a fine way to while away the long summer evening in Alaska!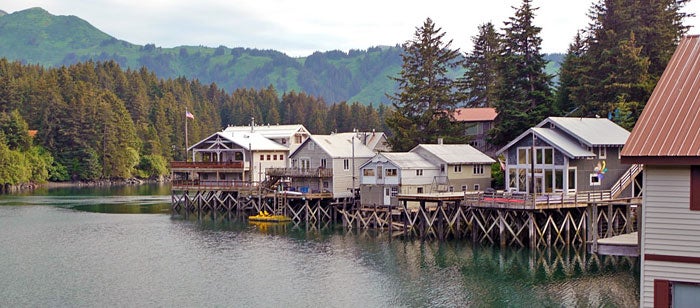 Seldovia Remote Saltwater Fishing
Seldovia is an excellent base camp from which to launch out on any of several saltwater fishing adventures. If the swells are big outside and around the corner toward the Gulf of Alaska, you can scoot into Kachemak Bay for some great king salmon trolling, clamming, or fishing for halibut and rockfish. On those unforgettable flat days of Alaska's seemingly endless summer, there are outstanding opportunities for larger halibut, rockfish, yelloweye, lingcod, pacific cod, and all five species of Pacific salmon. King salmon fishing can be excellent. There are many choices out of Seldovia, and you get to return to a relaxed, easy-going small town where people still greet each other on the streets, and you can relax by the waterfront or take a stroll along the boardwalk and enjoy the idyllic charm of this small seaport town.