Chum salmon (onchorhynchus keta), known also as dog salmon, are hard fighters, and offer sport anglers an excellent fishing experience in both freshwater and saltwater. The best table fare comes from saltwater fishing, but regardless of where you catch them, chums are hard fighters and will test any angler's mettle.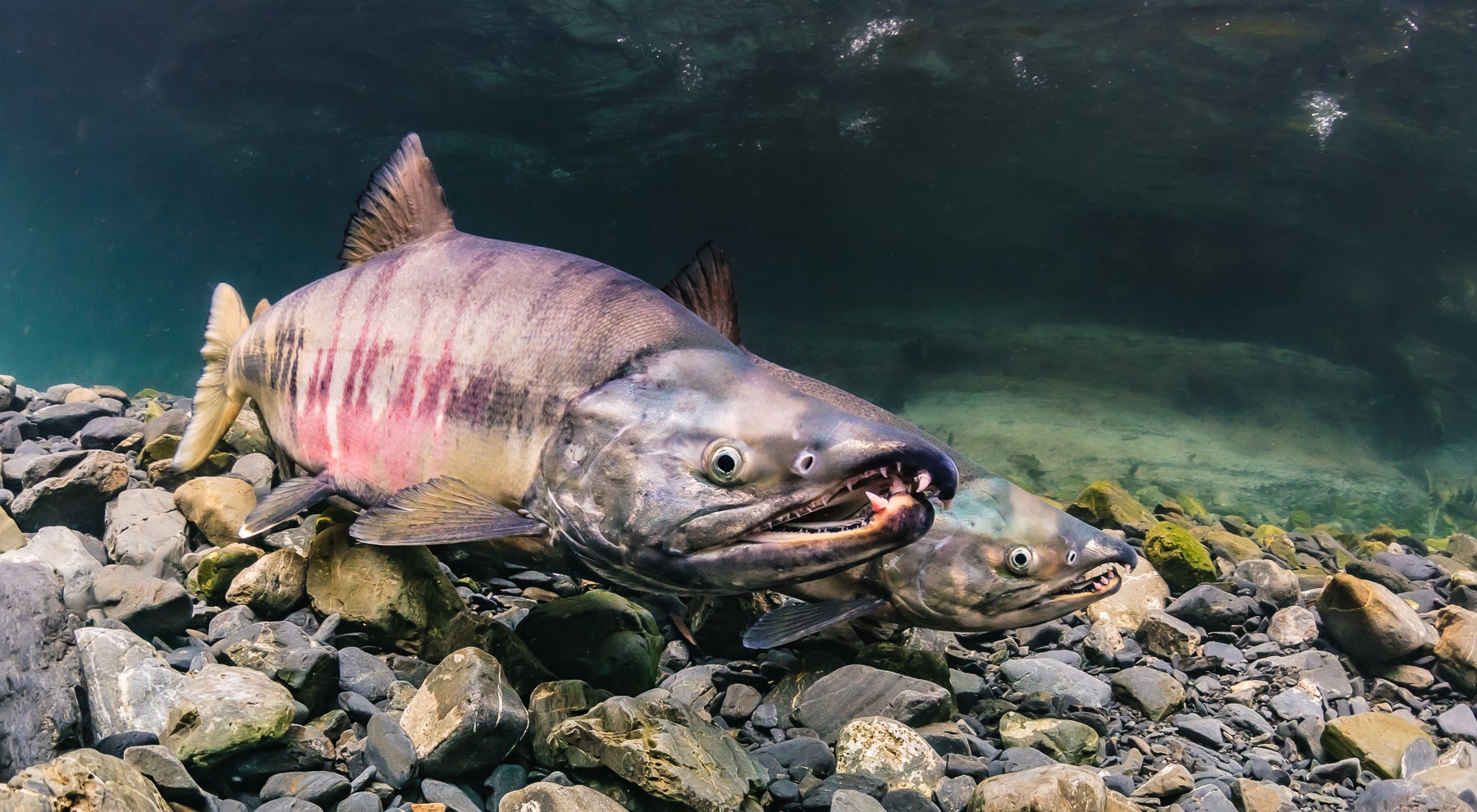 Chums are a popular sportfish, but they're important to the commercial market as well. Like pink salmon, chums are easily raised in hatcheries, and can be released into saltwater very soon after hatching, unlike king or coho salmon, which must spend a year in freshwater before migrating to the ocean. This means that chums don't have to be fed and maintained in a hatchery environment for very long, compared to other species. This makes hatchery chums a lot cheaper to raise in a hatchery. Several chum salmon hatcheries exist throughout Alaska, with the majority of them being located in Southeast Alaska. Hatchery chum salmon are also raised in Prince William Sound.
Ocean-bright chums are marketed as "keta" salmon, using the species name. Chum salmon is less expensive in the retail market than king, sockeye or coho salmon, and has become widely accepted. Chum salmon are a staple food source for humans and their dog teams across the state of Alaska, most notably along the Yukon and Kuskokwim watersheds, where they are found in abundance.

Distribution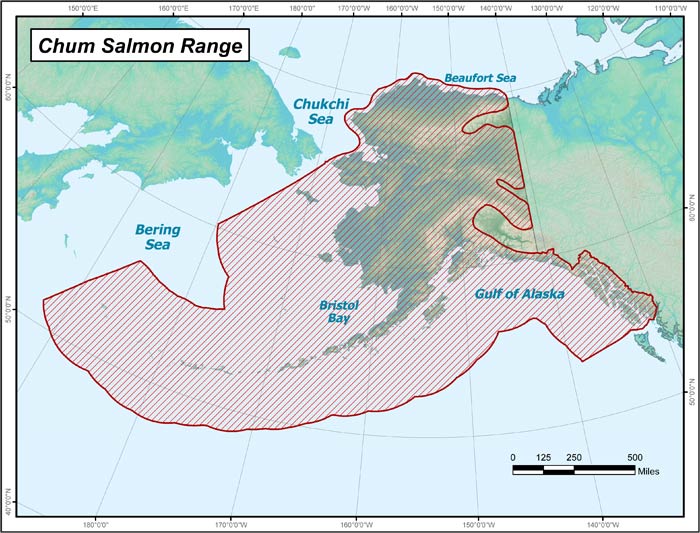 (ADFG Map)
Chum salmon have a statewide distribution in Alaska, which is one of the reasons they've become a staple food fish in many areas. They can be readily found throughout Southeast Alaska, Prince William Sound, the Seward area, and several rivers in Southcentral Alaska, along with the Yukon and Kuskokwim rivers, the Bristol Bay region, and on north to the Western Arctic. Though they can be caught throughout the summer months in saltwater, the spawning run typically occurs beginning in late August, and spawning occurs in September and early October, depending on the location.
---
Tactics for Saltwater Chums
Chums will readily strike anything you would use for kings or silvers, and most of them are caught incidental to other target species.
Mooching
Mooching is usually done by dead-drifting with the current or tide, using a very simple setup such as a banana weight, a six-foot monofilament leader, and a 3/0-4/0 siwash hook topped with either whole, plug-cut or chunk-cut herring. This method also results in strikes from other salmon species, as well as rockfish, lingcod, and even halibut.
Trolling
Trolling is probably the most common method of catching saltwater chum salmon. Rig your plug-cut herring so it slowly rolls as you move along, or use spinners or spoons instead. Chums aren't difficult to catch and will strike a variety of lures. Change your color selection every hour or so if you're not hooking anything. If you're using a downrigger, experiment with different depths until you start encountering fish.
Shore Fishing
Casting from shore can be very productive for chum salmon. Use spoons such as the Pixee or Vibrax spinners for the best results. Carry an assortment of colors, but the staple colors are orange, chartreuse, pink, green and blue. Chums can be legally snagged in many saltwater areas, and the most productive places to do that are off the mouth of spawning streams, as fish stage to migrate upriver with the high tide.
---
Tactics for Freshwater Chums
The same spinners and spoons used to catch saltwater chum salmon also work in freshwater. As with the saltwater fishery, bring an assortment of colors along, and experiment until you start hooking fish. The most common method is to find a good hole and simply cast and retrieve repeatedly until you hook a fish. Experiment with faster or slower retrieves, until you start getting results.
Fly Patterns for River Chums
Fly-fishing for chum salmon is a real treat. Chums are usually much larger than silvers or reds, and they put up a very strong fight. Popular fly patterns include Glo-Bugs in various colors, polar shrimp, Teeny Nymphs, Wooly Buggers, and Everglo Flies. Go with the big, gaudy patterns on darker days or turbid water.