Round Boats
When most people talk about a "raft", they are thinking of a round boat. It gets its name because of the oval or round bow and stern sections, which are joined together by straight side tubes of the same diameter. Several variations of the round boat include boats with bullet-shaped bows, flat sterns, enlarged or diminished-diameter tubes in the bow or stern or other variations designed to improve performance in certain conditions.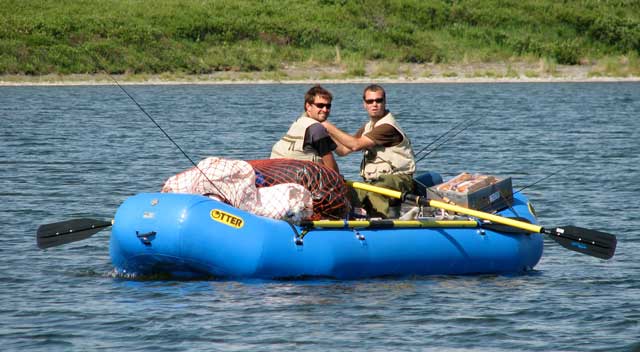 Non-Bailing Round Boats
The non-bailer is the "meat and potatoes" boat of Alaska. It rolls into a small package that loads easily into an aircraft, and is relatively inexpensive. For these reasons they are very popular with air services that supply boats to their customers. Most non-bailers are made of rubber, and without an inflatable floor the boats tend to flex a lot, particularly when they're loaded heavily. Guard against this by reducing your load. A better option is to locate a company that makes a plastic non-bailer; they are stiffer and offer significantly better performance.
Rigging a Non-Bailer
For best all-around performance, a rowing frame should be used. Some air charters balk at rowing frames because they have seen some of the larger, heavier frames and find them too heavy for air transport. Go with a simple rectangular flat frame consisting of two side rails and two or at the most three cross rails. Keep it simple!
Because the non-bailer does not have an inflatable floor, the floor tends to flex in rough water. Your frame should offer a way to keep your feet off the floor of the boat. If your feet are resting on the floor for any length of time, the cold temperature of the water will migrate right through the fabric to your feet and you will be very cold in short order.
Another rigging question that bears on the floor issue is the need to suspend your gear. Heavy items left directly on the floor can cause huge problems if the boat drifts over a rock or log. The floor material becomes pinched between the object in the boat and the rock, and can become torn as a result. Use a cargo platform or net to suspend your gear 3" to 4" off the floor. Once your gear is loaded atop the cargo platform, a cargo net should be installed over it, to prevent loss in the event of a capsizing. Straps or even rope can serve the same purpose, however they take more time and do not offer the coverage of a net. Some of the more inexpensive non-bailers may not offer enough D-rings around the bow and stern areas to adequately support a cargo platform. Extra D-rings should be purchased and installed on the boat, to suppliement those that were installed by the manufacturer.
Water and dirt tend to accumulate inside a non-bailer. Bring along a cut-off milk jug or other container to bail your boat as necessary. Sand and grit tend to work their way into the edge seams, so pay particular attention to these areas, or the grit could rub through the fabric coating over time, and cause your boat to leak air.
Finally, rig your boat with a bow line that's at least 50' in length, and stowed inside a bag or other container when not in use. Never leave loose lines laying about! They present a tripping and entanglement hazard that could prove disastrous should the boat capsize.
Self-Bailing Round Boats
A self-bailer is a round boat with an inflatable floor and holes around the perimeter that are present to allow water to flow out of the boat. Water can enter a round boat through splashing, multiple entry-exit cycles of passengers, and rainfall. However it gets there, it amounts to a lot of extra weight and having it drain out on its own is a huge benefit. Some other benefits of the bailer are as follows: The inflatable floor stiffens the boat and gives it better performance characteristics. The floor insulates passengers from the temperature of the river, and finally it provides additional floatation in the event of a puncture of one of the side tubes. The down-sides are that bailers are up to 25% heavier than a conventional round boat, they fold up into a bulkier package than a round boat, and they are more expensive. Finally, a bailer has less load-carrying capacity than a conventional round boat, because as soon as you push the tubes down into the water below the height of the floor (which can happen on float hunts where you carry heavy loads of game meat), the floor floods over and cannot bail itself out.
Bailers are popular with many boaters because they are stiffer (offering superior performance) and the floor insulates passenger's feet from the cold temperature of Alaska's rivers. On easy rivers where the chance of running aground is slim, some boaters opt to load gear directly on the floor, eliminating the need for a cargo platform. This is a dangerous practice on shallow, fast, rocky rivers though. The floor of your self-bailer could be severely damaged if it becomes pinched between a boulder and a hard object left sitting on the floor. In all cases, the load should be secured with a cargo net.
Frame options for self-bailers are the same as the non-bailing boats. For fly-out trips, keep it simple with a light-weight flat frame and minimal attachments and modifications. If you're trailering your boat or using it to float rivers on the road system, you can consider the addition of special seating, brace bars in the front for fly-fishing, anchor systems and other modifications to add comfort and convenience.
Use caution to avoid over-loading your bailer. If the load is too heavy, water will flow back into the boat via the bailer holes, flood the floor, and your boat will be sluggish and hard to maneuver.
The Ultimate Round Boat?
Northwest River Supplies has been cranking out quality round boats for decades. There is no question that they are one of the top manufacturers in the business. Their 14' Otter round boats, in both bailing and non-bailing models, are the most popular round boats on the Alaska float hunting scene. The air charters love them, and private owners rave about them. Whether you rent from a local outfit, or bring your own, you would do well to consider an NRS Otter for your Alaska expedition trip.
The Big Load-Haulers
A few round boats on the market offer superior load capacity, making these boats ideal for expedition floats in Alaska. The field is fairly narrow though; let's take a look.
AIRE 160 Double-D
The 160 Double-D is a relatively new boat in AIRE's fleet, and it is designed specifically for floaters needing a heavy hauler. Like their other "D-series" boats, the 160 Double-D offers a diminished tube in the bow and stern, which accommodates larger loads by creating additional interior space in the boat. This is a huge plus, as round boats are notoriously crowded in these areas, due to tube encroachment. The roomy bow and stern, together with the generous overall interior width, mean that this boat will handle the large gear and meat loads typically associated with expedition float hunts in Alaska.
The fabric is what we've come to expect from AIRE; 37 ounce main tubes and a 43 ounce bottom, where you need the additional armoring to protect your floor from abrasion in shallow water.  This boat is available with two floor styles; the standard floor that allows water to enter the floor pocket (this helps glue the boat to the surface) or a sealed floor that does not allow water to enter. Because so many of Alaska's rivers carry loads of heavy glacial silt, which can enter the floor pocket and cause abrasion to the air bladder, the sealed floor is recommended. The tube fabric and the floor fabric both use a 1670 denier base cloth, which gives you the strength you need in a boat this size. The heavier fabric gives you a heavier boat that's harder to fold than thinner materials, and this could be an issue when loading the boat aboard Super Cubs and other smaller aircraft. It's going to be a two-man lift to heft this boat. Of course, like all AIRE round boats, the floor on the 160 Double-D laces in, so it is possible to transport the boat in two pieces, and lace the floor in while you are in the field. This feature also makes it possible to backpack the boat in portage situations.
Maxxon Levitator
Originally manufactured by SOAR exclusively for Pristine Ventures, the "Lev" has gone through at least three design phases and two manufacturers to get to it's present form. The original design had no rocker in the bow or stern. This gave the boat incredible lift, but at the expense of splashover in rough water and poor performance in anything over Class II. It has since been modified with 4" of kick at each end (measured from the floor to the bottom of the tube). The first two Levitators were manufactured by SOAR inflatables out of Healdsburg, California, but the current version is made overseas by Maxxon Inflatables. Whereas the first versions of the Levitator were made of Hypalon, the Maxxon version is made out of PVC. It has chafer strips on the bottom of both tubes, however the floor fabric is not armored, which could be an issue if you are dragging through shallow water with heavy loads.
The base cloth of the Levitator is 1100 denier, with a fabric weight of 32 ounces, which gives the boat a lighter weight in comparison to other boats in it's class, but at the expense of potential premature wear, especially on shallow, rocky streams frequented by some float hunters. This can be a particularly troublesome issue if you're dragging heavy loads.
The Levitator features a unique capped self-bailing system, which allows uses to plug the self-bailing holes if necessary, to generate more lift with heavier loads that might flood the floor otherwise, with water back-flowing through the bailer holes if the boat is submerged below the level of the floor. This gives the Levitator a larger carrying capacity, although the additional weight aboard will decrease the boat's responsiveness on the water.
SOTAR Radical
The Radical was originally built by SOTAR for Pristine Ventures out of Fairbanks, Alaska, but it has since moved to SOTAR exclusively and is distributed by Alaska Wildwater out of Anchorage.
SOTAR 16' Classic
SOTAR makes an excellent 16-footer with a large capacity; it's the biggest boat in this discussion. Because SOTAR makes their boats out of very tough urethane material, these boats are both light weight and very abrasion-resistant. This, coupled with the flexibility of urethane in cold weather, makes the SOTAR 16' Classic worthy of an Alaska expedition floater's attention. The boat is wide and roomy, accommodating the largest loads, and it's much easier to fold than other plastic boats in it's size class.
 Big Load-Haulers

| | | | | | | | | | |
| --- | --- | --- | --- | --- | --- | --- | --- | --- | --- |
| Model | Comments | Length | Outside Width | Inside Width | Tube Dia. | Weight | Kick | Rating* | 2014 Price |
| AIRE 160 Double-D | PVC with urethane inner bladder system, diminished bow and stern tubes for additional interior space | 16' | 7'3" | 45" | 21" | 175 lbs. | 12" | 2,320 lbs. | $4,893 |
| Maxxon Levitator | PVC construction, chafers on bottom of tubes (overseas manufacture) | 15'9" | 5'6" | 22" | 22" |   |   | 3,000 lbs. | $3,900 |
| SOTAR Radical | Urethane construction | 16'6" | 5'2" |   | 19" |   |   | 2,500 lbs. |   |
| SOTAR 16' Classic | Urethane construction; | 16' | 7'6" | 46" | 22" | 147 lbs. | 13" |   | $6,550 |
A Word on Load Capacities
The numbers used in the chart above are as quoted from the manufacturers. But there are no objective industry standards for calculating raft capacity, ostensibly because users load according to their needs on the water. Whitewater rafters generally prefer a light, nimble boat, but expedition floaters need a heavy hauler and are comfortable with a boat that sits a bit deeper in the water. For this reason, some companies don't even post numbers for their boats. In some cases, capacity stats can be used as marketing hype to give floaters the impresson that a given boat has a higher capacity than a boat made by a different company. Seeing through this is fairly easy. Just look at the tube diameter, combined with the overall length and outside width of the boat. Boats with larger numbers will carry more; it's a simple matter of physics. If the boat is a self-bailer, you also have to account for the floor thickness. Boats with thinner inflatable floors will flood out sooner than boats with thicker floors. Many manufacturers do not post the floor thickness, so you will have to contact them for that information. Finally, heavier boats (those that use thicker fabric or have additional armoring and wear patches) will sit heavier in the water than lighter boats, though not by much.
Conclusions
Alaska's river floaters have a wide variety of needs, and our rivers force decisions upon us when it comes to boat selection. A good rule of thumb is to "let the river choose the boat". Some rivers lend themselves to certain types of boats, while certain boats work best on some types of rivers. There are very few boats out there that will work effectively for all load types on all rivers. Your choice should be derived from knowing what kind of trips you plan to take, and where you plan to float. If you are in doubt as to the best choices for the rivers you are interested in, visit our Master River List to get some idea of what will work on those rivers.