GEAR REVIEW: Kuiu Super Down Insulating Layer
By Brian Mason
Over the past several years I have been increasingly reaching for outdoor clothing made of natural fibers. Like many other outdoorsmen, this transition began with merino wool socks, and eventually led me to favor wool for almost all of my layering needs. Still, like most others, I had long believed that synthetic insulation fibers continued to be the best choice for sleeping bags, jackets, or anything else that stood a reasonable chance of getting wet. For anyone who has hunted Alaska, it is a simple reality that it's only a question of when a hunter will get wet, not if.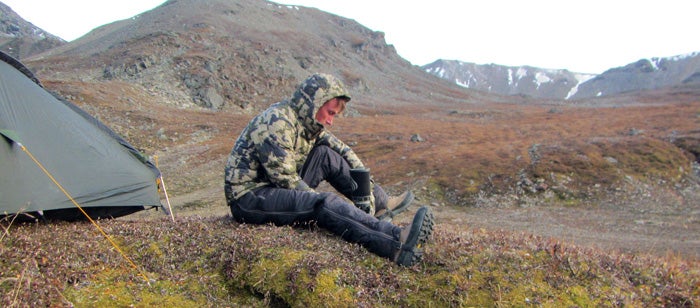 GEAR REVIEW: Dachstein Woolwear Austrian Wool Clothing & Accessories
by Brian Mason
Like many Alaskan-born people of a certain age, I was raised on hand-me-down gear supplemented with my father's poor fitting extras when necessary. The standards we've become accustomed to of gear that is dry, light, and comfy? Ha! Though I remember my childhood family adventures fondly, dry and comfortable were not apt words to describe it. Wet, clammy…and itchy, always itchy. My parents were firm believers in wool socks, much to my dismay. Wool of that era was certainly warm, but at the cost of discomfort that could rival the worst rash.
GEAR REVIEW: Helly Hansen Impertech Raingear
Are you in the market for a really good set of rain gear for your Alaska trip? One of the best brands going is Helly Hansen. Impertech is the brand of choice for many fishing and hunting guides in Alaska. If it's tough enough for guiding, it's worth a look.
GEAR REVIEW: Carol Davis Sportswear
Are you in the market for some killer long underwear? Here's a review by Steve Stidham, one of our forum moderators and a confessed gearhead, concerning his recent test of Carol Davis Sportswear. He ran the gear through its paces on a few winter and early spring outings in Alaska, and it came through with flying colors.