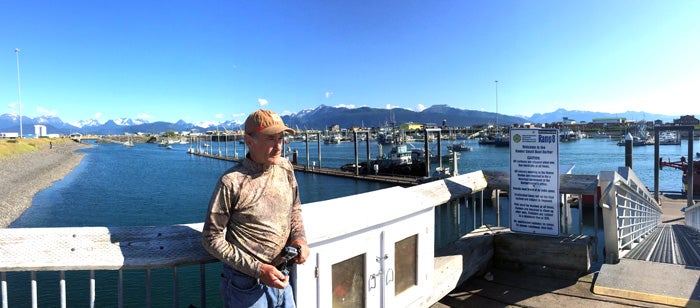 The Sterling Highway from Soldotna to the Homer Spit
As you head south out of Soldotna, you continue along the Kenai Lowlands as the highways makes its way across vast expanses of muskeg and black spruce bog. This route is punctuated by several points of interest for fishermen, including the following hotspots. None of these places receive anything like the pressure you'll see on the Kenai and the Russian River, however each is seasonally popular, depending on the salmon runs mostly.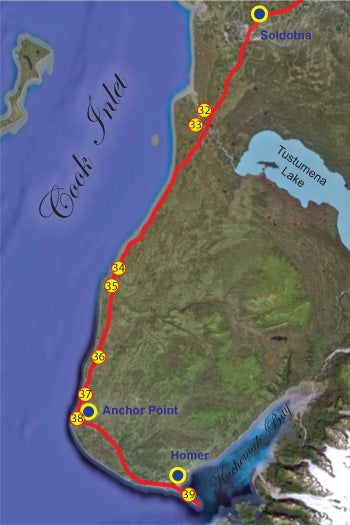 The Lower Kenai Peninsula is the gateway to numerous freshwater and saltwater fishing opportunities. Shore-based anglers will find many areas accessible, along with plenty of campsites to choose from. Many of these camping areas are available on a first-come, first-served basis, so arrive early for the best selection. Holiday weekends are the most challenging, and early arrivals will frequently snag the best camping areas ahead of the crowds.
Boat-based anglers will find some freshwater opportunities, but the marine fishery in this area really shines. It all starts in early May with the arrival of the first king salmon, which make their way up the coastline headed for their natal streams to spawn. These fish cruise very close to shore, where they are within reach of surf casters on the beach. Average trolling depth is about 20 to 30 feet or even less. This is a very exciting fishery, and even ocean kayakers get in on the action. It's not uncommon to see down rigger-equipped kayaks, with fish-finders and all the trimmings in this area, plying the waters for those first kings of the season. This area also sees a number of feeder kings. These are immature fish that are packing on the pounds as they mature for their eventual spawning runs elsewhere.


32. Kasilof River. Species: King salmon, sockeye salmon, pink salmon, silver salmon, rainbow trout, Dolly Varden. The Kasilof is the outflow of Tustumena Lake, which itself emerges as meltwater from Tustumena Glacier and other glaciers that are a part of the Harding Icefield. Consequently, Tustumena Lake and the river carry a heavy load of suspended silt. This means that much of the tackle you would normally use will not be effective here. Go with fluorescent lures or bait, when legal. The entire river offers few access points; much fewer than the more popular Kenai River. Floaters must be prepared to deal with their own issues or plan on walking out to the road. The river is punctuated by exposed boulders of various sizes, along with occasional sweepers and such. Boaters must be on their toes on the Kasilof. The river offers few shore-based fishing opportunities. There are two distinct sections; the upper river, and the lower river. The dividing line between the two is the Sterling Highway.
Upper Kasilof River: The upper section is accessed via Tustumena Lake Road, which, despite its name, does not extend all the way to the lake. Floaters interested in this section can put in at the launch at the end of Tustumena Lake Road, on river left, 1.4 miles downstream from where the Kasilof exits Tustumena Lake. From that point you can float to the Kasilof River State Recreation Area and take out at the ramp there, a distance of about 9.4 river miles. The first 2.2 miles are wide and featureless, however just below this section, the river makes a turn to the left against a bluff, and the current picks up a bit. Below this section there are numerous exposed rocks and the river presents mostly Class I-II conditions. Though the upper Kasilof boat ramp does offer a handful of campsites, there are no other amenities of interest to campers. A state-maintained campground is located nearby, at Johnson Lake. This is where you want to be if you're camping on the upper section. Though it's not on the Kasilof River, the Johnson Lake State Recreation Area offers RV parking, tent camping, potable water, restrooms, and other amenities. Johnson Lake itself offers fishing for stocked rainbow trout. The campground is accessed at MP 110.5, along the Tustumena Lake Road.
Lower Kasilof River: The lower Kasilof is usually accessed by drift boat, launched at the Kasilof River State Recreation Area. There were three take-outs in the lower river at one time, but two of them, Cohoe Cove Campground (river mile 5.5), and Trujillo's Landing (river mile 4.0), have been closed for a few years and do not appear to be opening any time soon. Currently the only take-out is at Kasilof River Lodge (river mile 1.5 or so). This site offers a slide ramp that's adequate for pulling drift boats and rafts out of the water (the Kasilof is a drift-only fishery). Kasilof River Lodge offers all the amenities you could want, from fish cleaning stations, vacuum-sealing and freezing of your catch, to cabins, yurts, a bath house and more. The lodge offers a shuttle service, where they will move your vehicle from the launch point at the Kasilof River State Recreation Site to the take-out, so it will be waiting for you when you finish your drift. The state of Alaska is studying an upgrade to this ramp. Access: Exit the highway at mile 109.4, travel east to the Kasilof River State Recreation Area and boat ramp.
Amenities (Upper Kasilof River Boat Launch):


Amenities (Johnson Lake State Recreation Area):





Amenities (Kasilof River State Recreation Area):




Amenities (Kasilof River Lodge):



33. Crooked Creek. Species: King salmon, red salmon, pink salmon, silver salmon, steelhead, Dolly Varden, rainbow trout. Crooked Creek is a large clearwater tributary to the Kasilof RiverAccess: There are a couple of good access points to Crooked Creek. The first is at the highway bridge (MP 110.9), and the second is at Crooked Creek State Recreation Area, which is located at the confluence of Crooked Creek and the Kasilof River. Expect crowded conditions here. Another option is to consider a float on Crooked Creek itself, but the river is narrow and has some shallow spots, so you can expect to do some dragging. The creek runs for 2 1/2 river miles from the highway bridge to the Kasilof confluence. The creek can be waded / walked, but if you float, a packraft would probably be better suited. The Crooked Creek RV Park & Campground offers much more in terms of amenities. It's a private campground located 1.8 miles down the Cohoe Loop Road.
Amenities (Crooked Creek State Recreation Area):





Amenities (Crooked Creek RV Park & Campground):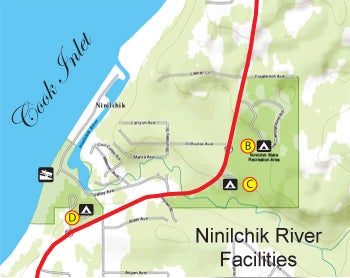 34. Ninilchik River. Species: King salmon, red salmon, pink salmon, silver salmon, steelhead, Dolly Varden, rainbow trout. The Ninilchik is a shallow, clear water stream most known for spring king salmon fishing (it's only open on weekends for king fishing). It's a popular fishery, so expect some crowding on peak weekends. The creek can be waded in most areas; kings will be found in the deeper holes, but will be spooked due to shallow water. Fish early or late for the best results. People come to the Ninilchik for more than just the river. The beach provides clamming opportunities (see our Kenai Peninsula clamming section for details), and the offshore fishery offers opportunities for halibut and trolling for migrating king salmon. The latter is, without a doubt, the biggest draw to the Ninilchik area, and the action kicks off on Memorial Day weekend in May, as the king salmon are moving along the shoreline in this area. Boats are launched via a tractor that pushes your boat trailer through the surf. How does the tractor launch work? After paying the launch fee, you are given a number that you keep with you in your boat. When you're done fishing, you show your number from the boat, and a tractor driver will secure your trailer to the rig and pull your boat out for you. It's an ingenious system that can get private boaters into some great fishing opportunities. Access: Turn off at MP 134.5, short gravel road to Ninilchik State Recreation Area. The state of Alaska operates four campgrounds in this area:
A. Ninilchik Beach Campground: This campground allows RV camping, along with tent camping. It is currently closed, but keep checking back, as it should be up and running again.
Amenities:





B. Ninilchik River Campground: A quiet campground located just a short walk from the river. Campsites here cannot be reserved in advance, and are made available on a first-come, first-served basis.
Amenities:



C. Ninilchik Scenic Overlook: Positioned above the river, this campground offers a trail to the river, and beautiful views of the area. Campsites here cannot be reserved in advance, and are made available on a first-come, first-served basis.
Amenities:



D. Ninilchik View Campground: Offering views of Cook Inlet, Mt. Redoubt and Mt. Augustine (active volcanoes), this campground offers a short trail to the river, and easy access to the beaches for clamming. Campsites here cannot be reserved in advance, and are made available on a first-come, first-served basis.
Amenities:



35. Deep Creek. Species: King salmon, red salmon, pink salmon, silver salmon, steelhead, Dolly Varden, rainbow trout. A very popular weekend-only king salmon fishery. The river is clear, and shallow enough to wade in many areas. Expect crowding during king salmon season. The beaches near Deep Creek offer clamming opportunities as well; check our Kenai Peninsula Clamming page for more information. Deep Creek also supports a marine fishery, with anglers launching powerboats off the beach via tractor. This is a commercial service. There is also a public boat launch, however launching at low tide is not recommended, due to the shallow channel of Deep Creek. Shore bound anglers should consider casting for king salmon along the beach areas, or surf casting for halibut. Halibut fishing improves during June and July. Camping opportunities exist in the immediate area at the state-maintained Deep Creek Beach and Campground. Access: Turn off at MP 137 to Deep Creek State Recreation Area.
Amenities:





36. Stariski Creek. Species: Pink salmon, silver salmon, steelhead, Dolly Varden, rainbow trout. Stariski Creek is a clear, shallow stream that can be waded. It's bordered by private land, however, so take care to avoid trespass issues. Access: Highway bridge at MP 150.8. A small state-operated campground is available, the Stariski State Recreational Site, but there is no river access from the campground.
Amenities:



37. Whiskey Gulch. Species: King salmon, halibut (marine fishery). There are no facilities here, and boat-based anglers participating in the king salmon troll fishery or the offshore halibut fishery usually launch at Deep Creek. Some adventurous souls launch in the surf here with 4x4 pickups or ATVs, but it's easy to get stuck in the soft gravel. Common wisdom is to position your tow vehicle at a 45-degree angle to the surf to avoid getting bogged down. There is some shore-based surf fishing here for both king salmon and halibut. Halibut fishing becomes progressively better later in the summer. This is one of the few places in Southcentral Alaska that offer reasonable opportunities for shore-based halibut fishing. No amenities are available, and access can be challenging unless you have a 4x4 pickup. Beach camping is available, but there are no campgrounds. Use caution when camping or driving on the beach, as the tides in this area can be quite high. It's possible to be trapped by high water in extreme high tides, and there is nowhere to go, as the entire beach area is backed by cliffs.
Amenities: None
38. Anchor River. Species: King salmon, pink salmon, silver salmon, steelhead, Dolly Varden, rainbow trout. The Anchor River is one of the most popular fisheries on the lower Kenai Peninsula, with king salmon heading the list. This is a very popular Memorial Day destination for Alaska residents, with hundreds of people arriving in this area for the first action of the spring season. King salmon can be caught offshore, as can halibut. The river itself is clear and can be waded in many areas. There is ample shore-based opportunity both along the river and off the beaches, surf casting for halibut or kings. Access: The highway crosses the North Fork at MP 161, but the North Fork Road can be used to access the river above the highway. Alternatively turn west onto the Old Sterling Highway, then right on Anchor Point Road, which takes you to the campground and eventually to the beach. There are several campgrounds located along Anchor Point Road, managed by the state of Alaska under the Anchor River State Recreation Area. These campsites are interspersed with a few spruce trees, but this isn't a forested area; the experience does not afford much privacy, and you will see other nearby campers. A tractor launch service is available to launch your boat from the beach, if the marine fishery is your mission.
A. Coho Campground: Fairly basic facilities here, with 36 campsites available.
Amenities:


B. Silverking Campground: 46 campsites available, no room for RVs (pickup campers acceptable)
Amenities:



C. Slidehole Campground: 30 available campsites, no size limit for RVs. No RV dump station or hookups.
Amenities:



D. Steelhead Campground: 44 campsites, no RV accommodation; pickup campers ok.
Amenities:



E. Halibut Campground: This campground is situated just off the beach, and susceptible to high winds coming off of Cook Inlet. If you're tent camping, go with a low-profile mountaineering tent or risk having your tent blown away like a tumbleweed. There are 30 campsites available, and there is no size limit for RVs.
Amenities: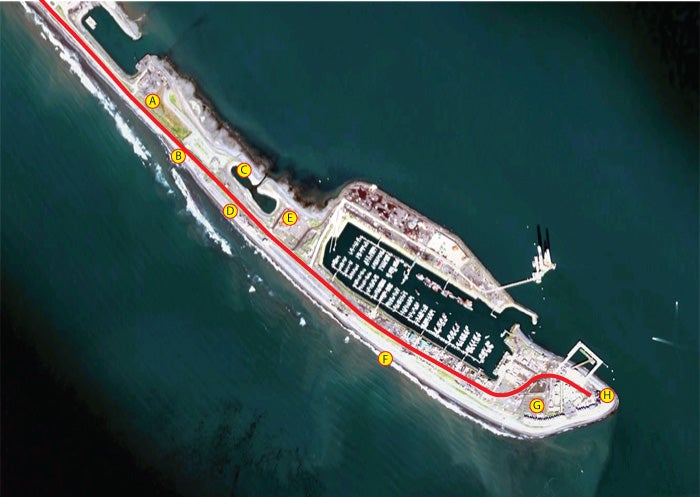 39. Homer Spit. Species: King salmon, pink salmon, silver salmon, Dolly Varden, halibut, bottom fish. The Homer Spit offers three diverse opportunities for saltwater anglers, as described below. There are a number of camping areas on the spit, but they are all exposed to the wind. This can become a real issue if you're tent camping, so be sure you have a back-up plan. Access: The Homer Spit is at the end of the Sterling Highway, MP 179.5.
A. Heritage RV Park: This is a private, full-service RV park, complete with laundry, restrooms, full hookups, wi-fi, espresso bar, private beach with bbq, fire rings (firewood supplied), and too other amenities to mention here. This facility can accommodate the largest RVs with pull-outs.
Amenities:





B. Tide Pool Campground: The Tide Pool Campground is closed for the time being; keep checking back for a re-opening!
Amenities: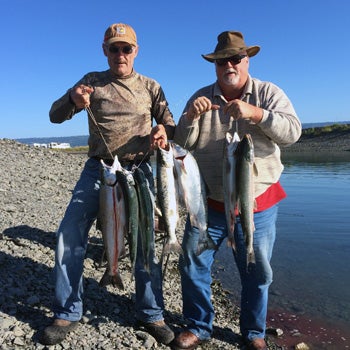 C. Nick Dudiak Fishing Lagoon: The Nick Dudiak Lagoon (known as the "Fishing Hole") is a project designed and maintained by the Alaska Department of Fish and Game, to provide terminal fishing opportunities for king salmon and silver salmon. Fish are stocked in the lagoon as smolts, and when they return as mature fish, they are available for shore-based anglers to catch. As the season progresses, the fish quit biting, and snagging becomes legal. This is a great fishery for kids, as access is easy and fishing techniques are simple. Restrooms are located near the west end of the lagoon, at the Fishing Hole Campground.
Amenities:



D. Beach Camping: The cheapest camping on the entire spit is here along the beach. During summer months this are is often crowded with cannery worker's tents, however if you can get a spot here, you will be treated to incredible sunsets over Kachemak Bay. Most days, a day breeze comes up on the bay, and the wind in this area can become quite severe. Use a very low-profile tent and anchor it well into the sand to prevent it from being blown away. There is limited security in this area, so avoid leaving valuables in your tent if you intend to leave camp set up and unattended throughout the day. Portable restrooms are available at this location. Some surf fishing is available at this area, with the primary species being sea-run Dolly Varden.
Amenities:

E. Fishing Hole Campground: Located west of the Nick Dudiak Fishing Hole, this campground offers sites next to the fishing hole, and beach sites. It includes tent sites, and sites designed for campers and motorhomes. Like all other campgrounds on the spit, this one is exposed and offers no privacy.
Amenities:




F. Beach Fishing: This area offers surf fishing for sea-run Dolly Varden and bottom fish. Because the seafloor is so shallow here, however, it is unlikely you will catch halibut. A few king salmon run just offshore here, and it is possible to catch one from shore on occasion.
Amenities: None
G. Homer Spit Campground: Located near the end of the Sterling Highway, the Homer Spit Campground offers 122 sites for RV camping and some tent camping. Full hookups are available, as is an RV dump station, restrooms and showers. An upstairs guest room is also available, along with a trailer that sleeps four.
Amenities:





H. Land's End Fishing: Park at the end of the road and walk down the beach to fish for a variety of bottom fish, including cod, pollock, and the occasional halibut. Dolly Varden are also caught here. The fishing area extends all the way around the end of the spit.
Amenities:


---
Resources
If you plan to fish anywhere on the Kenai Peninsula, you need a copy of Dave Atcheson's "Fishing the Kenai Peninsula" in your rig. If you're new to the area, a copy of The Milepost will help you plan your trip, providing maps and detailed information on the locations of campgrounds, cabins, places to eat, fuel stops and much more. While you're in the bookstore, you might also check out our maps of Kachemak Bay State Park, Kenai River (includes only the middle and lower sections of the river, from Skilak Lake to the mouth), and the Northwestern Kenai Peninsula map, which includes only the areas around Kenai, Soldotna, Sterling, Kasilof, and Nikiski. These are road maps, but they also show campgrounds, fishing areas and available species. Finally, check out Scott Haugen's excellent book, "Bank Fishing for Steelhead and Salmon" for excellent tips that will work on the Kenai River, Deep Creek and other places on the Kenai Peninsula.
---
Species
Check out these species pages for the types of fish you may encounter on the Kenai Peninsula:
King Salmon | Pink Salmon | Red Salmon | Silver Salmon | Chum Salmon | Halibut | Hooligan | Lingcod | Pacific Cod | Rockfish | Salmon Shark | Grayling | Lake Trout | Pike | Rainbow Trout | Dolly Varden
Click on the following links to review angling opportunities in the various areas of the Kenai Peninsula.
Kenai Peninsula Fishing Intro | Upper Kenai Peninsula Fishing | Central Kenai Peninsula Fishing | Lower Kenai Peninsula Fishing | Kenai Peninsula Marine Fishery | Kenai Peninsula Clamming | Seward Saltwater Fishing | Seldovia Fishing