Dipnetting in Alaska
Of all the many things that make Alaska unique, dipnetting has to be among the top ten. Available to Alaska residents only, the ability to wade into a river with a large net and scoop out an entire year's supply of fish is an unprecedented opportunity. Alaska's dipnetters are a unique breed, with a willingness to put up with cold water, bad weather, wind-driven waves, crowded beaches and many inconveniences for a chance to stock the freezer with one of the planet's most delicious, nutritious whole foods. Dipnetting is, for many, the highlight of the year, with a chance to camp on the beach with the family, relax around a beach fire, let the kids run, and catch enough fish to last the whole year.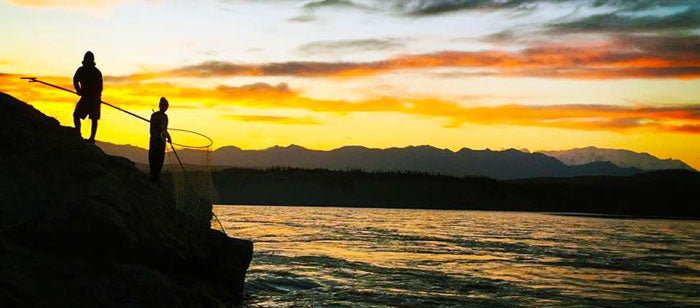 How this Section is Organized
This section contains several pages, each designed to provide you with information on the places, gear, amenities and special concerns you need to know. The menu on the left-hand side of the page is your key to navigating this section.
What is Dipnetting?
The management of Alaska's fisheries falls to the Alaska Board of Fisheries. Their primary purposes are the conservation and development of the fisheries of the state. In practical terms, this means that they must balance the health of the state's fisheries with the demands of the various user groups (commercial, sport, and subsistence / personal use). In the spring of 1996, the Board amended the Cook Inlet Personal Use Salmon Management Plan to allow Alaska residents to harvest sockeye salmon (and a small number of king salmon) by dipnet, in specific portions of the lower tidewater areas of the Kenai River. Personal use dipnetting on the Copper River started in 1989.
Dipnetting is accomplished by using a large-diameter net to scoop fish out of the river. Different types and sizes of nets are used in different fisheries, however the methods used are similar from one fishery to another. Dipnetting can take place from shore or from a boat.
Available Species
Dipnetters have access to several species. Here is an overview:
Hooligan
Hooligan, also known as eulachon, candlefish and smelt, are the first fish of the season targeted by dipnetters. In fact, dipnetting is the only practical way of catching hooligan. The most popular places to catch hooligan are the Twentymile River and the Susitna River. These fisheries are reviewed in detail in another section. We have created a page specifically for hooligan fishing, and you will find information there that is unique to the hooligan fishery in Alaska.
King (Chinook) Salmon
Kings may be caught incidentally by dipnetters targeting sockeye salmon, and in some fisheries, dipnetters may be allowed to retain one or more king caught by dipnet. In areas where the retention of king salmon is not allowed, the fish must remain in the water before it is released. In such cases, removal of the fish from the water, even for photographic purposes, may result in a citation and other penalties, up to confiscation of dipnetting equipment.
Red (Sockeye) Salmon
Reds are, by far, the most popular fish targeted by dipnetters. Generally reds taken in the Copper River are considered superior table fare, for their higher oil content, though some would argue that reds taken in the lower Kenai and the Kasilof are in tidewater, and therefore "fresher". Properly cared for, they're all excellent on the table. Reds taken from the Kenai River are the largest, followed by Copper River reds and sockeye from the Kasilof River.
Pink (Humpy) Salmon
Though not usually targeted by dipnetters, pinks run with reds at times, and are caught incidentally. Pinks have softer flesh than reds, and rank lower on the "dining quality" scale than reds, however ocean-caught pinks are, by far, the most utilized salmon in the world, for food. Pinks caught in the lower Kenai River and in the Kasilof River are fine table fare.
Silver (Coho) Salmon
Silvers are caught later in the season, particularly on the Copper River. The fishery on the Copper extends into August, when silvers make their way into the system. Silvers are also excellent table fare, and they are generally larger than reds.
Flounder
Flounder are commonly caught in the lower Kenai River and the Kasilof River, and dipnetters are allowed to retain them. Their white meat has a delicate texture and makes a good meal.
Dipnetting Locations
The personal use fishery program in Alaska includes many locations of interest. This page only lists a few of the larger fisheries; check with the Alaska Department of Fish and Game for other opportunities. The locations discussed on this page are discussed in detail elsewhere in this section.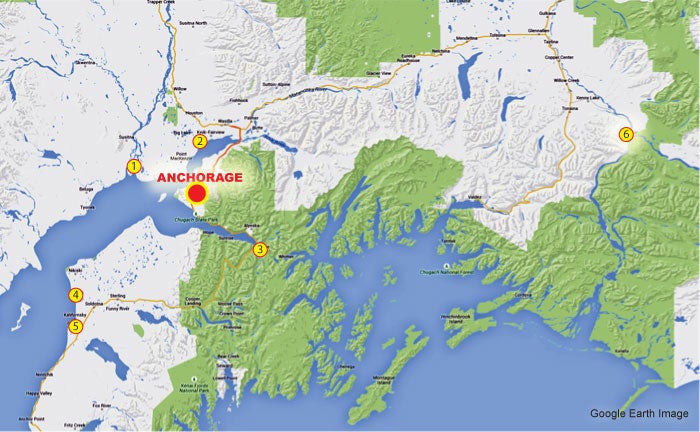 1. Susitna River. Species: Hooligan. The Lower Susitna hooligan fishery kicks off in the month of May, and is accessible only by boat or airplane. Boats may be launched from Anchorage, however the run across the Knik Arm of Cook Inlet can be treacherous, depending on tidal factors and wind, which frequently roars down the Inlet. The mouth of the Susitna River is plagued by shallow mud shoals as well, making channel selection difficult. Time your trip carefully, or risk getting stranded on the mud flats when the tide goes out. A safer alternative is to launch at Deshka Landing on the Parks Highway, and motor down to the mouth. Airplanes may land on sand bars along the river, but be careful to avoid muddy areas.
Amenities: None
2. Fish Creek. Species: Red salmon, pink salmon. Fish Creek is accessible off of the Knik-Goose Bay Road out of Wasilla. This fishery is open only in years of abundance, and because it is close to Anchorage and the Valley, it is a very popular fishery.
Amenities: None
3. Twentymile River. Species: Hooligan. The Twentymile River hooligan fishery is one of the first fishing opportunities of note as Southcentral Alaska comes out of winter. It peaks in May. The fishery is accessible right off the Seward Highway near Portage. Though most dipnetters fish from shore in the vicinity of the highway bridge and the railroad bridge, boats can be launched into the river here, offering excellent dipnetting opportunities farther upstream. There are no amenities here, so plan on packing out all your trash. The closest rest rooms are at any of several campgrounds in the Portage Valley, or ten miles toward Anchorage at Girdwood.
Amenities:

4. Kenai River. Species: Hooligan, red salmon, pink salmon, king salmon. The Kenai is the most popular dipnet fishery in the state. The hooligan run doesn't get as much attention as Twentymile, however the red salmon run is very popular, with very large crowds of people on both the north and south beaches, up at the Warren Ames bridge, while boat-based dipnetters clog the lower river. In years of abundance, dipnetters are allowed to retain a king salmon in this fishery. The run peaks in July. There are several locations for dipnetting the Kenai; check our Kenai River dipnetting page for more information. Amenities are abundant, depending on the location.
Amenities:





5. Kasilof River. Species: Red salmon. The mouth of the Kasilof River is a popular red salmon fishery for dipnetters. Amenities are few, but there are places to camp and the lower river has a boat ramp.
Amenities:



6. Copper River. Species: Red salmon, king salmon, silver salmon. The Copper River fishery is completely unique in many respects. It's a very long drive from Anchorage (about five hours) or Fairbanks (just over six hours), amenities are few (requiring camping), land ownership is somewhat in dispute (making finding a legitimate place to camp challenging at times), and the river is very dangerous in some places. Every year there seems to be at least one dipnetter fatality on the Copper River. The fishery kicks off in June and lasts into September, making the Copper River the longest-running dipnet fishery in the state. Limited amenities are available in some campgrounds.
Amenities: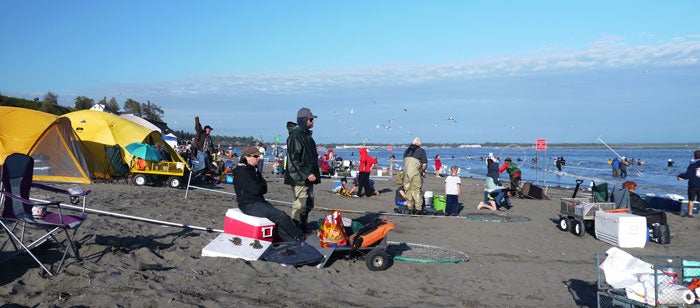 Pay attention to the tides! The tents in this photo had to be moved to higher ground, due to an unusually high tide at the mouth of the Kenai River.
Legal Considerations
Dipnetters must possess a current Alaska fishing license, along with a dipnetting card, both of which must be in their possession while fishing (dipnetting card is not required for hooligan fishing). You are required to record the date, species and number of fish caught before leaving the fishing area. The "fishing area" refers to the beach or river itself. This means you cannot wait until you get back to the parking lot or your campsite before filling out the card. Fill your card out with a ballpoint pen; other types of ink will run when it gets wet.
Fish must also be marked, by cutting the tips of the caudal fin (tail) at a 45-degree angle. The purpose of this is to distinguish between sport-caught fish and dipnetted fish (sport fishing and dipnetting occur during the same time frame in most places). Fish that are left in plain view while dipnetting do not need to be marked; only fish that are placed out of view (in a cooler, pack, bag, etc.).
Trespass is a huge potential issue for dipnetters. Be sure you are traveling, camping, and dipnetting on public lands only. Generally, any land below the mean high water mark is public land, as is land along public roadways. Dipnetters sometimes cross private property on their way to the river, or they may camp on private property unawares. Check the boundaries before you head to the field, and know where you are allowed to walk and to camp.
Dipnetting is open to Alaska residents only! Nonresidents are not allowed to participate in the dipnet fishery in any way, including handling the gear, cleaning fish, or actually dipnetting.
Conservation Concerns
Environmental damage is a very important issue, and dipnetters have caused damage to beach grasses and other vegetation by driving, camping, or even walking where they are not supposed to be. In many areas protective barriers or temporary fences have been placed to keep people off of these areas. Respect those barriers by driving, camping and walking only in designated areas.
Gearing Up for Dipnetting
The equipment required for dipnetting is relatively basic. Here is a list for reference. Note that each of these items is discussed in greater detail elsewhere in this section.
Dipnet
Spare hardware and net repair materials
Waders
5-gallon bucket
Fish bonker
Stringer
Cooler
Knives
Fish-cleaning glove
Fillet board
Scissors (for cutting tails)
Dipnetting Techniques
There are may ways to net fish, and each method is discussed in detail on our Dipnetting Techniques page. Most dipnetters operate from shore, or by wading some distance out into the water. This method is very effective, if you are in the right place at the right time. Shore-based dipnetters have the option of setting camp nearby, which provides an opportunity to take a break and refresh yourself if necessary, while remaining close by in the event that a run of fish comes through suddenly.
Boat-based dipnetters are usually a lot more successful at catching fish, because they can find locations far less crowded than the beach. Additionally, they cover a lot more ground, increasing their chances of encountering fish.
Timing / Run Charts
Successful dipnetting is all about timing. You can't catch fish that aren't there! Review our Salmon Run Charts (linked at the left side of the page) for the current run timing in your area of interest. It's also a good idea to check our Dipnetting Forum for any gossip or current information relevant to your upcoming trip. The forums are also a great place for tips on gear, techniques, and even to pool up with someone else who is headed that way.
Caring for Your Catch
Alaska fishermen want to properly care for their fish. The exceptions are mostly a result of ignorance, and can be corrected with proper instruction. But when the quantity of fish caught goes up dramatically, as it does with dipnetting, proper care can become much more challenging. In order to help dipnetters properly care for their catch, we have an entire section on how to take care of your fish from the time you catch it until it ends up in your freezer. Because the facilities and amenities available to assist with fish care vary from one location to another, we have also built a fish care section into each of our Dipnetting Location pages. Those pages go beyond general practices into the specifics unique to that area.
---
Celebrate Diversity! Pick up Someone's Trash!
Very few Alaskans were born here, and most of those came from parents or grandparents who moved here from somewhere else. At the same time, we live among people who can trace their ancestry back to a time when Alaska was a very primitive place, devoid of the modern trappings of development. So Alaska is an amazing melting pot of diverse cultures, with vastly diverse perspectives on nature, the environment, and on how we conduct ourselves in the field. Most of the cultures represented in Alaska today have their roots in a strong love for the outdoors, and an intensely personal environmental ethic. Traditional Samoan culture has a very high regard for the environment and man's place in it. Filipino culture embraces a concept they call "pakikisama", or "harmony", in which getting along with others is respected. They also incorporate the principle of "hiya", or "shame". It's a sense of social decency that drives them to comply with public norms of behavior. They believe that they bring shame upon themselves and their family if they do not live up to accepted standards of behavior. Japanese culture embraces the notion of living with nature, as opposed to the Western concept of taming nature. Alaska native culture embraces a love for the land and the creatures that live on it, recognizing man's role as a participant in nature. Western culture, though having gone through times when care for the environment took a back seat to industrial progress, has come full-circle to now setting high standards of environmental protection and accountability. Gone are the days when tossing beer cans into the weeds at the old fishing hole, or flipping cigarette butts into the river were accepted practices. Now, we pick up after ourselves and those around us.
As interest in Alaska grows, we are seeing an increase in the numbers of people on our rivers and lakes. Some of these people come from places where strong environmental ethics were not in place, and they are bringing that here. We are seeing an increase in trash left behind by people who should know better. A bag full of trash, left lying where a trash can used to be, will attract other people to leave their trash in that place as well. Let's break that cycle, by hauling out our own trash.
Regardless of your cultural or social background, we are all Alaskans, and we share a strong environmental perspective. We don't want our home to become like some of the places we came from. The Alaskan environmental ethic drives us to not only haul out our own trash, but to bring along a couple of extra bags to pick up after other people as well. We teach our children to do the same, because this is our cultural norm. Many of the dipnetting sites in Alaska have no trash facilities, and garbage left behind by some becomes a burden others must clean up. Let's take the initiative to show our love for this amazing place by cleaning up after ourselves, and by leaving no trace of our campsites.
---
Dipnetting Regions of Alaska
Dipnetting in Alaska is limited to specific areas. Read the Personal Use Fishing Regulations for more information. Here is an overview of the opportunities Alaska offers.
Region 1 (Southeast Panhandle)
Game Management Units: GMU 1, 2, 3, 4 & 5
There are no dipnetting opportunities in this area.
---
Region 2 (North Gulf Coast, Kenai Peninsula, Kodiak / Afognak Archipelago)

Game Management Units: GMU 6, 7, 8, 14C, 15
Dipnetting is allowed in the Kenai River (hooligan, pink salmon, red salmon, king salmon), and in the Kasilof River (pink salmon, red salmon, king salmon)
Region 2 East: North Gulf Coast / Kenai Peninsula | Region 2 West: Kodiak / Afognak Archipelago
Available species:
King Salmon | Red Salmon | Pink Salmon | Hooligan
---
Region 3 (Interior, central & eastern Brooks Range)

Game Management Units: GMU 12, 19, 20, 21, 24, 25, 26B, 26C
There are no dipnetting opportunities in this area.
---
Region 4 (Southcentral, Alaska Peninsula, Aleutians)

Game Management Units: GMU 9, 10, 11, 13, 14A, 14B, 16, 17
Dipnetting is allowed in Fish Creek (red salmon), Twentymile River (hooligan), and the Copper River (king salmon, red salmon, pink salmon)
Region 4 East: Southern Interior, Anchorage, Susitna Valley | Region 4 West: Bristol Bay and the Alaska Peninsula
Available species:
King Salmon | Red Salmon | Pink Salmon | Hooligan
---
Region 5 (Western Brooks Range, west coast to Bristol Bay)

Game Management Units: GMU 18, 22, 23, 26A
There are no dipnetting opportunities in this area.
---
Our Dipnetting Forum offers you the best place on the Internet to network directly with other dipnetters, find out what runs are hot right now, what gear you should use, what rivers are blown out, how to rig up, and much, much more. Bookmark the Alaska Dipnetting Forum so you have quick access to it on your home computer and on your phone. It's the best way to stay on top of the dipnetting scene in Alaska.
Did You Know? Each of Alaska's salmon species has two names. Learn them and you'll know what everyone is talking about!
King Salmon = Chinook Salmon
Sockeye Salmon = Red Salmon
Coho Salmon = Silver Salmon
Humpy Salmon = Pink Salmon
Chum Salmon = Dog Salmon
---
An extensive and up-to-date listing of hundreds of businesses that provide services for anglers. The directory includes commercial service providers of all kinds; river transporters, gear stores, and more.
---
Need More Information About Alaska Dipnetting?
We've got you covered! Check out the Dipnetting Menu on the left side of this page, or click one of the links below for more information.
Alaska Salmon Run Charts | Dipnetting Intro | Dipnetting Gear | Dipnetting Techniques | Caring for Your Catch
Dipnetting Locations
Check out the following links to the various dipnetting locations in Alaska.
Copper River | Kasilof River | Kenai River | Fish Creek | Susitna River | Twentymile River