Field Care of Alaska Big Game Meat and Trophies
The proper field care of meat harvested on an Alaska big-game hunt is of primary importance to many hunters. In fact, the Alaska Hunting Regulations contain specific instructions on meat care, and a unit-by-unit list of the legal requirements. It's not a difficult process, but there are some important points to consider.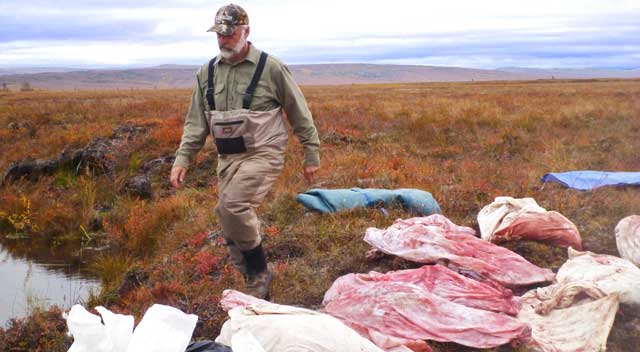 Read more: Field Care of Alaska Big-Game Meat | Hunting Tips
Tools Needed for Field Butchering of Alaska Big Game
Proper meat care begins well before the hunt, with the collection of the right tools for the job. And it's different in Alaska; the remote nature of most hunts means that you need back-ups and you have to be able to take the entire animal apart right where it fell. Let's review the items you should have with you in the field.
Proper meat care at the kill site is just the beginning. To keep your meat from spoiling in camp or during transit, you need to pay attention to some critical details. It's not difficult, it just requires time and some effort.
Meat and Trophy Care Gear Lists
The gear you need for field care of your big-game meat and trophies is a level beyond what is required in other places in the United States. In most cases hunters should expect to do all the caping, skinning, fleshing and detail work on their hides and capes, final clean-up of skulls, and rough butchering and packing of the meat. Additional steps must be taken to ensure that meat does not spoil in the field.
Meat Care on the River
One of the keys to proper meat care is to keep the surface of the meat dry. This prevents spoilage due to surface bacterial contamination. As we saw in the section on general meat care, bacteria require a warm moist environment in order to reproduce. Removing the moisture (as much as possible) is essential to preventing spoilage of this kind.
Subcategories