Seldovia Roadside Fishing and other Activities
Seldovia offers some of the best fishing for halibut, lingcod, rockfish, king salmon, and yelloweye in all of Southcentral Alaska. The charming town is one of the true gems of Southcentral Alaska. Before the completion of the Seward Highway in 1958, Seldovia was the largest town on the lower Kenai Peninsula. But the highway put Homer on the road system, and Seldovia's population began to decline. In terms of fishing opportunites, though, the prospects out of Seldovia are equal to Homer, with the pleasant prospect of being much closer to popular fishing areas for halibut, rockfish and lingcod. Equally important to many, Seldovia offers a peaceful respite from the hustle and bustle of Homer's summer tour traffic. You come in from a day of fishing and bask in the summer sun along the waterfront, enjoying a cold beverage with friends. It's a fine way to while away the long summer evening in Alaska!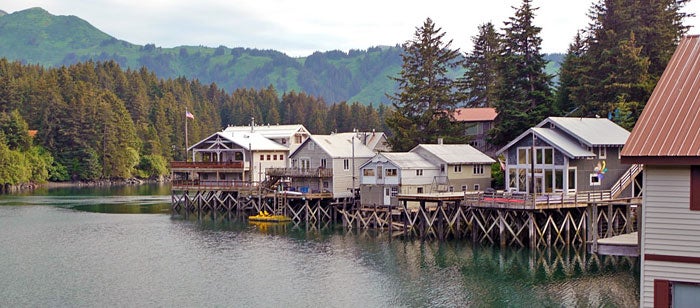 Seldovia sits in a calm bay, backed by a saltwater slough and lagoon that runs inland a little over a mile. This quiet waterway provides a scenic foreground for the numerous homes built along the waterfront on pilings. It's a beautiful town that's perfect for an evening stroll, and it feels like a little bit of Southeast Alaska, tucked away into it's little bay far away from the noise, traffic and hubub of the summer tourist season. If you're looking for a quiet place close to Anchorage to do some serious saltwater fishing, Seldovia is just the place.
---
Location, Location, Location!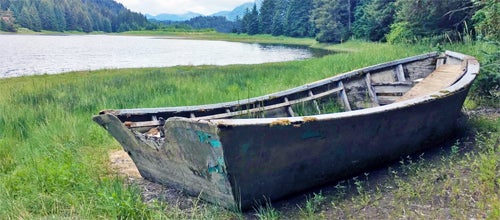 Seldovia attributes much of its charterboat success rates to being an hour and a half closer to the fishing grounds than boats out of Homer. This is 100% true for boats headed out of Kachemak Bay and points west, toward the Barren Islands. There's some outstanding fishing out that way for halibut, feeder kings, rockfish, lingcod, and Pacific cod, but it requires some advance preparation. Your best option is to take the ferry from Homer, tour the town for a day, and make your start for the fishing grounds first thing the next morning. Sure beats exhausting yourself with a four hour drive from Anchorage, and dragging yourself aboard for an all-day excursion. A good night's rest in a Seldovia hotel will go a long way toward keeping your head in the game for an extended fishing adventure.Seldovia attributes much of its charterboat success rates to being an hour and a half closer to the fishing grounds than boats out of Homer. This is 100% true for boats headed out of Kachemak Bay and points west, toward the Barren Islands. Some outstanding fishing out that way for halibut, feeder kings, rockfish, lingcod, and Pacific cod. Your best option is to take the ferry from Homer, tour the town for a day, and make your start for the fishing grounds first thing the next morning. Sure beats exhausting yourself with a four hour drive from Anchorage, and dragging yourself aboard for an all-day excursion. A good night's rest in a Seldovia hotel will go a long ways toward keeping your head in the game for an extended fishing adventure.
---
Timing is Everything
Fishing anywhere in Alaska is all about timing. The good news is that there's always something going on somewhere! Nowhere is that more true than in Seldovia.
King salmon can be caught year-round. Beach-based fishermen can try their luck flinging hardware, but serious anglers are going to find themselves trolling offshore. Focus your efforts along points and drop-offs for the best results. It's not unusual to pick up a few halibut this way as well.
Rockfish are found in kelp beds and near rockpiles along the shoreline areas. Catch them by jigging, or mooching with herring. Halibut are found throughout the area, and can be caught from shore at Inside Beach, Outside Beach, and the end of MacDonald Spit.
Seldovia hosts a "Human-Powered" fishing derby over the Memorial Day weekend, where contestants are limited to paddle or pedal-driven boats. The pedal-driven Hobie Mirage fishing kayaks are ideal for this, as are other similar setups. Fishing kayaks are available locally for rent during the tourney, and throughout the summer months. Bring your rods and terminal gear, and get ready to have a ton of fun trolling for feeder kings in the salt over Memorial Day! The city also offers their "Chinook Challenge" tournament during the summer. There's a lot of great fishing out of Seldovia.

---
Those Long Summer Days!
Alaska is known throughout the world for having long daylight hours during the summer months. A common joke among Alaska parents is to have the kids inside by dark; a tactic that results in exhausted families! You'll have to discipline yourself to follow a sleep schedule or you'll be exhausted too! The good news is that the best fishing times, evening and morning, are long in Alaska, so you'll have plenty of time to catch a nap at mid-day if you like. However you cut it, you'll have plenty of time to fish in Seldovia during the summer months. Check the chart to see how many daylight hours you'll have during your trip.
---
Timing Your Trip
The timing of your Seldovia trip will be based on a number of factors. First and foremost, you want to be there when the fish are there. Summertime offers several species, but the big attraction for shore-based fishing is the stocked runs of king salmon. Finally, you might factor in one of the fishing derbies, the July 4th holiday, or any of several special summertime events that happen in Seldovia. Contact the City Office for ideas and details; their phone number is 1 (907) 234-7643. Reference the fish run chart below for the best times for various species.

Note that Dolly Varden can be caught from shore in the salt, along with king and silver salmon. It's possible to catch halibut from shore as well, and possibly rockfish if you use a long surf-casting rod and a sliding float rig.
---
Seldovia Points of Interest
There's a lot to do in Seldovia, and for most of it, you don't need a vehicle. Whether you prefer relaxing with a cold drink along the waterfront, taking a quiet stroll through town or along the boardwalk, or walking out to Inside or Outside beach, you'll find plenty to do while you're relaxing after a day on the water.
1. State ferry terminal. This is where the state ferry from Homer docks. The ferry runs a couple of times a week, and can accommodate vehicles, including RVs and trailered boats. CLICK HERE for the state ferry schedule for various locations around Alaska.
2. Seldovia Bay Ferry dock. The Seldovia Bay Ferry runs twice a day from Homer, and can accommodate walk-on traffic and some hand-carry gear and supplies. No vehicles. CLICK HERE to check out thier website and schedule.
3. Grocery store. The Crab Pot Grocery has all the basic supplies you'll need for camping or stocking your RV.
4. Waterfront hotels and restaurants. There are several hotels in Seldovia, and a handful of places to eat along the waterfront.
5. Boardwalk. The boardwalk extends on both sides of the slough and lagoon, and is set up to allow visitors to stroll through and look at the many quaint houses that sit on pilings above the water.
6. Lagoon bridge. Fishing is allowed from the bridge, and it's a great place to spot eagles while you take in the view of the waterfront houses along the boardwalk.
7. Public lagoon access. There's a small spur road that can be used to access the slough and lagoon. This is a good place to launch kayaks for touring or fishing the lagoon. You can bring your kayak with you on the Seldovia Bay Ferry, or you can rent one locally.
8. Seldovia Airport. The Seldovia airport receives commercial flights from Homer and Anchorage.
9. Watch Point. A great viewpoint just past the main waterfront area.
10. Inside Beach. Nice beach for camping or picnicking and fishing from shore.
11. Outside Beach. Popular local hangout, with ample campsites and opportunities for relaxing, hiking, beachcombing and fishing. Rest rooms are available, together with a covered pavilion, picnic tables, and campsites. There is a fee for camping here; make arrangements by calling the city office at 1 (907) 234-7643. The easiest way to take care of the fee is to do it when you get off the ferry. The city offices are in the blue steel building at the dock entrance.
12. RV Park and Camping. Seldovia Wilderness RV Park is located along Jackalof Bay Road past this point. No hookups, no electric, includes potable water and fire pits. This area also offers a number of tent campsites. The park is located at mile 1.5 down Jackolof Bay Road on the left.
---
King Salmon Fishing in Seldovia
King (Chinook) salmon are stocked by the Alaska Department of Fish and Game in three locations in the Seldovia area: The harbor, the Lagoon, and in Fish Creek. These fish are stocked specifically for anglers, and there are several places to catch them. The most popular by far is the lagoon, which can be accessed off of Shoreline Drive. Shore-based anglers have limited space for fishing in this area, however kayakers can move up and down the lagoon. Shore-based anglers can also try their luck in the harbor area. Popular methods include roe or herring fished under a float, spoons such as the #4 Blue Fox Pixee in green, orange or pink, or 7/8 oz. Vibrax spinners in hot pink, orange, or neon green. Bring a variety of colors for the best results.
---
Just Out of Town
If you have a vehicle, or perhaps even a mountain bike, you'll find even more options. Here are a few ideas.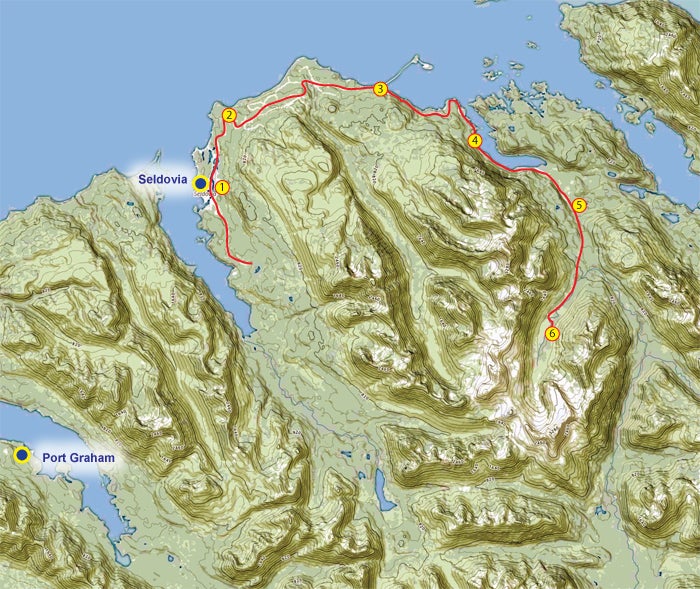 1. Trails in Town. There are three trails you can get to right from town. The Rocky Ridge trail is an intermediate hike of 3.3 miles (plan on about 1-2 hours), which offers widlife viewing and beautiful vistas of the bay. The Otterbahn Trail is a 1.5 hour hike along the coast, ending at a private beach. The trailhead is just north of the school, and continues north to a long boardwalk over a marsh, before taking you to the beach. Walk west along the beach and eventually looping back to the main trail. There's also a trail up to the TV Tower, and a fairly strenuous hike up Graduation Peak from the TV tower. There's also a scenic hike up to the town's reservior.
2. Outside Beach. Just a short walk north of town is Outside Beach, where you will find campsites, a public restroom, and room to park a vehicle. The beach is a favorite local hangout, but is rarely crowded. There's a kelp bed just offshore, and kayaks can be launched from the beach for cruising or fishing along the kelp.
3. MacDonald Spit. The spit has become popular in recent years with summer visitors who own cabins along the narrow gravel beach. The end of the spit is called "Nubble Point", and it projects into the waters of Kasitsna Bay. The shallow reef extends a few hundred yards before diving off to about 80 feet, and then back up to a small pinnacle where a navigational buoy is anchored. This area and the reef itself offers some opportunities to fish for black rockfish from a small boat. Some clamming is available in this area for steamers and cockles.
4. Jakolof Bay. This area is accessible by road, and offers a boat ramp where you can launch a skiff or a kayak to fish for salmon in Jakolof Bay or out into Kachemak Bay itself. This is a popular clamming area as well; look for gravel beaches where you can find both steamer clams and cockles (littleneck clams). Paralytic Shellfish Poisoning (PSP) has been reported in Kachemak Bay before, so be sure to check with the Alaska Department of Fish and Game to see if any restrictions are in place. PSP can be fatal.
5. Tutka Bay Trail. The trail takes off from the road system and extends overland to Tutka Bay. It's a great day hike that offers spectacular views.
6. Red Mountain Trail. The road out to Red Mountain becomes increasingly rough, finally turning into a rocky trail that ascends Red Mountain. The trail head is 18 miles from Seldovia. Note that this trail crosses Seldovia Native Association lands, and a permit is required. Permits can be obtained by calling 1 (907) 234-7625. Their office is located at 206 Main Street in Seldovia.
---
Jakolof Bay Oysters!
If you're looking for fresh oysters, there's a commercial farm in Jakolof Bay. You cannot purchase directly from the farm, however you can purchase them online or directly from the family-owned company at their facility in Homer. They're a small operation, and they don't harvest year-round, so your best option is to call or email them for availability. They provide an excellent product, but because they're a smaller operation, product is not always available. You can reach them by phone at 1 (907) 299-3351 or by email at This email address is being protected from spambots. You need JavaScript enabled to view it..
---
The Seldovia Angler's Gear Bag
You'll need to adjust your gear to match the species you're after, but this should give you a good lead on being prepared. Pack your gear in a tackle duffel and bring it along with you on the ferry. You can order most of the items on the list by clicking on the item name.
Shore-Based Salmon Trip
Blue Fox Pixee. Sizes 3-5. Colors: gold and silver with orange, hot pink, green, and chartreuse inserts. 8 assorted.
Vibrax Spinner. Sizes: 4, 5 and 6. Colors: pink, flame orange, chartreuse, silver, blue, and green. 8 assorted.
Kodiak Custom Tackle G. I. spinners. Sizes: 5, 6. Colors: pink, chartreuse, orange, flame red, blue, green. 8 assorted.
Kodiak Custom Tackle Skirt spinners. Sizes: 5, 6. Colors: pink, chartreuse, orange, flame red, blue, green. 8 assorted.
Sampo Coastlock ball-bearing swivels. Size: X3CB. 12 swivels.
Gamakatsu Octopus hooks. Sizes: 3/0, 5/0. 30 hooks.
Water Gremlin reusable split shot. Sizes: 3, 4. 4 packs.
Aero Jig Aero Float. Size: AF-2 Series. 4 floats.
Maxima Fishing Line. Size: 20-lb test. Color: Chameleon. 2 spools.
Frozen Herring (Alaska Bait Company). Size: Green Label.
Dexter-Russell fillet knife. Model: S133-8WS1-CP SaniSafe.

---
Seldovia Bay Ferry
The Seldovia Bay Ferry runs twice a day, and it's over twice as fast as the State Ferry, making the run to or from Homer in about 45 minutes, depending on sea conditions. It's an adventure in itself, and it's not uncommon for the captain to slow down or even stop so passengers can photograph the abundant sea life such as orcas, migrating whales, sea otters, and puffins or other seabirds.
The ferry is very comfortable, and offers seatingon both upper and lower decks, with ample space for cargo you might carry aboard for your fishing trip, including coolers to hold your frozen catch on the return trip. Bring along a small hand cart to move your things up or down the boarding ramp and onto the boat.
The main cabin areas are heated and enclosed, yet they offer a beautiful panorama of the area through the large windows on all sides. There is a snack bar aboard, which serves light snack items and some drinks. There are also walkways along both sides of the boat, as well as in the bow and stern areas, from which you can take some great photos.
---
What to Bring
Weather in Alaska is always unpredictable, so be prepared. Here's a short list of essentials you should have with you for a day trip to Seldovia. You can get it all in a day pack.
Raingear, top and bottoms
Rubber boots. Want to look like a local? Wear Extra-Tuffs.
Ball cap
Sunglasses. Wear polarized glasses; they cut the surface glare so you can see the fish.
Camera. At least bring a smart phone with video and still shot capability. A digital SLR will allow you to get some great wildlife shots.
Snack items. You can purchase just about anything you want to eat in Seldovia, and snacks are available for purchase on the ferry. But if you want something in particular, bring it along just to make sure you have it.
Water bottle.
Sweater or jacket. If the weather goes down, you'll be glad you have it.
---
Overnighters and Multi-Day Trips
The best way to do Seldovia is to stay at least one night in town. This allows you to adopt an unhurried pace, and to enjoy the best the town has to offer. An overnight stay is almost a requirement if you're planning on a charter fishing trip, because boats leave early and sometimes return late. Here are some things you need to bring on an overnight trip, in addition to the items mentioned above.
Thermal underwear. You never know when it's going to get chilly, so bring along a light-weight set, including bottoms and tops. A zippered tee-neck is a great option that keeps your neck warm while allowing you to ventilate if you get too warm.
Extra socks. At least one light-weight pair and a medium-weight pair. Smartwool is an excellent choice.
Long-sleeved shirt.
Sunscreen. It's essential for boat-based fishing, because of the reflected glare you get off the water.
Seasick meds.
Coolers for your catch.
---
A Home away from Home?
Interested in a vacation cabin or small cottage you can call your own? Seldovia is an excellent place for writers, photographers, fishermen, or anyone looking for a quiet place to relax, reflect, and to enjoy the company of a few friends. Small houses and lots are available in the area, and many of them have city water and power, along with internet service, to keep you connected. Whatever you need, Seldovia is an excellent place for a vacation home that gets you away from all the noise, yet is just a short ferry ride from the road system linking you to all of what Southcentral Alaska has to offer.
---
Resources
If you plan to fish anywhere on the Kenai Peninsula, you need a copy of Dave Atcheson's "Fishing the Kenai Peninsula" in your rig. If you're new to the area, a copy of The Milepost will help you plan your trip, providing maps and detailed information on the locations of campgrounds, cabins, places to eat, fuel stops and much more. While you're in the bookstore, you might also check out our maps of Kachemak Bay State Park, Kenai River (includes only the middle and lower sections of the river, from Skilak Lake to the mouth), and the Northwestern Kenai Peninsula map, which includes only the areas around Kenai, Soldotna, Sterling, Kasilof, and Nikiski. These are road maps, but they also show campgrounds, fishing areas and available species. Finally, check out Scott Haugen's excellent book, "Bank Fishing for Steelhead and Salmon" for excellent tips that will work on the Kenai River, Deep Creek and other places on the Kenai Peninsula.
---
Click on the following links to review angling opportunities in the various areas of the Kenai Peninsula.
Kenai Peninsula Fishing Intro | Upper Kenai Peninsula Fishing | Central Kenai Peninsula Fishing | Lower Kenai Peninsula Fishing | Kenai Peninsula Marine Fishery | Kenai Peninsula Clamming | Seward Saltwater Fishing | Seldovia Fishing