Introduction to Fishing the Kenai Peninsula
Freshwater and saltwater road-based fishing opportunities abound across the Kenai Peninsula. All five species of Pacific salmon swim it's rivers, and grayling, lake trout, Dolly Varden, Rainbow trout and northern pike can be found in lakes and rivers throughout the area. The road system allows excellent access to many premium fishing areas, including both freshwater and saltwater opportunities. And don't forget clamming on Kenai Peninsula beaches! For many people, a weekend clamming excursion is just the thing to put a touch of class on an Alaska summer of outdoor fun.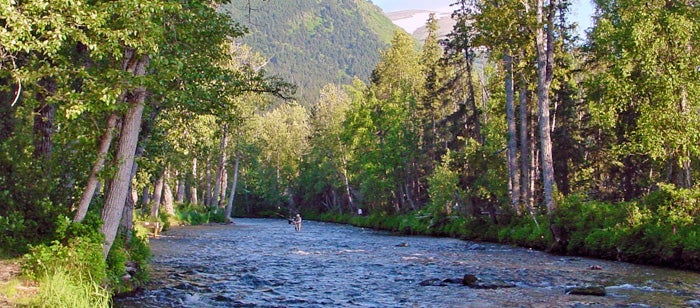 The Kenai Peninsula offers over 200 miles of major highways (the Seward Highway, and the Sterling Highway), along with many more miles of paved and gravel roads that can be used to access many of the area's fishing hotspots. We're going to break it down into sections for you.

How This Section is Organized
The Kenai Peninsula is the most popular fishing destination in Alaska. Expect crowded conditions, offset by excellent fishing. This means that hotels, campgrounds and RV parks will likely be full all summer, so advance reservations are a must if you're planning on an overnight stay. Alternatively, you could join the many who sleep in their campers, RVs and vehicles by the roadside or in parking lots. Several larger department stores in the larger towns welcome such guests, and you will see many vehicles parked for the night, while the tired anglers inside snooze the short Alaska summer nights away, dreaming of the day's fishing to come. The Kenai Peninsula offers the most accessible and diverse fishing opportunities found in the state of Alaska, from surf fishing for salmon and halibut to clamming, fly-fishing alpine lakes for grayling and rainbow trout, to wading clear, rushing streams for sockeye salmon, and fishing among a flotilla of guide boats in search of monster king salmon. It's all here, and we're going to examine all of it in detail in this section of pages. On the map below, you can find an overview of the Kenai Peninsula fisheries discussed on this site.
Upper Kenai Peninsula
The area in red is the Upper Kenai Peninsula from Ingram Creek to Seward, which includes the town of Hope. This area provides many roadside and hike-in fishing opportunities, as well as some saltwater fishing near Seward.
Central Kenai Peninsula
This section, highlighted in blue, includes the Kenai Mountains west of Tern Lake, to the town of Kenai. This section also includes the two most popular fisheries on the entire Kenai Peninsula, the Russian River and the Kenai River.
Lower Kenai Peninsula
This section, represented by a narrow orange band near the highway, comprises all roadside fisheries from Soldotna to Homer. It also includes the shore-based marine fisheries in the Deep Creek / Ninilchik area, along with Anchor Point.
Kenai Peninsula Marine Fishery
This area is not covered on the map on this page, however it includes the saltwater charter fisheries of Whittier, Seward, the offshore fishery near Deep Creek, and the saltwater fishery available out of the city of Homer.
Kenai Peninsula Clamming
The Kenai Peninsula offers clamming opportunities for both shore-based and boat-based fishermen, and both are dealt with on our Kenai Peninsula Clamming page.

---
Resources
If you plan to fish anywhere on the Kenai Peninsula, you need a copy of Dave Atcheson's "Fishing the Kenai Peninsula" in your rig. If you're new to the area, a copy of The Milepost will help you plan your trip, providing maps and detailed information on the locations of campgrounds, cabins, places to eat, fuel stops and much more. While you're in the bookstore, you might also check out our maps of Kachemak Bay State Park, Kenai River (includes only the middle and lower sections of the river, from Skilak Lake to the mouth), and the Northwestern Kenai Peninsula map, which includes only the areas around Kenai, Soldotna, Sterling, Kasilof, and Nikiski. These are road maps, but they also show campgrounds, fishing areas and available species. Finally, check out Scott Haugen's excellent book, "Bank Fishing for Steelhead and Salmon" for excellent tips that will work on the Kenai River, Deep Creek and other places on the Kenai Peninsula.
---
Species
Check out these species pages for the types of fish you may encounter on the Kenai Peninsula:
King Salmon | Pink Salmon | Red Salmon | Silver Salmon | Chum Salmon | Halibut | Hooligan | Lingcod | Pacific Cod | Rockfish | Salmon Shark | Grayling | Lake Trout | Pike | Rainbow Trout | Dolly Varden
Regional Details
For details on specific fishing areas throughout South-central Alaska, including amenities and equipment/service providers in these locations, please visit our pages on the following areas:
Anchorage | Homer | Kenai / Soldotna | Northern Cook Inlet | Seward | Whittier
---
---
Click on the following links to review angling opportunities in the various areas of the Kenai Peninsula.
Kenai Peninsula Fishing Intro | Upper Kenai Peninsula Fishing | Central Kenai Peninsula Fishing | Lower Kenai Peninsula Fishing | Kenai Peninsula Marine Fishery | Kenai Peninsula Clamming | Seward Saltwater Fishing | Seldovia Fishing