Seldovia Saltwater Fishery
Fishing out of Seldovia gives you the strategic advantage of being much closer to some of the best saltwater fishing opportunites available out of Kachemak Bay. While Homer garners much of the attention because it's on the road system, basing your saltwater fishing trip out of Seldovia shortens your boat ride by an hour or more for anything targeting the fisheries at the mouth of Kachemak Bay or points west. This means you can be at the Compass Rose, the waters off of Flat Island, or even out at the popular trophy halibut grounds near the Barren Islands in a fraction of the time it would take you out of Homer. Not only that, the mood in Seldovia is much more laid-back, compared to the busyness of Homer, yet you'll find excellent restaurants, a well-stocked grocery store, and several hotels, some of which offer great views of the waterfront area. Seldovia is a gem of a base camp for some truly outstanding saltwater fishing.
Timing is Everything!
Even the best fishing hole in Alaska is a dead zone in the off season. While rockfish may remain in one area for much of the year, salmon, halibut and lingcod move around a bit. Use the chart below to plan the timing of your trip to coincide with the species you are interested in.

Feeder Kings, Rockfish, Halibut, and Lings!
Due in part to a stocking program by the Alaska Department of Fish and Game, smaller immature king salmon may be found throughout Kachemak Bay all year round. Bigger fish move in during the summer, on their way to enhancement sites, or along the coast and eventually into the Kenai Peninsula streams; Anchor River, the Kasilof River, the Kenai River, and even up into streams toward Anchorage and the Matanuska Valley. There are always kings around.
Halibut are found throughout the area during the summer months, but tend to move off into deeper water in mid-September. Lingcod are not commonly caught in Kachemak Bay, however they are found on the outer reefs, rockpiles, and drop-offs around the corner from the Flat Island area, and of course out in the Barren Islands area. There is a mininum size limit on lingcod; check the Alaska Fishing Regulations for details.
Rockfish are found year-round, but the greatest abundance of black rockfish and other pelagic rockfish species is during the summer months. Yelloweye are not common in Kachemak Bay, but can be found in deeper waters farther offshore, especially past Flat Island and out to the Barren Islands.
Shellfish
Kachemak Bay offers some opportunities for both steamers and cockles (littleneck clams), however incidents of Paralytic Shellfish Poisoning (PSP) have been reported in the past. Check with the Alaska Department of Fish and Game for reports on beaches they are surveying for PSP. On the non-certified beaches, you're taking your chances.
Tanner crabs are available in the bay, and one of the hotspots is just outside the mouth of Seldovia Harbor, along the ferry route just offshore.
Dungeness crabs were once very abundant in the area, however they were over-harvested by the commercial industry in the early 1990's, and there is no longer a viable fishery. There are no shrimping opportunities in the area.
Jakolof Bay Oysters!
If you're looking for fresh oysters, there's a commercial farm in Jakolof Bay. You cannot purchase directly from the farm, however you can purchase them online or directly from the family-owned company at their facility in Homer. They're a small operation, and they don't harvest year-round, so your best option is to call or email them for availability. They provide an excellent product, but because they're a smaller operation, product is not always available. You can reach them by phone at 1 (907) 299-3351 or by email at This email address is being protected from spambots. You need JavaScript enabled to view it..
Those Long Summer Days!
Alaska is known throughout the world for having long daylight hours during the summer months. A common joke among Alaska parents is to have the kids inside by dark; a tactic that results in exhausted families! You'll have to discipline yourself to follow a sleep schedule or you'll be exhausted too! The good news is that the best fishing times, evening and morning, are long in Alaska, so you'll have plenty of time to catch a nap at mid-day if you like. However you cut it, you'll have plenty of time to fish in Seldovia during the summer months. Check the chart to see how many daylight hours you'll have during your trip.
Seldovia Hotspots
Saltwater fishing locations out of Seldovia are virtually limitless if the weather is good. But if the wind comes up or a storm system moves through, things change dramatically. So the fishing hotspots fall into two categories: inside the bay, and outside the bay. For those weather days, there are ample locations inside, including many sheltered bays and inlets where you can duck in to find calm water. Some of these are listed on our Homer Fishing page, so be sure to check that out. A day breeze commonly blows down the length of Kachemak Bay from the east during the summer months, and this can cause surface chop and even whitecaps, making it a dangerous prospect to run the bay during the middle of the day. The day breeze typically starts in around 10am and runs into the early evening around 5pm. Of course each day can be different, so plan accordingly. Generally speaking, you can do most of your trolling in the early morning or late evening hours without too much trouble.
NOTE ABOUT PORT GRAHAM: Port Graham is a small native village just around the corner to the west of Seldovia. It's bordered by private native lands, and trespass is forbidden to outsiders. You could go there in an emergency, but the place is not set up for visitors. Plan on basing your trip out of Seldovia, and let the folks in Port Graham enjoy their peace and solitude.
Outside the bay there are so many places to fish that it would be impossible to list them all, but they range from nearshore places where you can find sheltering coves and inlets, if the waves come up, to totally exposed locations that require long runs over exposed seas. Be very careful in these areas or the weather can come up and give you all sorts of trouble. The chart below shows several of the hotspots; prospect around and you'll find many more.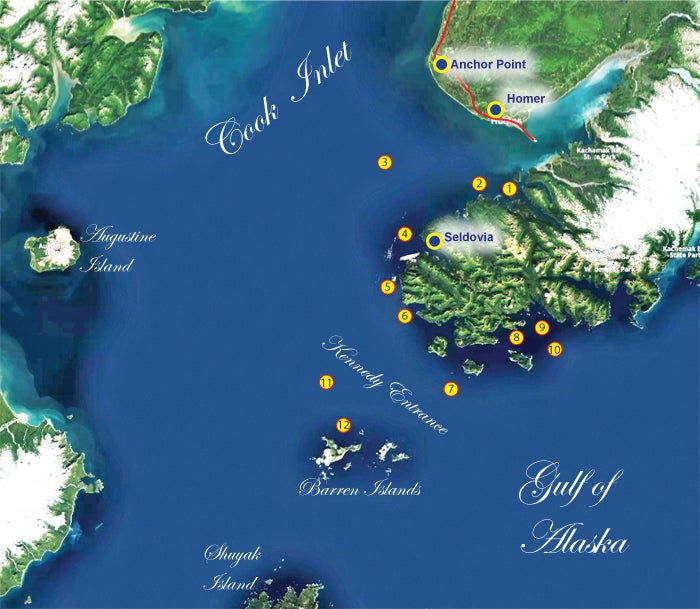 1. Eldred Passage to MacDonald Spit. (NOAA Chart #16645). This area offers mostly sheltered angling opportunities for king salmon, silver salmon, rockfish, and smaller halibut. Concentrate your efforts around Cohen Island for rockfish, which can also be found along the rocky reefs south of the entrance to Sadie Cove, the western end of Hesketh Island, the Herring Islands, and the waters north of Nubble Point. There's a trough between Nubble Point and the navigational buoy north west of the point, where halibut may be found on occasion.. Troll for kings and silvers through Eldred Passage for the best results, though they can be found west of Yukon Island as well. The waters east of MacDonald Spit are too shallow to be of much interest to anyone besides clammers.
2. Barbara Point area. (NOAA Chart #16645). This area offers some trolling opportunities for kings and silvers, as well as smaller halibut along the eight fathom line, as the bottom drops off to the north.
3. Compass Rose. (NOAA Chart #16645). The area where the compass rose appears on chart #16645 offers some opportunities at smaller chicken halibut, especially toward the southern end where it slopes off to deeper water. Halibut charters out of Homer frequent this area, especially on rougher days when fishing outside Kachemak Bay isn't advisable.
4. Seldovia Point. (NOAA Chart #16646). The headland off Seldovia Point offers some trolling opportunities for king salmon, and the area north and east of the point contains several kelp beds where rockfish may be found. Halibut may be encountered along the decline to the west of the point, where the water drops off from one to five fathoms.
5. Point Pogibishi to Dangerous Cape. (NOAA Chart #16646). This area offers some trolling opportunities for king salmon, and the possibility of halibut along the nine-fathom curve, where water drops off to the west. Some rockfish can be found closer to shore.
6. Flat Island. (NOAA Chart #16645). Because this area is exposed to swells from the Gulf of Alaska, it should be fished in good weather only. That said, the area is surrounded by isolated beds of kelp, which provide ideal habitat for rockfish, greenling, and ling cod. Halibut can be found in the area too, and trolling for king and silver salmon can be quite good.
7. Chugach Islands. (NOAA Chart #16640) The western edges of all three of the Chugach Islands offer rocky reefs and kelp beds that are ideal habitat for several species of rockfish. Additional areas to try are around Nagahut Rocks and Dora Reef, while the passages east and west of Perl Island can offer some opportunities for halibut. Troll for kings in Chugach Passage, and around Cape Elizabeth.
8. Chugach Bay. (NOAA Chart #16640) The head of Chugach Bay offers some clamming, and the bay itself drops off to over 300 feet, with a deep channel leading into this area from the northern side of the bay. Try this deeper hole for halibut.
9. Windy Bay. (NOAA Chart #16640) The westernmost arm of Windy Bay offers clamming opportunities, while the headland to the south makes excellent rockfish habitat. Halibut can be found in the deeper channels in either arm of the bay.
10. Rocky Bay. (NOAA Chart #16640) This area offers a widely-varied bottom structure, along with exposed rocks and kelp beds. You'll find both rockfish and halibut in this area.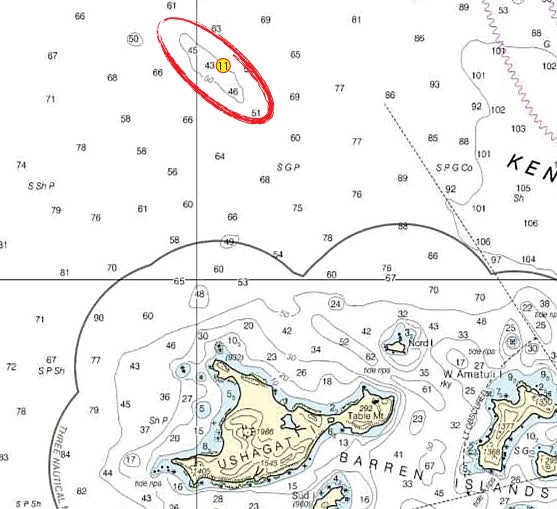 11. North of Ushagat Island. (NOAA Chart #16640) About five miles north of the northern point of Ushagat Island, to the west side of Kennedy Entrance is a small elongated ridge rising up from depths of 350 feet to a depth of 250 feet or so. This ridge is the only significant rise in depth for some miles in all directions, and will attract halibut. Fish the downstream sides on the incoming or outgoing tides for best results. Note that the ridge is located parallel to the direction of the prevailing currents moving in and out of Cook Inlet, so the slack water will be located at either end, and will not be very wide.
12. Barren Islands. (NOAA Chart #16640) The Barrens are something of a "Holy Grail" for anglers seeking larger halibut, together with rockfish and lingcod. The mystique hangs completely around the difficulty in getting there in the first place. The Barren Islands are located over 30 miles from Seldovia, and most of the run is across the totally exposed waters of Kennedy Entrance and the Gulf of Alaska. Conditions can be quite rough out here, with gale conditions and seas in excess of 20 feet. Because the islands lie off the entrance to Cook Inlet, with its severe tides, tidal rips frequently develop between the islands, most notably on the west side of Ushagat Island, between Ushagat and Nord Islands, and on both sides of W. Amatuli Island. Pretty much any place there is a tight restriction between islands and shallow reefs can develop strong currents and tide rips. Still, there are flat days when the run can be made, and those days are the stuff of legend, with big halibut, rockfish and lingcod available throughout the area.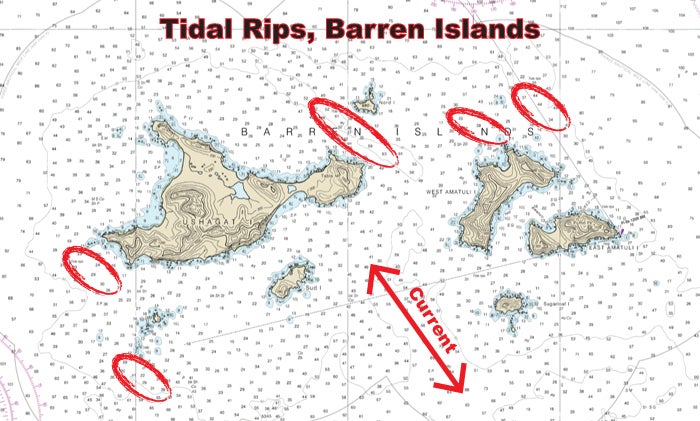 DANGER! The tidal rips along and between the Barren Islands can be quite dangerous, depending on the phase of the tide and ocean swells. The islands sit off the mouth of Cook Inlet, which has some of the highest tides in the world, with tidal differences of 30 feet between high and low tides. Proceed with extreme caution in choke points between islands, and between shallow reefs and other bottom structure.
---
The Seldovia Angler's Gear Bag
You'll need to adjust your gear to match the species you're after, but this should give you a good lead on being prepared. Pack your gear in a tackle duffel and bring it along with you on the ferry. You can order most of the items on the list by clicking on the item name.
Boat-Based Fishing Gear
Rigging up for a saltwater trip can get complicated in a hurry, especially when there are several species involved. The best recommendation is to bring separate tackle boxes / satchels for each species. Be sure to bring along a five-gallon bucket and some fresh water, so you can drop your used tackle inside for a rinse, before putting it back with the rest of your gear. Otherwise you risk rusting your expensive hooks and lures.
King and Silver Salmon
Blue Fox Pixee. Sizes 2-5. Colors: gold and silver with orange, hot pink, green, and chartreuse inserts. 8 assorted.
Vibrax Spinner. Sizes: 3, 4, 5 and 6. Colors: pink, flame orange, chartreuse, silver, blue, and green. 8 assorted.
Kodiak Custom Tackle G. I. spinners. Sizes: 4, 5, 6. Colors: pink, chartreuse, orange, flame red, blue, green. 8 assorted.
Kodiak Custom Tackle Skirt spinners. Sizes: 4, 5, 6. Colors: pink, chartreuse, orange, flame red, blue, green. 8 assorted.
Luhr Jensen Tee Spoon. Size: 4. Color: Hammered Copper. 4 each.
Luhr Jensen J-Plug. Colors: Cut plug, chartreuse, flame orange.
Sampo Coastlock ball-bearing swivels. Size: X3CB. 12 swivels.
Gamakatsu Octopus hooks. Sizes: 2/0, 3/0, 5/0. 30 hooks.
Gamakatsu Mooching Rigs. Sizes: 3/0-5/0. 12 rigs.
Hootchie Skirts. Sizes: 4-inch, 6-inch. Colors: blue/silver, hot pink, chartreuse, neon green, purple, pink/white. 24 assorted colors / sizes.
Luhr Jensen Coyote Trolling Flashers. Colors: Black, glow, white/blue. Bring one of each.
Luhr Jensen Herring Dodger flasher. Colors: Chrome, chrome / prism decal. Bring one of each.
Water Gremlin reusable split shot. Sizes: 3, 4. 4 packs.
Danielson Bannana Weights with bead chain swivels. Sizes: 3oz, 4oz, 6oz. 4 of each size.
Maxima Fishing Line. Size: 20-lb test. Color: Chameleon. 2 spools.
Frozen Herring (Alaska Bait Company). Size: Green Label.
Dexter-Russell fillet knife. Model: S133-8WS1-CP SaniSafe.
Halibut, Rockfish and Lingcod
Power Pro Spectra Fiber Braided Fishing Line. Size: 80-lb test, 300 yard spool. Color: Green. 2 spools.
Curly Tail Jigs. Size: 10". Colors / quantity: White (4), glow (2), root beer (2), purple (2), black (2).
Jig Heads. Size: 12/0 hook, 16 ounce or more.
Kodiak Custom Bottomfish Jigs. Sizes: 6 oz, 10 oz, 14 oz. Colors: White, Pink, Orange, Green, Black.
Luhr Jensen Crippled Herring Jig. Size: 3-inch. Colors: Neon Blue Back, Nickel, Neon Green Back. 3 each.
Frozen Herring (Alaska Bait Company). Size: Black Label (get the biggest you can find).
Dexter-Russell fillet knife. Model: S133-8WS1-CP SaniSafe.
---
Points Beyond
There are many other places too numerous to mention here, which can be accessed if the weather is good. Some of these places are rarely fished, as they are dififcult to access in all but the best weather. Anything east and north of Port Dick can offer truly outstanding fishing for lingcod, rockfish, and yelloweye, along with halibut. There are a number of inlets and bays from this area all the way around to Resurrection Bay that can offer shelter in a pinch, but you really must be cautious in this area as it is exposed to long ocean swells that roll across the Gulf of Alaska and eventually into Prince William Sound.
---
Resources
If you plan to fish anywhere on the Kenai Peninsula, you need a copy of Dave Atcheson's "Fishing the Kenai Peninsula" in your rig. If you're new to the area, a copy of The Milepost will help you plan your trip, providing maps and detailed information on the locations of campgrounds, cabins, places to eat, fuel stops and much more. While you're in the bookstore, you might also check out our maps of Kachemak Bay State Park, Kenai River (includes only the middle and lower sections of the river, from Skilak Lake to the mouth), and the Northwestern Kenai Peninsula map, which includes only the areas around Kenai, Soldotna, Sterling, Kasilof, and Nikiski. These are road maps, but they also show campgrounds, fishing areas and available species. Finally, check out Scott Haugen's excellent book, "Bank Fishing for Steelhead and Salmon" for excellent tips that will work on the Kenai River, Deep Creek and other places on the Kenai Peninsula.
---
Click on the following links to review angling opportunities in the various areas of the Kenai Peninsula.
Kenai Peninsula Fishing Intro | Upper Kenai Peninsula Fishing | Central Kenai Peninsula Fishing | Lower Kenai Peninsula Fishing | Kenai Peninsula Marine Fishery | Kenai Peninsula Clamming | Seward Saltwater Fishing | Seldovia Fishing