The Rocky Mountain Goat is a unique animal in mountain game. Not a true goat, it is actually a member of the antelope family. Sheep are flighty and likely to run at the first sign of trouble, but goats are more deliberate, relying on the protection of the steep terrain where they are usually found. This terrain, more often than not, is their primary protection from predators.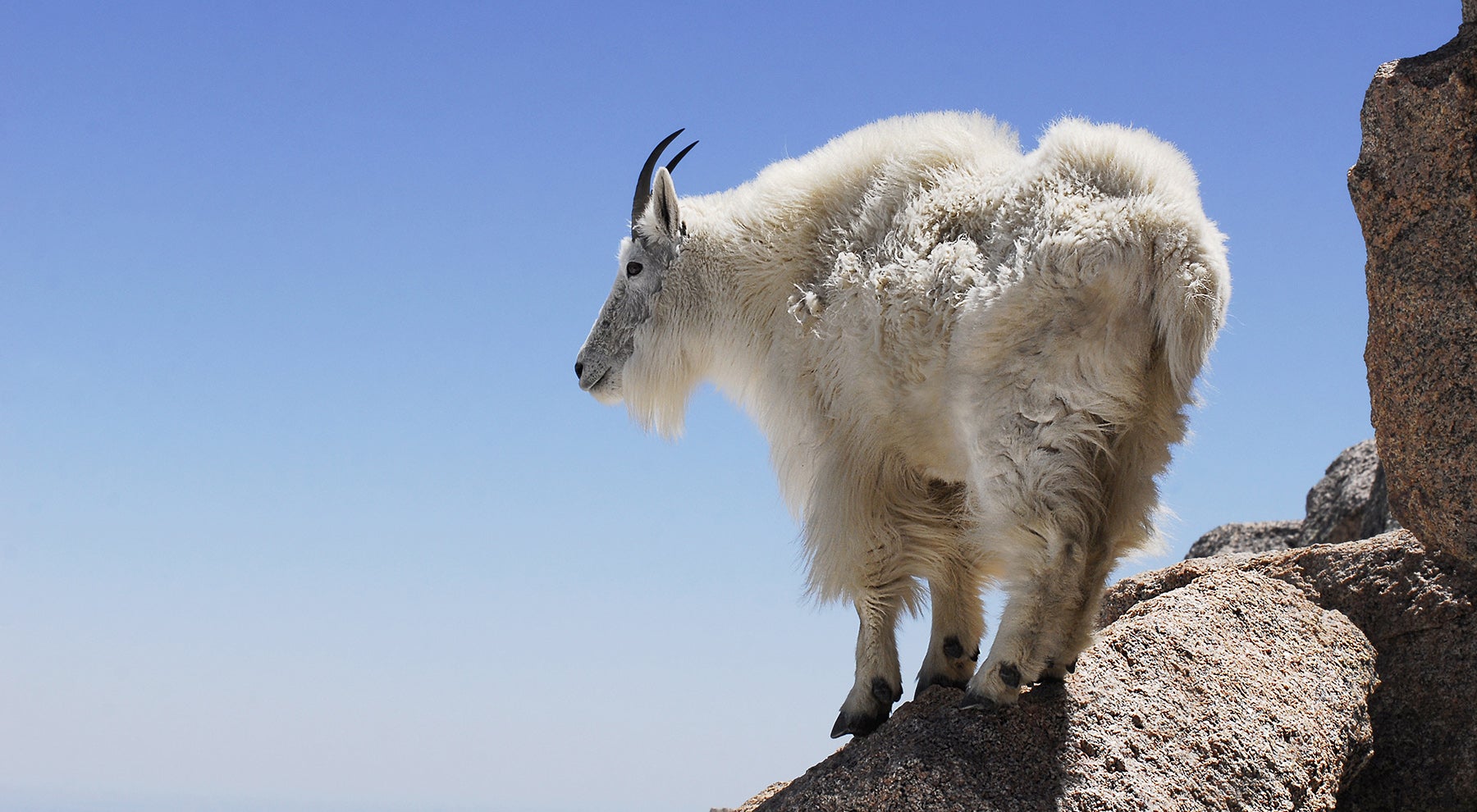 Both nannies and billies carry horns, and the challenge for hunters is telling the difference between the two. Though both are legal game, sound game management principles indicate that a near-exclusive harvest of mature males is best for maintaining the species in huntable numbers. Generally speaking, a nanny's horns are mostly straight from the base up to the last 30% of the length, from which they curve backward. A billie's horns are larger at the bases and form a gradual curve throughout their length. Nannies are generally found lower on the mountain than billies and are frequently accompanied by kids up to two years of age.
Seasons
Goats are hunted mostly in the late fall when their winter coat makes them more desirable as trophies. October is a great time to hunt goats; the weather is generally not as brutal as November can be and the hair is long.

Regions and Methods
Goats are found in abundance in the southern third of the state, with the largest concentrations found in Southeast Alaska and parts of the southern Chugach mountains bordering Prince William Sound.
Goats do not have hollow hair (as sheep do), and a goat that is shot and falls off the cliffs into the water often sinks like a stone. When the time comes for the shot, get close to ensure accurate shot placement, and see to it that the animal is positioned where there is a minimal chance that it will roll off the mountain or fall over a cliff after the shot. Such falls are all too common with goat hunters who take marginal shots and often result in a destroyed trophy and ruined meat. Make a good shot to kill the animal quickly and cleanly.
---
Region 1 (Southeast Panhandle)

Game Management Units: GMU 1, 2, 3, 4 & 5
Region 1 South: Southeast Panhandle | Region 1 North: Yakutat / Cordova Area
Available species:
Black Bear | Brown / Grizzly Bear | Deer | Elk | Goat | Moose | Wolf
Southeast Alaska has the largest population of goats in the state.
---
Region 2 (North Gulf Coast, Kenai Peninsula, Kodiak / Afognak Archipelago

Game Management Units: GMU 6, 7, 8, 14C, 15
Region 2 East: North Gulf Coast / Kenai Peninsula | Region 2 West: Kodiak / Afognak Archipelago
Available species:
Bison | Black Bear | Brown / Grizzly Bear | Caribou | Dall Sheep | Deer | Elk | Goat | Moose | Wolf
Goats are found in huntable numbers in the Chugach Mountains south of O'Brien Creek and south of the Knik and Matanuska Rivers. They are also found in several locations on the Kenai Peninsula, including the Placer River drainage, near the Granite Creek area, and several marine locations out of Resurrection Bay.
---
Region 3 (Interior, central & eastern Brooks Range)

Game Management Units: GMU 12, 19, 20, 21, 24, 25, 26B, 26C
Region 3 East: Eastern Arctic / Eastern Interior | Region 3 West: Central Interior
Available species:
Bison | Black Bear | Brown / Grizzly Bear | Caribou | Dall Sheep | Moose | Wolf
There are no goats in Region 3.
---
Region 4 (Southcentral, Alaska Peninsula, Aleutians)

Game Management Units: GMU 9, 10, 11, 13, 14A, 14B, 16, 17
Region 4 East: Southern Interior, Anchorage, Susitna Valley | Region 4 West: Bristol Bay and the Alaska Peninsula
Available species:
Bison | Black Bear | Brown / Grizzly Bear | Caribou | Dall Sheep | Goat | Moose | Wolf
The goats in Region 4 are located in parts of the Knik River area and Kodiak Island. Some goats live along the south side of the Matanuska River.
---
Region 5 (Western Brooks Range, west coast to Bristol Bay)

Game Management Units: GMU 18, 22, 23, 26A
Region 5 North: Western Arctic | Region 5 South: Yukon / Kuskokwim Delta
Available species:
Black Bear | Brown / Grizzly Bear | Caribou | Dall Sheep | Moose | Muskox | Wolf
There are no goats in Region 5.
---
Meat and Trophy Aspects
Meat from older billies (the animals most often sought by hunters) is usually very tough. It can be used for stew meat, roasts, burger, sausages, and the like. Younger billies and nannies, on the other hand, can be some of the best eating around, with some hunters favoring it over Dall sheep, caribou, and moose. Because most goats are taken later in the year when the weather is cool, meat care is usually not difficult. Flies are virtually nonexistent and the chances of loss due to bone sour or surface bacterial contamination are rare. Keep the meat clean as you remove it from the animal, placing it in game bags to keep dirt and debris from coming into contact, and hang it as soon as you get the opportunity.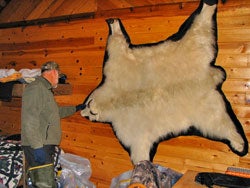 Though some hunters target them for the meat, other meat animals are more readily available in most areas; most goats are taken by trophy hunters. The most common mount is the shoulder mount. Begin your skinning cuts at the mid-body point to ensure your taxidermist has plenty of cape to work with. A 3/4 life-size mount is also popular, where the mount incorporates the entire front legs into a diorama including rocks and lichen found in goat country. If you go with the 3/4 mount, skin the animal to a point just forward of the hindquarters. A full-body skin can be done for either a full mount or a rug, but of course, you must remember that a full-body mount usually requires a dorsal cut (up the spine) while the rug requires a ventral cut (up the belly), so the decision must be made at the kill site or before. Goats make an impressive rug mount, with the head and hooves in place, and a goat rug is cheaper than a full-body mount. Go with red or black felt to contrast with the white hair.
---
Gear for Goat Hunting
Seasoned goat hunters know that good equipment is one of the keys for success. You've got to go in light, so each item must earn its place in your pack. Here's a general list; refine it to fit the location you're hunting.
Inner Wear
Bring two sets of thermal underwear; a light-weight set and a medium-weight set. Tops should be zippered tee-neck style if possible, to retain heat in the neck area. The two layers can be worn separately or doubled up as temperatures demand. Go with softer wool or a synthetic to wick moisture away from your skin.
Synthetic briefs are a great idea for controlling moisture that might otherwise build up against your skin.
Socks
For socks go with Smartwool or Thor-Lo brand; both are excellent at controlling moisture, and they offer extra padding that will pamper your feet on the rough terrain you'll be hiking. Some hunters prefer a crew-length or mid-height sock rather than those that go over the calf.
Rain Gear
Goat country is usually wet country. Most of it is located in maritime environments where the cool air from the ocean meets the warmer inland air, resulting in cloud formation and rainfall. Good raingear is essential for goat hunting. Helly Hansen Impertech is a preferred brand, but keep in mind that it is 100% waterproof. You're going to sweat if you're climbing while wearing it. Keep the top unbuttoned if it's not pouring rain, and it will greatly help in allowing moisture to evaporate off.
---
Additional Resources on Goat Hunting
Here is a list of additional resources on goat biology, hunting tactics, and meat and trophy care.
Goat Biology
Goat Hunting
Meat and Trophy Care
Cookbooks