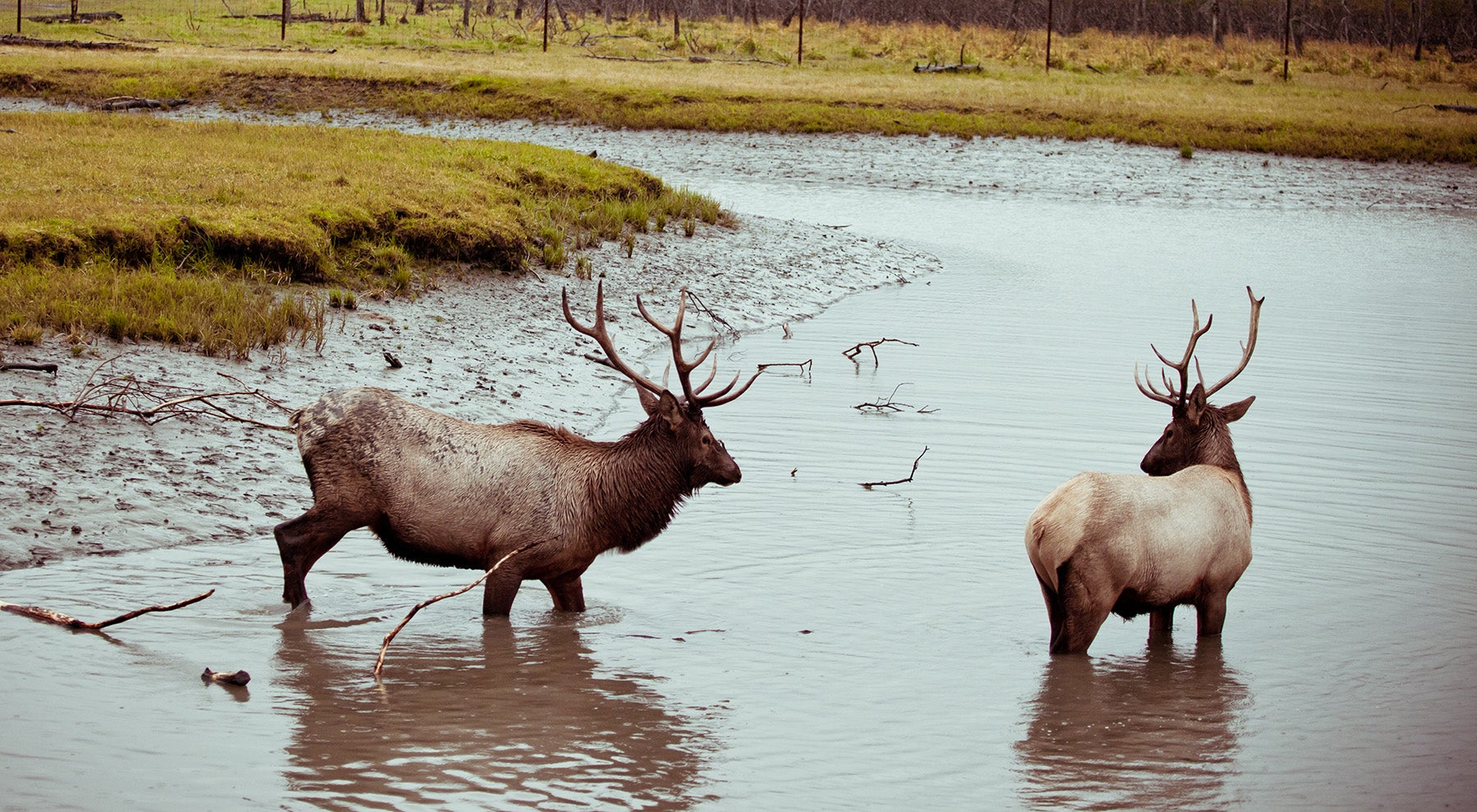 Roosevelt elk from Washington's Olympic Peninsula were the first to be imported to Alaska, in the 1920's. These animals were imported to Afognak Island, in the Kodiak-Afognak archipelago, and later migrated to Raspberry Island. A second transplant took place in 1987, with both Roosevelt and Rocky Mountain elk imported to Etolin Island, in Southeast Alaska. Some animals have since moved over to Zarembo Island, which involved the animals swimming at least 1.7 miles across Stikine Strait, not far from Wrangell. Both islands have logging roads which allow some access to the interior, however the road system on Etolin is very limited. There is anecdotal evidence that small numbers of elk have established themselves on other islands in the area. The successful introduction in 1987 followed five previous failed attempts. About half of the transplanted animals died from accidents or predation. It is unlikely that further transplants will occur in this area, due to concerns about competition for food with indigenous Sitka black-tailed deer.
Seasons
Elk hunting in both Southeast Alaska and in the Raspberry / Afognak Island area is managed on a drawing permit basis. Statistically, hunter success rates are low, presumably because less than half of the successful applicants actually participate in the hunt and those who do encounter very difficult access issues. The Afognak Island hunt is conducted from late September through early October and is broken down into zones, while Raspberry offers the bulk of its permits during the month of November. Etolin Island has an archery season that runs the month of September and a general season split into two openings, one in each half of the month of October.
Regions and Methods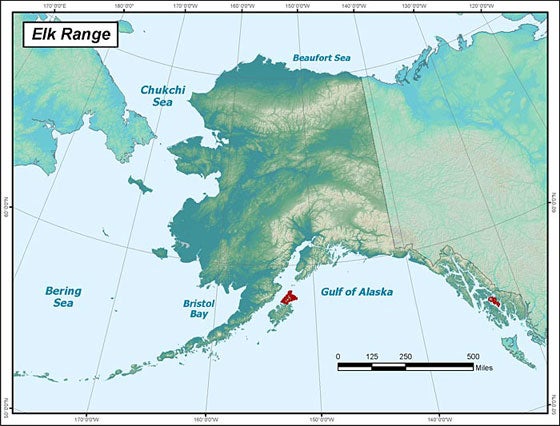 (map courtesy of ADF&G)
---
Region 1 (Southeast Panhandle)
Game Management Units: GMU 1, 2, 3, 4 & 5
Region 1 South: Southeast Panhandle | Region 1 North: Yakutat / Cordova Area
Available species:
Black Bear | Brown / Grizzly Bear | Deer | Elk | Goat | Moose | Wolf
Etolin Island offers very challenging hunting conditions: steep terrain and very thick vegetation stretching from the beaches almost to the hilltops. Look for elk in large openings near the top and plan your stalk accordingly. Elk are herd animals, and the key to success is locating the herd. These herds will stick together, so if you spot a single animal, be patient. Others are probably nearby.
It is impossible to overstate the difficulty of navigating the terrain on Etolin Island. The island is heavily vegetated and the terrain is very steep. Fog and rain are common occurrences, and both can dramatically influence you're ability to glass for game.
---
Region 2 (North Gulf Coast, Kenai Peninsula, Kodiak / Afognak Archipelago)

Game Management Units: GMU 6, 7, 8, 14C, 15
Region 2 East: North Gulf Coast / Kenai Peninsula | Region 2 West: Kodiak / Afognak Archipelago
Available species:
Bison | Black Bear | Brown / Grizzly Bear | Caribou | Dall Sheep | Deer | Elk | Goat | Moose | Wolf
As was mentioned earlier, Roosevelt elk were originally imported to Afognak Island, but they have since established themselves on Raspberry Island as well, and there are huntable populations on both islands. The most common access method is via bush plane or charter boat out of Kodiak or Old Harbor, on Kodiak Island. If you go by boat, the seas can be quite rough as you cross Kupreanof Strait, perhaps causing a delay on either end of your trip.
Raspberry Island
Raspberry Island is nearly uninhabited, with only two year-round residences; Port Wakefield and Raspberry Island Remote Lodge. The former was a cannery before the 1964 earthquake, but now both are operated as wilderness lodges, with caretakers living there during winter months. Electrical power comes from hydro generators that operate from nearby streams.
Afognak Island
Afognak has only one settlement, the town of Aleneva. It's a tiny community of Russian Old Believers, with about 70 people living there. They are living below the poverty line and have the lowest per-capita income in Alaska. Their main means of support is logging and subsistence activities. There is also a logging camp there owned by a native corporation.
The island hosts the northernmost stands of Sitka spruce, although nobody seems to know how the trees became established, as their closest relatives are hundreds of miles away in southeast Alaska. The trees don't reach the towering heights found in southeast, but some are between 300-400 years old. In addition to spruce forests, the island is carpeted with alder and other understory, and grasslands. The brown bear population numbers in the hundreds.
The biggest challenge in hunting Afognak's elk herds is in finding them. The terrain is very steep and hard to climb, owing to the tall, wet grass that often makes footing treacherous. The best tactics are to climb high and glass low, but be ready to have visibility obscured by fog and rain. Calling is very effective as well, and can be used to locate bulls even if they will not leave the herd to come your direction.
---
Region 3 (Interior, central & eastern Brooks Range)

Game Management Units: GMU 12, 19, 20, 21, 24, 25, 26B, 26C
Region 3 East: Eastern Arctic / Eastern Interior | Region 3 West: Central Interior
Available species:
Bison | Black Bear | Brown / Grizzly Bear | Caribou | Dall Sheep | Moose | Wolf
There are no elk in this region.
---
Region 4 (Southcentral, Alaska Peninsula, Aleutians)

Game Management Units: GMU 9, 10, 11, 13, 14A, 14B, 16, 17
Region 4 East: Southern Interior, Anchorage, Susitna Valley | Region 4 West: Bristol Bay and the Alaska Peninsula
Available species:
Bison | Black Bear | Brown / Grizzly Bear | Caribou | Dall Sheep | Goat | Moose | Wolf
There are no elk in this region.
---
Region 5 (Western Brooks Range, west coast to Bristol Bay)

Game Management Units: GMU 18, 22, 23, 26A
Region 5 North: Western Arctic | Region 5 South: Yukon / Kuskokwim Delta
Available species:
Black Bear | Brown / Grizzly Bear | Caribou | Dall Sheep | Moose | Muskox | Wolf
There are no elk in this region.
---
Elk Resources
Our bookstore has many resources of interest to Alaska elk hunters. Check them out!
Elk Biology
Meat and Trophy Care
Cookbooks