Alaska Boating
Alaska has over 365,000 miles of rivers on which you can operate a kayak, canoe, raft, or jet boat. There are millions of lakes to choose from, and 33,904 miles of coastline, more than the combined coastlines of all the other states in the country. Simply put, there are a lot of places in Alaska to float your boat. Let's break it down for you.
Boat Types for Alaska Waters
In a state the size of Alaska, there is truly something for everyone who wants to get out on the water. Let's look at the various types of boats suitable for Alaska.
Powerboats
Powerboats for Alaska fall into one of several types. Large inboard or outboard-equipped vessels in the 24' and above size class are commonly used in saltwater for cruising, fishing, and general transportation. Fuel economy is a potential issue, requiring large fuel tanks or frequent fill-ups. In some cases, boaters may carry extra fuel on board. Keep in mind that, depending on where you are in Alaska, it can be a long distance between harbors and fuel stations. If you're operating a large gas-guzzler, you need to plan carefully.
Smaller outboard-driven boats in the 20' and smaller range, including open aluminum skiffs, are excellent for freshwater lakes and rivers that are deep enough to run a prop without any risk of the outdrive impacting the riverbed. They are also common in sheltered saltwater areas, where rough waves are not anticipated.
Jet boats are very popular on many of Alaska's rivers, whether on the road system or in villages in remote areas. In these places, boats are usually hauled out to the village via barge during the ice-free summer months.
Airboats are popular in some areas of the state, most notably the Cordova area (which has a lot of swampy areas), some rivers in southcentral Alaska, and the Interior out of Fairbanks. They're very loud, however they run in extremely shallow water and can access areas virtually impossible to get to in other ways.
Sailboats
Sailboats are popular in southeast Alaska, particularly among those planning to cover long distances up the Inside Passage, where fuel stops are few and far between. Some sailboat activity is also present in Prince William Sound and in and around Whittier and Seward, both of which have deepwater ports. They're not at all common in Cook Inlet or in the Bristol Bay area, both of which are known for having shallow waters.
Kayaks
Ocean kayaks are very popular in many coastal areas of Alaska, most notably the southeast panhandle, Prince William Sound, and the Kenai Peninsula. Some ocean kayaking is done in the Kodiak area, and of course remote ocean kayaking is possible along the Alaska Peninsula by enthusiasts traveling with break-down or inflatable boats.
River kayaks are a niche boat popular with the whitewater crowd, and their small size makes them easily transportable to roadside and fly-out streams all over the state.
Fishing kayaks are becoming very popular in some areas of Alaska, and they can be rigged with downriggers, rod holders, and various compartments to hold your gear. One of the more popular setups are the pedal-type systems that allow the operator to troll without paddling. You push the floor pedals to operate a couple of fins that project beneath the kayak to propel it forward or backward. These rigs are used to troll for silvers or kings, and even to fish for halibut.
Inflatable Boats
Inflatables come in all sizes and configurations. Some are designed to be operated with kayak paddles, while others can be used with some of the largest outboards or jet motors. Inflatable boats are uniquely suited to Alaska, because they are easily transported by Bush aircraft to remote locations far from the road system. The topic of inflatable boats for Alaska is too detailed for this section of the site, however we have a robust inflatable boats section which is designed to provide a detailed look at the types and configurations of the different types of inflatables used in Alaska. If you need an inflatable boat for your trip, our Inflatable Boats Section is the place to start.
Saltwater Information
If you walked 1,000 miles a year, it would take almost 34 years to walk the shoreline of Alaska. That's a LOT of waterfront! Saltwater boating opportunities are almost limitless in Alaska, and the adventure ranges from the open sea, with large Pacific rollers found in Prince William Sound and the waters around Kodiak and the Aleutians, to the calm sheltered inlets along the Inside Passage. Alaska is a saltwater cruiser's dream-come-true. And there is a lot to do, from fishing, to clamming, crabbing, beach combing and hiking. It's all here.
If you're looking for resources on saltwater boating in Alaska, visit our bookstore, where you will find maps, books and DVDs featuring saltwater boating in Alaska. Check out the Boating Section in the store.
Freshwater Information
This site contains a lot of river information. The following information is intended to help you as you research for your Alaska river trip.
Master Rivers Page
Our Master Rivers List is an alphabetical listing of several hundred rivers throughout the state of Alaska, together with all available print, DVD and mapping resources that discuss those rivers. Bookmark that page for future reference, as you will want to come back to it often.
Alaska River Logs
In the mid-1970's the now-defunct federal agencey known as the Bureau of Outdoor Recreation (BOR) surveyed several Alaska rivers for potential inclusion in the National Wild and Scenic Rivers program. Each survey team kept journals detailing fish and wildlife sightings, water levels, hazards and more. These journals, collectively known as the Alaska River Logs, have been loaded on this site for your review.
Though somewhat dated, the River Logs contain many important details that you need for planning a trip to these areas. Note that the River Logs may lack critical information pertaining to safety, land management and ownership, fishing and hunting regulations and other details you need. The reports may also contain errors. Be sure to cross reference your information with other sources and perform good research before heading to the field.
National Wild and Scenic Rivers Program
The National Wild and Scenic Rivers Act of 1968 exists to preserve selected river systems for the benefit and enjoyment of present and future generations. One goal of the survey work done by the BOR was to determine candidate rivers for nomination into the National Wild and Scenic Rivers program. Each region of the state listed below contains links to rivers that are now in that program.
Recreational Boating Opportunities in Alaska
The following is a breakdown, by region, of the recreational boating opportunities in Alaska.
---
REGION 1: Southeast Alaska
Saltwater Cruising
Southeast Alaska has many amazing saltwater boating opportunities, including the world-famous Inside Passage, plied by cruise ships all summer long. Alaska's southern border is Portland Canal, which runs 71 miles from Chatham Sound, north and east to Hyder. It was named by George Vancouver in 1793, who used the Spanish word for channel, "canal" to describe the relatively narrow waterway. Because Portland Canal dead-ends near Hyder, cruisers will have to travel the same passage twice to get out. Farther north, Revillagigedo Channel offers access to numerous passages, bays and inlets of interest to boaters. Ketchikan's harbor provides access to protected waters around Revilagigedo Island, including a multi-day excursion taking you south out of Tongass Narrows, past Thorne Arm and into Behm Canal. Behm Canal then provides passage north and east, finally hooking around the north end of Revillagigedo Island, and on south back to Tongass Narrows. It's a great trip with lots of scenic beauty.
Prince of Wales Island (POW) also offers protected cruising along its eastern coastline, including several inlets and bays worth investigating. The western shore of POW is exposed to the Pacific Ocean, and large swells can be expected, along with strong ocean currents around the northern and southern passages that connect to the Inside Passage.
Farther north, via Chatham Strait, Baranof, Kuiu, Admiralty and Chicagof Islands offer sheltered cruising opportunities as well. The waters around Kupreanof Island are very shallow in places, making shoreline cruising very risky due to many shallow mud flats that can run miles out into the surrounding waters.
To the north and east of Admiralty Island is the city of Juneau, the state capitol. Juneau is an excellent launching point for cruises north via Lynn Canal to Haines, or west through Icy Strait into the Glacier Bay area, with its numerous glaciers and icebergs. This area is pretty much the end of protected cruising through southeast; the route north of here takes you along the unprotected waters along Alaska's "Lost Coast", which extends from Glacier Bay to Yakutat. Kayakers sometimes make this run, but it's very important to watch the weather here, as long ocean swells are prevalent, and storms can really make this area dangerous.
The Inside Passage is the playground of cruise ships that run from Seattle to various towns along the panhandle, and in some cases, north to Seward, on the Kenai Peninsula.
If you plan to experience the Inside Passage via cruise ship, the experience will be much richer if you pick up a copy of Joe Upton's "Alaska Cruise Handbook". They're available on some of the cruise ships, but you might consider ordering one from our store, so you can plan your shoreside adventures well in advance. This book will help you get out of the tourist ecosystem and into some great recreational opportunities at local prices.
Freshwater Boating
Most of the river systems in southeast Alaska are too short for expedition-type float trips, therefore the BOR did not research these rivers. There are, however, a number of rivers of potential interest to kayakers. Check our Boating Section in the bookstore for listings. Our Master Rivers List also contains listings of several rivers in Region 1.
There are no rivers in REGION 1 that are in the National Wild and Scenic Rivers program.
---
REGION 2: North Gulf Coast, Kenai Peninsula, and the Kodiak / Afognak Archipelago

Saltwater Cruising
Cruising opportunties abound in Region 2, starting with the renowned waters of Prince William Sound. The Sound offers many protected bays and inlets in which to sail or cruise. Many of these offer secure overnight anchorages, excellent fishing or hunting opportunities, beach combing, clamming, shrimping, shore-based camping and hiking.
Heading north from Yakutat, across Yakutat Bay, you come to the massive Malaspina Glacier, a formidable ice sheet which can generate its own weather, including strong offshore winds that can whip the swells into a froth at times. Plan your crossing north from Yakutat carefully, to take advantage of calmer weather. Icy Bay offers some shelter, but after that you are totally exposed until you make it past Cape Sucklng, a distance of over 84 miles. The waters north of Cape Suckling offer some shelter, but as you approach the Copper River Delta, you encounter mud flats that extend for miles out from the shoreline in places. The importance of nautical charts of this area cannot be overstated, however you must keep in mind that the delta's channels can change and what you see on the map may not be what you encounter on the water.
North of Sheep Bay, you start to find the real gems of Prince William Sound; the protected coves, inlets and bays sought by recreational boaters and sportsmen. If you're cruising the sound, some likely launch points are Seward, Whittier, Valdez and Cordova. All of them with the exception of Cordova are connected to Alaska's highway system. A road does run out of Cordova to the Copper River, however the 1964 Good Friday Earthquake knocked a section of the bridge out of commission, and it has never been repaired.
Bring a copy of Jim and Nancy Lethcoe's "Cruising Guide to Prince William Sound" with you on your Prince William Sound excursions (it's available in our bookstore). This is the guidebook to the whole area, and contains detailed maps showing the best anchorages, cruising routes, shore excursions, where to find fresh drinking water, hiking trails and much more. It's spiral-bound, making it easy to lay on your dashboard as you navigate. An invaluable resource for Prince William Sound.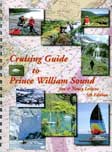 The Kenai Peninsula itself offers many opportunities for day trips out of Whittier, Seward or Homer, with great fishing and hunting opportunities available in this area as well. The rugged shoreline, deep fjords, hanging glaciers and abundant marine life make this place a real paradise for outdoor enthusiasts. Rounding the west end of the Kenai Peninsula, you come to Port Graham, Seldovia and eventually Homer. The latter is connected with the highway system, and sits in the somewhat sheltered waters of Kachemak Bay. A day breeze is not uncommon on Kachemak Bay, so boaters should pay attention to the marine forecast here if whitecaps are a concern.
Heading north and east from Homer, you eventually come to Kenai, which lies in the protected waters of the lower Kenai River. The Kenai Docks provide mooring and town is within walking distance from the harbor. Once you leave Kenai, the water becomes shallow and tidal action in Cook Inlet can be quite severe. Cook Inlet has the second-highest tides in the world, behind Norway's Bay of Fundy. Expect tidal rises of 30 feet or more. Anchorage sits at the head of Cook Inlet, and the shallow waters in this area make channel selection imperative. There are no recreational docks in this area, however the Ship Creek Boat Launch offers a boat ramp to launch or recover your boat. The ramp is not usable at low tide, due to shallow waters.
Finally, the waters to the west, the Kodiak - Afognak Island group, offer scenic beauty and excellent fishing and hunting. These islands also offer protection in their lee sides, as well as numerous long bays and inlets that offer protection from wind swells and wave action churned up by storms out in the Gulf of Alaska.
Freshwater Boating
Several river systems exist in this area that are of interest to recreational users, however the BOR did not research these rivers. On the other hand, our Master Rivers List contains listings of several rivers in Region 2. Some of the best rivers in the state are here, and many of them are road-accessible!
There are no rivers in REGION 1 that are in the National Wild and Scenic Rivers program.
---
REGION 3: Interior and Eastern Arctic

Saltwater Cruising
Coastal access in Region 3 is limited to the Arctic Coastal Plain east of Prudhoe Bay, and because there are no harbors in this area, saltwater boating is limited to kayaking the coastline. Some groups do this during the summer months, and it's a great experience if you are looking for recreational opportunities in some of the most remote areas of North America.
Freshwater Boating
Our Master Rivers List contains numerous rivers located in Region 3, providing a great mix of remote fly-out rivers and road-accessible rivers and streams of interest. Some of these rivers offer challenging whitewater, while others flow at a relaxed slow, Class I pace.
The BOR surveyed a number of rivers in this area, as follows:
Beaver Creek | Black River | Chatanika River | Copper River | Delta River | Fortymile River |Gulkana River | Huslia River | Koyukuk River North Fork | Nowitna River

There are several rivers in REGION 3 which are in the National Wild and Scenic Rivers program. Here is a list.
Beaver Creek | Birch Creek | Charley River | Delta River | Fortymile River | Koyukuk River (N.F.) | Nowitna River
---
REGION 4: SouthCentral through the Alaska Peninsula and the Aleutians

Saltwater Cruising
Saltwater recreational boating opportunities in Region 4 are limited mostly to locals living in any of the small seaport towns along the Alaska Peninsula and the Aleutian Islands. It is possible for sea kayakers to haul boats out to these towns via commercial air out of Anchorage, however costs are high. The best option is to go with a breakdown boat or an inflatable. The westernmost harbor in Alaska is Attu, however the station was decommissioned in 2010, when the Loran station was decommissioned. The island is currently uninhabited. Therefore the westernmost functional harbor in Alaska is Adak. There are no commercially-operated recreational boats out of Adak, so sea kayaking is the only viable option, a somewhat dangerous prospect considering that the area is known for high winds and rain. There are no kayak rental facilities in Adak, so boaters will have to bring their own from Anchorage. King Salmon and Dillingham, located on Bristol Bay, offer very limited saltwater boating, but the coastal waters here are shallow and muddy; not the kind of opportunities sought by saltwater boaters.
Freshwater Boating
River runners will find many opportunities in Region 4, with most concentrated on the mainland before you get to the King Salmon area. Some rivers in this area require aircraft access, while many others are road-accessible. Find a comprehensive listing of rivers in this area in our Master Rivers List.
The BOR surveyed the following rivers in south-central Alaska and western Alaska:
American Creek | Andreafsky River | Aniakchak River | Alagnak River | Bremner River | Charley River | Chilikadrotna River | Chitina River | Kakhonak River | Kanektok River | Karluk River | Kasegaluk Lagoon | King Salmon River | Little Susitna River | Mulchatna River | Nuyakuk River | Talachulitna River | Tilkakila River | Togiak River
A number of rivers in REGION 4 are in the National Wild and Scenic Rivers program. Here is a list.
Alagnak River | Andreafsky River | Aniakchak River | Chilikadrotna River |Gulkana River | Mulchatna River| Tlikakila River
---
REGION 5: Arctic and Western Alaska

Saltwater Cruising
Although Region 5 presents a large amount of Alaska's coastline, recreational cruising opportunities are very limited. Ocean kayakers have journeyed this area, but conditions are harsh and demand the utmost in physical conditioning and careful planning. Wilderness survival skills are a must if you plan to kayak the western coast of Alaska.
Freshwater Boating
A number of very good river systems run through Region 5, rated from Class I-IV on the whitewater scale, and varying greatly in length. Almost all of these rivers are off the road system and require aircraft access. This is an excellent area for an extended wilderness float trip. Check out our Master Rivers List for a comprehensive listing of rivers in this area.
The BOR surveyed a number of rivers in this area. Here are the reports.
Alatna River | Awuna River | Canning River | Ivishak River | John River | Colville River | Kobuk River | Nigu Etivluk rivers | Noatak River | Porcupine River | Sagavanirktok River | Salmon River (Kobuk) | Selawik River | Sheenjek River | Squirrel River | Unalakleet River |Utukok River

Here are the reports from REGION 5 that are in the National Wild and Scenic Rivers program:
Alatna River | Ivishak River | John River | Kobuk River | Noatak River | Salmon River (kobuk) | Selawik River |Sheenjek River | Tinyaguk River | Unalakleet River | Wind River
---
Additional Information on Alaska's Recreational Boating Opportunities
This site contains a wealth of Alaska boating information. Here are some places on the site worth checking out.
Boating Forums
The Alaska Boating Forums consist of forums dedicated to Alaska canoeing, Alaska kayaking, Alaska power boating, and Alaska rafting. These forums are excellent places to interact with locals and other folks experienced on Alaska's waterways; to ask questions about specific locations, boats, gear, recommended experience levels, hunting and fishing opportunities, and other recreational options available in the area.
Our Articles on Alaska Boating
Freshwater Boating Articles
Saltwater Boating Articles