Muskox Hunting
A throwback from the last Ice Age, muskoxen represent all that is wild about Alaska. Found in only a few limited areas of the state and available on a drawing permit basis, they are popular for hunters looking for something on the exotic side.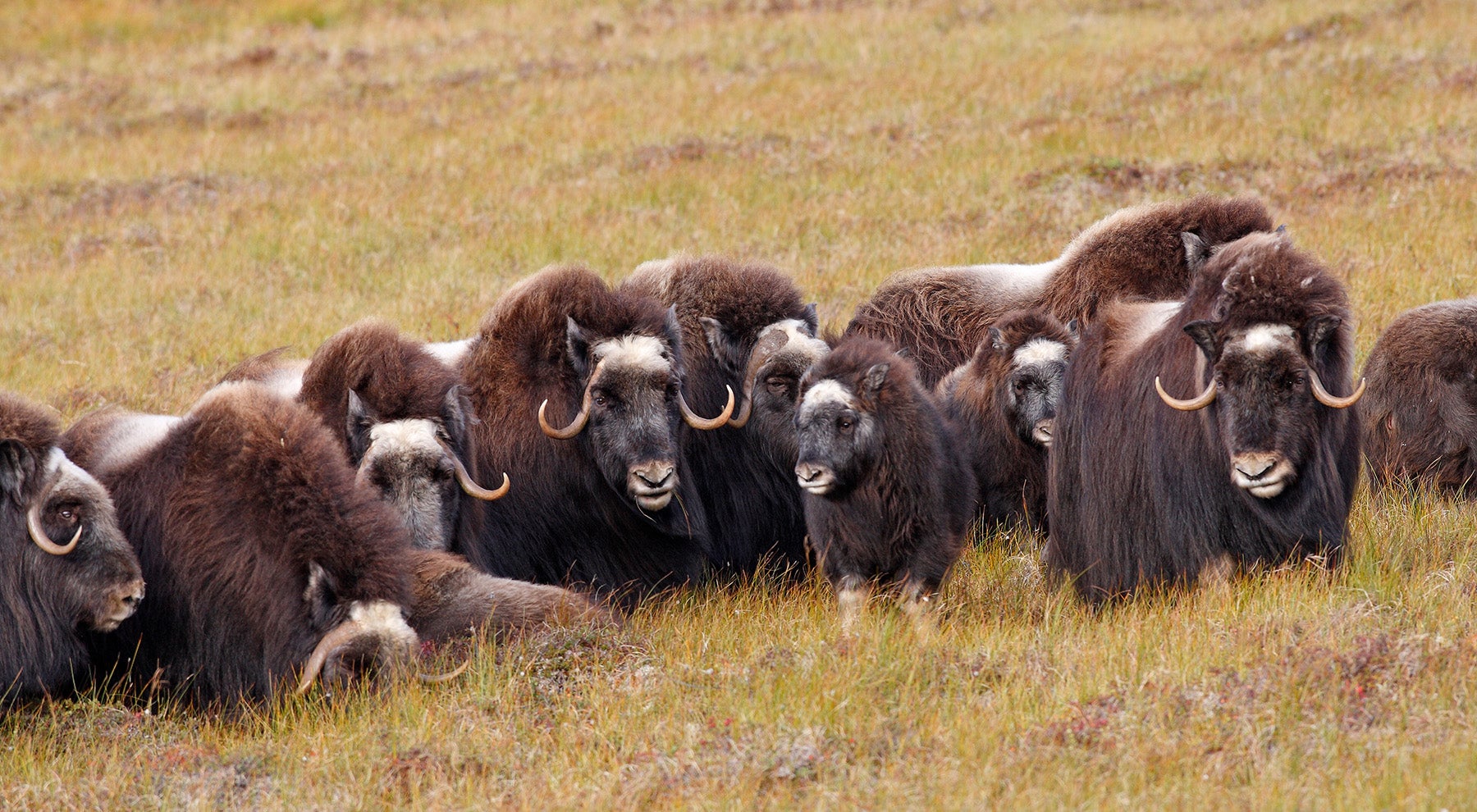 Muskoxen in Alaska
Muskoxen are an indigenous species in Alaska, once thought to inhabit much of Arctic Alaska, however they were wiped out by over-hunting in the mid-1800's. In 1927 the territorial government of Alaska lobbied Congress to fund the reintroduction of muskoxen to Alaska. Congress complied 15 bulls and 19 cows from Greenland were released on Nunivak Island between 1935-36. This is one of the most successful relocations in Alaska history. Since that reintroduction, muskoxen have been taken from the Nunivak herd to Nelson Island, the Barter Island / Kavik River area, and the Cape Thompson area (south of Point Hope in GMU 23). These reintroductions have been very successful, with muskoxen expanding their range throughout these areas and beyond into Canada. Several hunts are conducted each year, but some have fallen under federal subsistence guidelines and carry a trophy destruction requirement.
Seasons
Muskox hunting is allowed by permit only, with hunts taking place during fall and winter.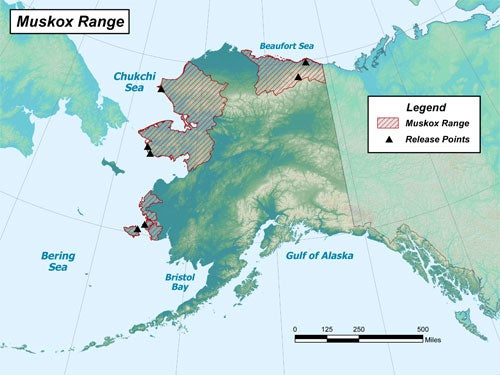 Regions & Methods
---
Region 1 (Southeast Panhandle)
Game Management Units: GMU 1, 2, 3, 4 & 5
Region 1 South: Southeast Panhandle | Region 1 North: Yakutat / Cordova Area
Available species:
Black Bear | Brown / Grizzly Bear | Deer | Elk | Goat | Moose | Wolf
There are no muskoxen in Region 1.
---
Region 2 (North Gulf Coast, Kenai Peninsula, Kodiak / Afognak Archipelago)
Game Management Units: GMU 6, 7, 8, 14C, 15
Region 2 East: North Gulf Coast / Kenai Peninsula | Region 2 West: Kodiak / Afognak Archipelago
Available species:
Bison | Black Bear | Brown / Grizzly Bear | Caribou | Dall Sheep | Deer | Elk | Goat | Moose | Wolf
There are no huntable populations of muskoxen in Region 2, however a captive herd may be observed at the Alaska Wildlife Conservation Center, located at mile 79 of the Seward Highway, near Portage.
---
Region 3 (Interior, central & eastern Brooks Range)
Game Management Units: GMU 12, 19, 20, 21, 24, 25, 26B, 26C
Region 3 East: Eastern Arctic / Eastern Interior | Region 3 West: Central Interior
Available species:
Bison | Black Bear | Brown / Grizzly Bear | Caribou | Dall Sheep | Moose | Wolf
Muskoxen were reintroduced to Barter Island in 1969, with 27 bulls and 25 cows from Nelson Island. These animals spread throughout the area, with some finding their way into Canada's Yukon Territory and the Northwest Territories. In 1970, another reintroduction occurred, with animals from Nelson Island being moved into the Kavik River near the border of the Arctic National Wildlife Refuge. This herd expanded into the Canning and Colville river area, including GMUs 26B and C. Environmental factors appear to be causing a decline in muskoxen numbers in this area, and there are concerns that the population may continue to decline. There are currently no hunts offered for Region 3.
---
Region 4 (Southcentral, Alaska Peninsula, Aleutians)
Game Management Units: GMU 9, 10, 11, 13, 14A, 14B, 16, 17
Region 4 East: Southern Interior, Anchorage, Susitna Valley | Region 4 West: Bristol Bay and the Alaska Peninsula
Available species:
Bison | Black Bear | Brown / Grizzly Bear | Caribou | Dall Sheep | Goat | Moose | Wolf
There are no wild muskoxen in Region 4, however a captive herd can be observed in the Mat-Su valley, at the Muskox Farm, near Palmer.
---
Region 5 (Western Brooks Range, west coast to Bristol Bay)
Game Management Units: GMU 18, 22, 23, 26A
Region 5 North: Western Arctic | Region 5 South: Yukon / Kuskokwim Delta
Available species:
Black Bear | Brown / Grizzly Bear | Caribou | Dall Sheep | Moose | Muskox | Wolf
The bulk of Alaska's muskoxen population lives in Region 5, most notably in GMUs 22 & 23 along with Nunivak and Nelson islands (GMU18).
1. Nunivak Island. Nunivak has a fall hunt and a winter hunt. You are required to pay a trespass fee to hunt there, and it's highly recommended that you hire the services of a local guide, who can transport you to the animals, and assist in transporting yourself and the meat back to town. Weather conditions on Nunivak can be very harsh, so come prepared. This means that in most cases, you will stay in a local home rather than trying to camp out. The Alaska Department of Fish and Game maintains a page with valuable hunting information for Nunivak Island AT THIS LINK.
2. Nelson Island. Nelson Island has a very stable muskoxen population, however most of the land is privately owned. It is therefore best to work directly with local residents who can provide lodging and transportation out to the herds.
---
Meat Care
Because muskox hunting is frequently done in the colder months, cold shortening is a potential issue. If meat is allowed to freeze before rigor mortis sets in, it will be rubbery in texture. This is because premature freezing locks in higher pH level, which releases moisture from the muscle fibers prematurely and makes the meat tough. To prevent this, meat must cool in a controlled fashion, until the pH level drops to about 5.3 or so, which allows the meat to hold moisture and become tender. That takes about eight hours from the time the animal is killed. If you are concerned about premature freezing, simply cover your bagged meat with the hide overnight. In winter conditions, consider covering it with the hide and burying it in the snow. When you dig it out the next day it will still be unfrozen and prime. After that it is fine to allow it to freeze.
Muskoxen are not as large as other species in Alaska. A mature bull will yield around 250 pounds of boneless meat. Because some areas where these hunts are done involve flights on smaller aircraft, make plans to either donate some of the meat locally, or have enough funds available to pay the excess baggage fees necessary to get it all home.
---
Additional Resources
Black Bear Biology
Meat and Trophy Care
Cookbooks