For many Alaska big-game hunters, the greatest long-term value of a hunt is the memories it produces. Time spent afield with friends or family members, stories told around the campfire, tests of one's physical or mental toughness... these are but a few of the memories that are treasured for years. For many the focal point of those memories is a mounted animal displayed in their home.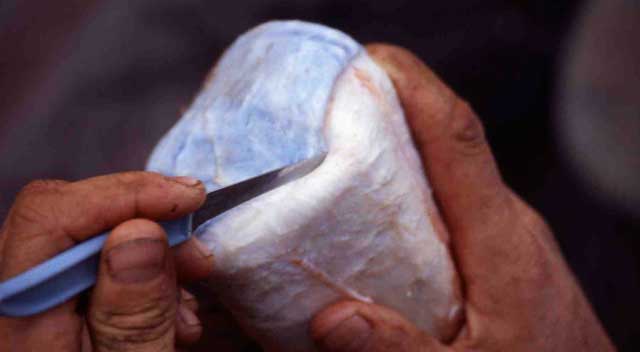 Advance Preparation
Proper trophy care starts at home, before your hunt even starts. For those unfamiliar with caping, skinning, and fleshing tasks, it begins with a trip to a local taxidermist who can demonstrate the basics of the skinning process, and the details involved in turning ears, splitting noses, lips and eyelids, and fleshing. For more experienced hunters it means making some preliminary decisions of what type of mount is preferred, should luck and experience intersect and result in the taking of game.
The Tools of the Trade
You don't have to spend a lot of money on tools to do a good job in the field. Truth is, you can completely cape out a moose with nothing more than a sharp paring knife. But a few extras go a long way toward making the job simpler and easier. Here's a list of the basics.
Basic Tools for Field Care of Meat & Trophies

Skinning Knife
Scraper or ULU
Tarp (10x10

Rope / cordage
Sharpening tool
Salt

Razor knife w/spare blades
Saw / hatchet
Game bags
Knives
Bring more than one knife in case you break a blade. If you bring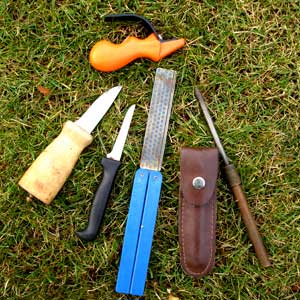 both a skinning knife and a couple of paring knives, you have plenty of tools to get the job done. Contrary to popular opinion, a good skinning knife has a short blade between 2.5 and 3 inches long. Avoid knives with a deep belly to the blade; go with a fairly straight blade for the greatest utility during skinning operations. And unless you are really good at sharpening knives, avoid super hard blades that take a long time to sharpen. Instead, go with a high carbon blade that takes an edge quickly. Helle, a Norwegian knife company, makes some excellent skinning knives. Check out their Nying, or the Ny Fjording; refer to these styles when selecting your skinner. Paring knives are used for some detail work, and yours should be simple, short, non-serrated blades. paring knives don't normally come with sheaths, so you might need to make a sheath of sorts out of cardboard and duct tape.
A razor knife is a very handy item to have along; it can accomplish some of the skinning work quickly, but the blades are thin and brittle. This gives them the tendency to deviate off-center on long cuts through thick hide, or break when a lot of pressure is put on them. Sometimes the broken end can disappear into the carcass, or go flying off into the distance, leaving you wondering if you're going to kneel on it or find it with your finger when you're reaching around in the animal carcass.
Preliminary Caping Cuts for a Shoulder Mount
Check out our podcast on making the preliminary caping cuts for a moose shoulder mount.
Recommended Gear List
The following items are recommended by this site as a result of years of collective experience in the field working with Alaska game.
Additional Resources on Meat Care
(ADFG Video)