Alaska Hunt Planning Services
We offer the most comprehensive hunt planning service in the state of Alaska, with direct hands-on involvement all through the planning process of your hunt. Our service is primarily intended for resident and nonresident non-guided do-it-yourself hunters (if you need a guide recommendation, please call us; we'd be happy to refer you to a good reputable guide).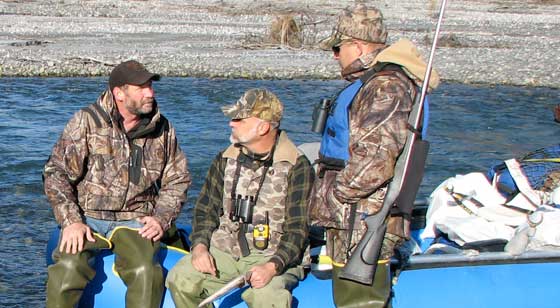 We bring a lot of expertise to the table, with Alaska float hunt and drop-camp hunt consultation experience going back to the late 1980s, and commercial guiding experience going back to the 1990s. We guide you through all the resources and details necessary in planning an Alaska hunting expedition.
We recognize that every hunt is different, and the needs of every group are different. We customize each hunt to fit the needs and requirements of the group.
What We Do
The purpose of this page is to provide an overview of our planning service. But because each hunt is different, the process will look slightly different from one hunt to another. So you may or may not need everything outlined here, or you may require additional services not listed. Regardless, we do it all for one flat fee. There are no hidden costs in this. That said, this short section is intended to provide a short description of our service, so you can decide if we're right for you before reading the rest of this page.
Our Responsibility
Any successful Alaska hunting expedition owes at least part of it's results to the knowledge/expertise of the hunters, and the reliability of their information resources and commercial service providers. The primary purpose of our planning service is to help you develop those things. We have two primary jobs during the planning process, as follows:
Connecting: Whether or not you plan to hunt Alaska multiple times, it's important to develop a connection with solid people who can provide you with information critical to your success, and with good commercial operators who may provide you with transportation to and from the field, along with rental gear that's up to Alaska standards. We connect you directly to the best in Alaska, and work with you as you develop those connections you will use for your first hunt, and the hunts that follow.
Mentoring: Most hunters possess basic skills that can be used in Alaska, however, the species and conditions you will encounter in the field, together with certain legal, logistical and practical issues, will without question stretch you beyond your capabilities unless you undergo proper preparation and training. Since 1991, we have been mentoring Alaska hunters in the skills needed to successfully execute expedition float or drop-camp hunts anywhere in the state. We spend hours with you, covering all the nuances of choosing an area to hunt, selecting, packing and shipping the right gear, mentoring you in the skills and woodsmanship you need in order to hunt the desired species, set up and run a proper leave-no-trace camp, field-process your game meat and trophies, navigate the rivers, plan for emergencies and a host of other details. We are there with you until the day you set foot on the airplane and beyond.
Your Role
Most do-it-yourself hunters know that planning the hunt is half the fun. We expect our hunters to be directly involved in the research and planning process. Our job is to provide referrals, coaching, focus, direction, and advice along the way. If you are the sort of hunter who wants to get their hands dirty by being involved in the details, you are exactly the kind of person we are looking for. If you are simply looking for a hand-off of a location and an air service, we are not a good fit for you.
---
High Standards
We recommend specific equipment, specific rental outfits, specific air charters and more. Though we have been offered hefty commissions for referrals, we accept none. This ensures our objectivity and creates an incentive for the air charters and rental companies to continue providing the top-level service we require. If a provider fails to perform up to our standards, we first work with them to troubleshoot the problem. If the problem remains unresolved to our satisfaction, we move on to another who provides the level of service we expect of our air charters and rental companies. When the chips are down, we're on your side.
We have a very strong position when it comes to hunting ethics; intensely personal perspectives that form the basis for responsible behavior in the field. A strong conservation ethic is what drives us to take good care of the land and water, to treat its resources with respect and to take proper care of items harvested for personal use. A strong social ethic recognizes that all of us are part of the larger community of outdoor enthusiasts. It takes into consideration the rights of others you may encounter in the field, whether they are hunters or not, and defers to them when a potential conflict exists. For example, we encourage our hunters to contact any guides working in the area, in order to coordinate their efforts to avoid compromising anyone's hunting experience. We encourage our hunters who encounter non-hunting groups in the field to avoid situations that could compromise the quality of the experience of the other group.
A Video Overview
What's Included:
We coach you on asking the right questions, selecting the optimal location for your hunt, and interpreting the data relative to that area. We provide direct guidance in all of the following areas:
Ongoing Contact with Consultant
We meet with you on a regular basis, but you are welcome to contact us any time up to and including your departure day. We try hard to make ourselves available to you on an open-ended basis, but the needs of our other clients may require us to schedule a special time with you in advance. That said, if a crisis occurs or something that requires immediate action on our part, we're on it.
In most cases one person in your group will serve as our point of contact, and they can relay the information to the rest of the group. We recommend conference calls with the whole group on an as-needed basis; particularly when we go over the maps and other details of your hunt plan.
In addition to remaining in contact with you during the planning process, we request a post-hunt followup session with you. This gives you the opportunity to provide candid feedback on the quality of your experience with us, which allows us to improve our service.
Budgeting and Cost-Savings
We review all anticipated hunt costs with you and go over what you can do to trim your budget. This includes (but is not limited to) the following:
Pre and post-hunt lodging and ground transportation

License and tag fees

Equipment purchases and rentals

Air charter fees

Shipping charges

Food purchases

Meat and trophy processing and expediting
Book, Maps and DVD Resources
Our bookstore has many valuable hunt-planning tools, including our Hunt Planning Library; we point you to the most appropriate tools for your hunt.
The Timing of Your Hunt
It's not enough to just show up on a remote gravel bar in Alaska; the timing of your hunt is critical to your success. We show you the best times for the species you're hunting.
Species Selection
Multi-species hunts always represent a compromise of sorts. Though there are certain areas in Alaska that contain multiple species, it's usually best if the hunters prioritize a primary species before stepping off the airplane in the field. We guide you through the decisions surrounding multi-species hunts to optimize your chances of taking the animal of primary interest.
Area Selection
A core of our planning process involves the selection of a prime hunting area. There are many factors that influence the choice of a hunting area, and we wade through all of those with you to help place you in a location that offers the best chances of taking game. We give you the tools to plan hunts anywhere in the state, for any species.
Land Use Permits
We guide you through determining the boundaries of private lands in your selected hunt area, and how to obtain permission to hunt.
Air Charter Placement
Selecting the wrong air charter or transporter can break your hunt. To be blunt, some air services are more interested in your money than in the quality of your experience or in taking care of your needs. Others take very good care of you. We help you wade through the hype and choose an air service that you will want to fly with again and again in the future. We only work with the best air services, with a good reputation, good safety record, and a reasonable price structure.
Placement with Reliable Equipment Rental Outfits
Several Alaska-based companies rent rafting gear, camping gear, satellite phones and the like, but not all of them have your best interest at heart. We counsel you on the right questions to ask to ensure you will be well cared for and that you will have good quality equipment that performs as advertised. We only work with companies that enjoy a good reputation in superior customer service and good value for the money spent.
Customized, Detailed Maps
We coach you through how to create your own detailed maps of each hunting area, marked with access points, the best areas to glass and hunt, the best campsite locations, and in the case of river trips, the mileage and any hazardous areas along the way. You will create digital copies of each of your maps for archival and transfer to the rest of your party, and you'll copy the information over to the paper maps you'll take with you in the field. While anyone can make marks on a map, it takes access to great research tools to identify the best hunting areas. We walk you through that process. This is a skill you will take with you for the rest of your hunting career.
Location-Specific, Species-Specific Hunting Tactics
It's not enough just to show up at the right place at the right time; you have to know what to do when you get there. During your hunt dates, where can you expect to find moose? Are they receptive to calling at that time, or should you use other tactics? Are the caribou moving through? If so, where are the migration corridors? Are the bears on the river looking for salmon, or are they up high in the berry patches? Can you expect to see wolves? Is there local hunting pressure and, if so, how can you adjust your tactics to increase your chances of success? Should you bring a portable tree stand? Where should you camp in order to maximize your chances of seeing game? On float hunts, what tactics are unique to that river system? We coach you through these and a host of other questions in order to improve your odds of success.
Gear Selection and Packing
The success or failure of your hunt is significantly impacted by the quality of your equipment. We coach you on gear selection, including new gear purchases, to ensure you have what you need. We cover clothing, backpacks, tents, sleeping bags, kitchen equipment, meat care gear and all equipment you will need in the field.
For our float hunters, we review the most appropriate boats and accessories for the river you're floating and for your group size. This ensures that you have the correct equipment in the field, that will allow you to enjoy the experience without the hassle of excessive amounts of avoidable work.
We spend time with you on how to pack your gear in packages that are appropriate for shipping to the Bush, and for loading into a small aircraft and into an inflatable boat. We go over what to avoid, what will provide the best protection from the weather, and all aspects of building airplane-friendly loads.
Expediting and Shipping
We offer a local shopping service where we purchase select items on your behalf and ship those items, together with your gear, to the air service. We charge a small fee for this service, but many hunters find that having their stove fuel and other hazardous materials purchased locally saves shipping costs and ensures they have the items they need, on schedule.
Emergency Planning
Emergencies can and do happen in the remote reaches of Alaska. We review what you need to know in an emergency situation, and how to obtain outside assistance if needed. We coach you on the selection of a satphone to purchase or rent, and brief you on how Alaska's rescue system works. This allows you to enter the field with confidence that, if you need help, it's just a phone call away.
Meat and Trophy Expediting
We provide specific recommendations and direction in getting your meat and trophies home on schedule, without breaking the bank.
The next time is on us!
Our customers are allowed to contact us for future hunt advice and coaching at no cost. Our goal is to train you on how to do this yourself, but we realize that some details will be forgotten and that you may need additional assistance in the future. You are most welcome to call us for additional consultation on subsequent hunts at your convenience.
Cost
Our rate for the 2021-22 season is $1,550 per group. Our rates may increase in the future, however, if you book before the rate increase we will honor this price structure. Once we receive your payment in full, we start working with you on your hunt plan. To get started immediately, call Mike at our Anchorage office at 1 (907) 229-4501. We accept PayPal or credit cards over the phone, or you can mail a check to the following address:
Outdoors America Communciations
Contact Us
It all starts with your call. Phone Mike at 1 (907) 229-4501 for an initial free consultation. Following that call, you decide whether you need our services. Once you make the payment, we start to work with you on crafting your Alaska hunt.
References are available on request.
Watch it in the Field!
Want to see how it actually works in the field? Come along with us on Outdoor Life's "Alaska Grand Slam Adventure". We worked with Outdoor Life's staff, planning the entire hunt and accompanying the hunter and guide in the field.
What's next in Alaska hunt planning?
Okay, so you know where to go if you need help. Where do you go from here?
Start at the beginning with an orientation to the planning process, using one of three different planning methodologies.
This section outlines all the major steps in the hunt planning process, together with a time frame in which they should be accomplished. Though not locked in stone, it should give you a pretty good idea of what is involved in planning an Alaska hunt.
A critical aspect of planning your hunt is choosing the right location. This section walks you through the entire process of area selection, starting with understanding the regions of the state and breaking it down into smaller pieces to help you decide the best place for your hunt.
We've listed some books and DVDs for you on this page, but at some point, you need to do some research with real people. Who do you talk to? What kinds of questions do you ask? How can you avoid time-wasting mistakes? We explore all that and more in our Hunt Planning Resources section.
Maps play a critical role in hunt planning. One of the most useful tools out there is the color infrared photos available in Anchorage and Fairbanks. We discuss those maps and how to use them for hunt planning purposes in our Color Infrared Photos section.
We've launched an online learning tool called, "Alaska Outdoors University". Our flagship product in the University is a detailed video training series on Alaska Hunt Planning. Our consulting service covers all of these areas, but if you prefer, you can take the course yourself and save the consulting fee. Though these sessions are designed for float hunting, they work for drop-camp hunts too. Here is the course outline:
Strategies for Successful Float Hunts (5 sessions)
Float Hunting Costs & Money-Saving Tips (3 sessions)
Choosing the Best River for Your Alaska Float Hunt (14 sessions)
Mapping Your River: The Ticket to Success (12 sessions)