Hello, my name is Michael Strahan and I am the author of "Float Hunting Alaska's Wild Rivers", the definitive guide to float hunting in Alaska. This 550-page book contains hundreds of pages on trip planning and preparation, equipment, how to choose the best raft for your float hunt, tips and techniques on hunting rivers for moose, caribou, black bear, brown / grizzly bear, wolf and more.

My Introduction to Float Hunting in Alaska
My first Alaska float hunt experience was a wild adventure in 1987 on Alaska's Noatak River with five close friends. We spent many days together, experiencing a remote reach of the Arctic which remains today much as it was in the time when primitive man first came into the country armed with little more than spears and their wits, to eke out an existence more like bare-knuckled survival than really living. Today, we float the river, dine on meals made of exotic ingredients flown in from around the world, we crawl into snug, weather-tight shelters made of space-age materials and we sleep in warm downy comfort. We greet the new day with a steaming cup of arabica coffee warming our hands as we stumble about the gravel bar looking for artifacts left behind thousands of years ago by the long-ago gone hunters and prey in who's footsteps we tread, who struggled together then as we do now, in this ancient contest we call hunting. It's exhilarating.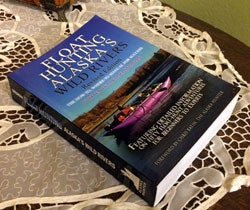 I continued plying Alaska's rivers in the subsequent years, eventually learning enough about Alaska float hunting to start guiding float hunters, and to even teach it in outdoor venues in Alaska and in the Lower 48 states. While I have never seen myself as an expert on anything, at that time I was the only one talking much about Alaska float hunting. I continued on, learning from my own mistakes and especially learning from other float hunters; I kept notes on these experiences and eventually wrote a book about it, "Float Hunting Alaska's Wild Rivers", which was published in 2007. The book has been wildly popular and a second printing was done in 2014, which added a well-needed exhaustive index. The original manuscript was over 1200 pages long, clearly too much information for one volume. So I have a lot of information that I was simply not able to publish. As the same time, those attending the seminars were clamoring for more information. So these pages were born, in an attempt to reach out with additional information that will help the growing numbers of hunters interested in exploring this unique and exciting way of hunting Alaska's remote wilderness.
The purpose of this section of our website is to flesh out many aspects of float hunting, including float hunt planning, river gear, boat selection, air charter selection, meal planning, packing and logistics, river navigation, hunting tactics for common species encountered on Alaska rivers, along with the field care of meat and trophies in a float hunting context, and shipping and expediting of your gear, meat, and trophies.
---
What's Next?
The material is broken down into several sections, linked below and also out of the menu on the left side of the page. Though the information follows a natural flow, you can by all means skip to the sections relevant for your needs. Here's a general overview:
One of the first considerations when you're putting your Alaska float hunt together is how much it will cost you. This section walks you through the typical costs of a float hunt in Alaska, following a template of an actual hunt here. On this page you will discover the many hidden costs of Alaska float hunting, how to avoid skipping very important parts of the planning process, and ways you can save hundreds of dollars on your hunt.
Many hunters go straight to the question of where to hunt. This is an extremely important part of the planning process, and we go through the different processes of figuring out where to focus your efforts on your float hunt. How do you find productive areas? How can you get away from other hunters? How to you respond to guides? How do you know whether a given river is within your capabilities? We cover all that and much, much more.
Although we have extensive information about inflatable boats elsewhere on the site, this is the section that's written specifically for Alaska float hunters. In this section you will learn the pros and cons of the various fabric types relative to Alaska conditions, as well as the various boat configurations and what relevance they have for your hunting comfort and success. You will also learn how to let the river choose the boat, an important aspect that is missed by most float hunters.
Everybody likes a gear list. This section goes through all the gear you need for your Alaska float hunt in detail, presenting the information in a logical, list-type format that takes most of the guesswork out of choosing the proper clothing, hunting gear, camping gear, boats and accessories for your hunt.
River rafters and float hunters have their own unique language. It's important to understand the terminology used by float hunters, and this section details out the common terms for you.
---
More Information on Float Hunting in Alaska
Michael Strahan is the author of "Float Hunting Alaska's Wild Rivers", the definitive guide to float hunting in Alaska. The book is over 500 pages and is filled with float hunting lore, discussions of the gear needed, tools, tips and details on all aspects of Alaska float hunting. The book dives into the details of finding a river to hunt, and outlines 50 river systems across the state, of interest to float hunters. Use these rivers as a guideline for your hunt, or use them as a template for your own research! Michael is a Registered Guide with a specialty in float hunting, and an experienced public speaker on the topic of Alaska float hunting. He wrote this entire section on float hunting for the Alaska Outdoors Supersite. If you want to learn more about Alaska float hunting, this book needs to be close at hand, while you plan your hunt. ORDER YOUR COPY HERE.