Choosing an inflatable boat for your hunt is always driven by at least two factors: what kind of river you are floating, and what kind of loads you are carrying. There are other issues, but these are primary.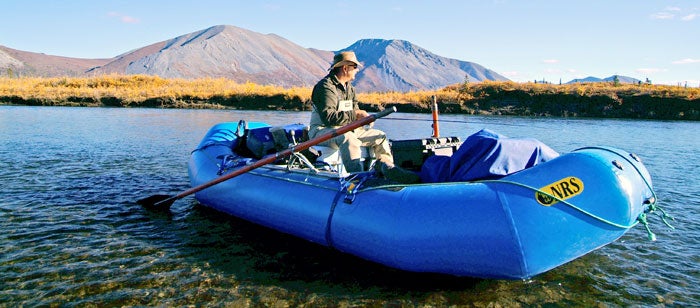 Let the River Choose the Boat
Alaska float hunting requires a completely different mindset than floating rivers in the Southland. For starters, you're not usually looking for white water. Although Alaska certainly offers a lot of white water rafting opportunities, those don't mix well with float hunting, where you are usually packing heavy loads of gear, meat and trophies, and where you are trying to keep the meat dry and in good shape to prevent spoilage. In most cases, float hunters prefer rivers in the Class I-II range, and a few are comfortable tackling rivers with short sections of Class III water.
If you're renting your rafting gear, before you can even start to look at boat types, you need to know where you're going. Slow, narrow rivers lend themselves to inflatable canoes and kayaks, whereas larger rivers easily accommodate big catarafts and roundboats. This page offers some general considerations, but remember to account for the vast differences from one river to another, and for water levels that may fluctuate wildly during the season. Here's a general list of what works on which types of rivers, and why.
Narrow Brushy or Rocky Streams
These boats are for rivers with narrow channels. Such rivers are often plagued by overhanging shoreline vegetation that's so close it's touching the boat on both sides. Other issues are beaver dams (that must be portaged across), narrow channels that are too deep for wading, rocky shallows, and inpenetrable shoreline brush.
Pack-rafts: Ideal on rivers that require constant entry and exit from the boat, frequent lining or portaging.

Inflatable kayaks (AIRE Lynx, Tributary and Tomcat): Ideal for fast, narrow rivers.

Inflatable canoes (AIRE Traveler, SOAR Pro Pioneer, S16, etc.): Ideal for narrow, brushy rivers or anything with narrow chutes or channels. Some of these boats are great for backpacking / long portages or air drops to areas with no aircraft access.

Hybrids (AIRE Puma series, Maravia Spider series, etc.): Perfect for rivers with channels five feet wide and wider.
Medium to Larger Rivers
Rivers in this category may have some overhanging brush on the banks, sweepers or strainers and logjams, which make them too narrow for the larger boats. In some cases the limitation involves narrow channels and chutes that don't allow the wider footprint of the big boats. Some rivers in this classification may fall into the "pool and drop" type of river, with shallow gravel bars running across the main channel. Rivers like this require frequent dragging through shallow water at the end of pools, so larger, heavier boats are less than ideal. Avoid boats with neoprene bottoms on such rivers, as neoprene grips when it's wet. It will make dragging much harder.
Medium-sized catarafts to 16 feet: A good choice for narrow rivers with overhanging brush or obstacles that would hang up a larger boat.

Medium-sized round boats to 14.5 feet: One of the most versatile boats on the market; ideal for one person.
Large Rivers
These rivers may be plagued by braided shallow sections that can run for miles. Such rivers may provide challenges when it comes to channel selection. In such cases, downstream scouting is needed and it has to be done on foot. Upstream headwinds are often an issue on larger rivers as well. In such cases catarafts are preferred, due to their aerodynamic configuration, as opposed to larger round boats that may be blown around a bit, making downstream progress all but impossible.
Large catarafts 18 feet and longer (AIRE Leopard): Good all-around cataraft and can be outfitted to run a small outboard if water depths allow it. On larger pool-and-drop rivers, a smaller outboard on an adjustable-height transom may be required.

Double-tube catarafts over 17 feet (AIRE Cougar and Super Leopard): These are the big load-haulers needed with larger groups or hunters after multiple species of antlered game (moose, caribou).

Round boats over 14.5 feet: A 15' round boat can work for two hunters, and larger boats to 16 feet can be ideal on larger rivers, however if the particular river is prone to upstream headwinds, a cataraft is preferred.
If You Already Have a Boat
Hunters that already have their own rafting gear must pay careful attention to the demands of the particular river they intend to float. Review the above information and compare it to the river you are interested in, or you could end up in trouble in the field. "Let the river choose the boat!"
---
More Info on Boat Selection
The Alaska Outdoors Supersite contains an entire section on inflatable boat selection. Start with our Introduction to Inflatable Boats, which explores materials and construction, configurations, and more. Our Float Hunting pages contain a page on Inflatable Boats for Float Hunting, and if you prefer to directly discuss this with other Alaska river floaters, check out our Alaska Boating Forums or our Float Hunting Forum. Reputable inflatable boat dealers and rental companies can be found in our Directory, which contains a section on Inflatable Boats listings. For reviews on specific brands, check out our Inflatable Boats Product Review section, where you will find reviews on popular brands.
---
More Information on Float Hunting in Alaska
Michael Strahan is the author of "Float Hunting Alaska's Wild Rivers", the definitive guide to float hunting in Alaska. The book is over 500 pages and is filled with float hunting lore, discussions of the gear needed, tools, tips and details on all aspects of Alaska float hunting. The book dives into the details of finding a river to hunt, and outlines 50 river systems across the state, of interest to float hunters. Use these rivers as a guideline for your hunt, or use them as a template for your own research! Michael is a Registered Guide with a specialty in float hunting, and an experienced public speaker on the topic of Alaska float hunting. He wrote this entire section on float hunting for the Alaska Outdoors Supersite. If you want to learn more about Alaska float hunting, this book needs to be close at hand, while you plan your hunt. ORDER YOUR COPY HERE.