Alaska is, by far, the most expensive place to hunt in the United States. Our geographic isolation, combined with our limited road system and the resulting need to involve light aircraft on most hunts, results in high costs in just getting here. And then you may need specialized gear that can hold up to expedition-type experiences. It's not cheap.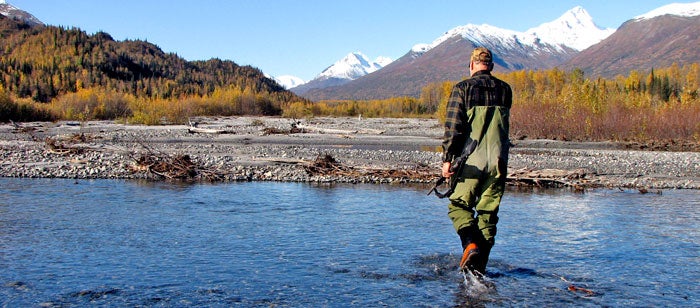 There are certainly ways you can save money on your Alaska float hunt, and we will look at those on this page. Let's begin by looking at a typical Alaska float hunt. To do so we will use the example of a two-person float hunt for moose and caribou in GMU 23. We will calculate our costs to originate from and return to Anchorage. The costs of getting to Anchorage are not included in this calculation, as we don't know where you are coming from. We will fly commercial from Anchorage to Kotzebue (the main gateway to GMU 23). Note: we are not choosing this hunt because of some "inside secret", it's just an example of the kinds of hunts people are doing these days.
Notes on the Chart
The chart below itemizes typical costs for our hunt example. This is a two-person hunt out of Kotzebue, Alaska, for moose and caribou. Note that the air charter fee may vary substantially. This rate is for one Cessna 206 load out to the field and one load back. If you are successful, you will need to add at least one more 206 load just for meat and trophies. Refer to our Aircraft Types page for complete descriptions of each type of Bush aircraft common to Alaska, along with their approximate load capacities.
GMU 23 Moose, Caribou Hunt out of Kotzebue, Alaska
Airfare: ANC-OTZ
$700
Air Charter
$2500
Lodging & Ground Transportation
$500
Air Freight
$690
Food
$600
Raft Rental
$750
Camp Rental
$250
License and Tags*
$840
Gear and Incidentals
$500
Meat Processing
$300
Trophy Expediting
$250
Phone and Related
$50
TOTAL
$7,930
*Nonresidents only
How to Cut Costs on Your Alaska Float Hunt
The prices in the chart represent the upper end of the scale; let's break each of these items down and see if we can save some money.
Commercial Airfare
Currently the only way to get to Kotzebue is to fly from Anchorage via Alaska Airlines. The price quoted here is the highest price listed for this year. If you shop around, you can get a better deal.
COST SAVINGS: $250
Air Charter
The price quoted is the highest rate offered by Northwestern Aviation, presently one of the better charters out of Kotzebue. They charge by the hour, with rates ranging between $1800-$2500. If you are able to do your hunt with less flying time involved, there is a considerable savings involved.
COST SAVINGS: $700
Lodging & Transport
Our rates are calculated to include one night in Anchorage at the Barratt Inn, a moderately-priced hotel, one night in the Nullagvik Hotel in Kotzebue (one of the few hotels there), and a night in each place on the way home. You need this time before and after your hunt to go through your gear, pick up last-minute items, and to repack at the end of the trip, and take care of meat and trophies. We are also including two days of car rental in Anchorage; one at the beginning of the hunt and one at the end. This gives you the ability to run errands, pick up freight, get meat and trophies to a processor and so forth.
If you shop around, you can shave these costs down a bit. The Barratt goes for $169/night for a double room, and the Nullagvik goes for $259/night for a double room. The car is $37 a day, plus fuel.
COST SAVINGS: $100
Air Freight
It's likely that you will have to ship some of your food and gear via air cargo to get it to Kotzebue and back. The current outbound freight rates on Alaska Airlines for the Anchorage to Kotzebue run are .88/lb. plus taxes. Add in $50 flat rate for Hazardous Materials (stove fuel, butane lighters for stove and so forth). The rate inbound from Kotzebue to Anchorage is .45 plus tax. All rates are based on a 1,000# shipment each way, which should be close enough to include your boat, camping gear and personal gear, plus food.
You can shave this down a bit by eliminating some items to reduce the weight. On the back-haul you could consider donating some of your meat locally, which will save you both processing and shipping costs. Since Alaska Airlines allows three pieces of luggage at 50# each, and the possibility of shipping overweight baggage at an increased weight, you don't have to ship everything. Also there are raft rentals and camp equipment available in Kotzebue, so you can save some weight on shipping by renting your rafting and camping gear.
COST SAVINGS: $390
Food
One of the most important "comfort items" in your control on your hunt is the food. The prices we quoted are for top-quality "real foods" such as you would eat at home. Some hunters prefer to save money by preparing and freezing meals at home (just re-heat and eat in the field), while others take a minimalist approach by going with freeze-dried foods and other light-weight alternatives. This saves weight in your shipping costs, and can be a cheaper alternative.
COST SAVINGS: $200
Raft Rental
For this hunt we recommend either a large cataraft in the 18' size class, or a 15-16' round boat. This should give you enough lift to carry your passengers, gear, food, game meat and trophies. Boats in this size class typically rent for around $150 /day. Some air charters supply rafting gear to clients at no additional charge. If the equipment is in good repair, this could save you a lot of money.
COST SAVINGS: $750
License & Tags
The prices quoted include an Alaska nonresident hunting licence ($85), a nonresident moose tag ($400), and a nonresident caribou tag ($325). That's a fixed price with no discount available.
Gear & Incidentals
Most hunters, regardless of their experience level, and especially where it concerns an expedition-type trip, end up spending lots of money on gear. Whether it's something expensive like a new tent, or new raingear, waders, or synthetic underwear, it's important to set a budget for gear accqusition. You can trim these costs by shopping online for the best deals, or by purchasing closeout or sale items. If you can get by with what you already have, you of course save a lot of money.
COST SAVINGS: $500
Meat Processing
It's likely that your game meat will be ready to process immediately following your hunt. This is especially true for early-season hunts where warm temperatures make field care of game meat a difficult challenge, or for hunts where game was taken early in the hunt. Many hunters opt to have their game meat processed in Alaska and shipped home. Our budget includes money for processing your meat, however some hunters prefer to cut and wrap it themselves, saving considerable money.
COST SAVINGS: $300
Trophy Expediting
Many hunters opt to bring their antlers, capes and hides home in their luggage, however in some cases this is not possible. Most airlines require antlers to be split at the skull plate in order to fit into the aircraft; in the case of larger specimens of record-book quality this is not possible if the intention is to have the head scored for the record book. In such cases the only option is to ship your antlers through an expeditor. Additionally there are often details that need to be completed on your hides and capes; details best accomplished by a professional skinner. Several taxidermists in Alaska offer expediting for hunters needing trophies shipped to the Lower 48. You can save money by doing a good job on the capes and hides.
COST SAVINGS: $150
Phone & Related
Whether you're planning the entire hunt yourself or enlisting the services of a consultant, or working with a guide, you will spend a lot of time on the phone going over gear, location details, hunting tactics, and many other things. We're adding $50 to the budget for that.
Summary of Cost-Cutting Measures
Every hunt is different, and there are things you may or may not need. The following chart illustrates the cuts we made. Here's an overview:
GMU 23 Moose, Caribou Hunt out of Kotzebue, Alaska
Airfare: ANC-OTZ
$700

$450

Air Charter
$2500

$1800

Lodging & Ground Transportation
$500

$400

Air Freight
$690

$300

Food
$600

$400

Raft Rental
$750

n/a

Camp Rental
$250

n/a

License and Tags*
$840

$840

Gear and Incidentals
$500

n/a

Meat Processing
$300

n/a

Trophy Expediting
$250

$150

Phone and Related
$50

$50

TOTAL
$7,930
$4390
*Nonresidents only
Other Ways to Save Money on Your Alaska Big-Game Hunt
We've seen that many costs can be trimmed or even eliminated from your hunt budget. But that's not all. By just a little "thinking outside the box", you can save even more.
Rather than flying out to the hunting area, consider a bridge-to-bridge float or perhaps a float on a road-accessible stream. There are many such places in Alaska, and though you may find more people there, if you educate yourself about where game can be found in that area, your chances of success will go way beyond your competitors in the area.
Another option is to find a river that requires aircraft access for either the dropoff or the pickup, originating or terminating at a highway bridge. Such trips cut your air charter bill in half.
---
Do You Need Help?
A hunt consultant can be an excellent choice, especially for your first time, or if you are hunting a part of the state where you have never been before. The quality of consulting services differ greatly by experience, research skills, and how much time they are willing to spend with you as you plan your hunt. Some companies primarily rent gear and do some consulting as needed, others offer minimal assistance, and others offer a robust package to cover you all the way to and past your departure date. Because they are plugged in the the Alaska outdoor scene, they can help you avoid many mistakes and, in the end, save you a lot of money. (CLICK HERE for an overview of our consulting services). On the other hand, experienced Alaska hunters may not need a consultant at all.
Our consultation service assists you with the budget process. We've found over the years that the average per-person cost for an Alaska hunt comes out to between $5,000-$6,500 before cuts. This does not include the cost of getting to Alaska, however it does include everything on the lists above. And though our chart shows how to cut your costs down to $4,390, it is possible to reduce it even further.
---
More Information on Float Hunting in Alaska
Michael Strahan is the author of "Float Hunting Alaska's Wild Rivers", the definitive guide to float hunting in Alaska. The book is over 500 pages and is filled with float hunting lore, discussions of the gear needed, tools, tips and details on all aspects of Alaska float hunting. The book dives into the details of finding a river to hunt, and outlines 50 river systems across the state, of interest to float hunters. Use these rivers as a guideline for your hunt, or use them as a template for your own research! Michael is a Registered Guide with a specialty in float hunting, and an experienced public speaker on the topic of Alaska float hunting. He wrote this entire section on float hunting for the Alaska Outdoors Supersite. If you want to learn more about Alaska float hunting, this book needs to be close at hand, while you plan your hunt. ORDER YOUR COPY HERE.