Region 5 South: Yukon-Kuskokwim Delta
Region 5 (south) includes most of the Yukon-Kuskokwim delta, together with portions of the Kuskokwim mountains. Much of the land mass is covered in tundra, however there are scattered forests of spindly black spruce, willow, and alder. The largest land holder in the area is the federal government, which controls the Yukon Delta National Wildlife Refuge, 19.16 million acres of wetlands habitat of great importance to waterfowl that nest here. The two largest towns in the region are Emmonak, a coastal village of around 760 people of mostly Alaska native descent, and Bethel, the largest community in western Alaska with around 6,300 residents. Aside from a limited road system in these towns, recreational access is generally limited to light commercial aircraft. Bethel is served by daily jet aircraft flights from Anchorage and is a regional hub for several air cargo carriers as well.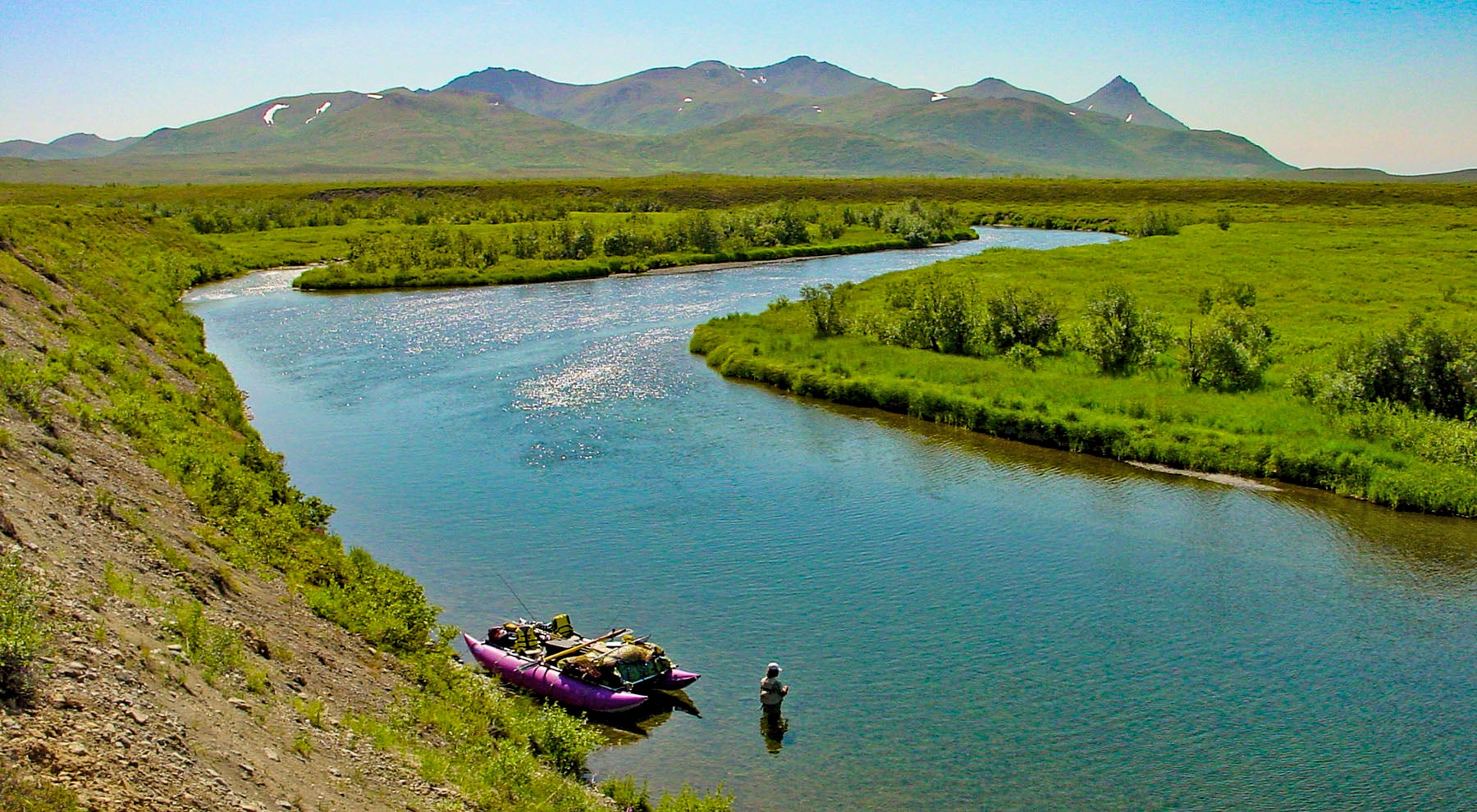 Public-Use Cabins
Region 5 (south) contains cabins that are available for use by the general public. Most require advance reservations and user fees are usually charged by the night. Amenities are spartan; expect to find an outhouse, bunks with no bedding or mattresses, no food, no dishes or cookstove, and no power or running water. Most have wood-fired or oil-fired stoves for heat. See our Public-Use Cabins page for locations, recommended gear, reservation and contact information.
Boating in Region 5
This area is laced with rivers and dotted with lakes of all sizes. The coastal area offers limited opportunities due to its remote nature and lack of access.
Saltwater
Saltwater recreational opportunities in Region 5 (south) are limited by exposed coastlines, shallow, muddy bays, and nearly constant wind. Access is the single greatest limiting factor, however boaters who have connections in local villages on the coast may find opportunities to fish for halibut and cod.
Rivers
Region 5 (south) contains the Yukon-Kuskokwim delta, with hundreds of sloughs and connecting channels off the main rivers. There are literally thousands of lakes and the ground is generally boggy and difficult to navigate on foot. The Goodnews River, a popular sportfishing destination, lies in the southern portion of the area, and comes to the sea at the town of Goodnews Bay. The area is home to dozens of other Alaska villages, most of which are accessible via scheduled commuter services out of Bethel or King Salmon.
Fishing in Region 5
Fishing opportunities in the southern half of Region 5 include northern pike, grayling, Dolly Varden, and several species of salmon. The Yukon and the Kuskokwim rivers both host runs of king, silver and chum salmon. King salmon in the Yukon River are under close management, as they have to make it all the way to spawning grounds in Canada, with nearly every village along the Yukon wanting a share of the catch.
Hunting in Region 5
The state of Alaska is divided into 26 Game Management Units (GMU), some of which are divided further into sub-units. Each of these units or sub-units may contain different species, different seasons, and different legal requirements for hunting. GMUs are aggregated into regional groupings, and each of these regions operate under the oversight of a team of ADFG employees, including area biologists who are responsible for game management in their assigned portions of the region. There are five regions in the state of Alaska. Outdoors Directory uses these regions to divide the state into smaller pieces, for the sake of organization. When you plan your Alaska hunt, you need to know both the GMU in which you will be hunting, and the region. In this way you can ensure you are following the correct regulations for the area, and you know which regional biologist to contact for details about that area.
Region 5 (south) contains GMU 18 only.
Region 5 offers hunting opportunities for moose, caribou, black bear, brown / grizzly bear, and wolf. There are limited huntable populations muskoxen available on offshore islands, which are managed on a drawing permit basis, with the drawings taking place in the winter for hunts occurring the following year.
Species Information
Want to learn how to hunt the species that inhabit Region 5? Visit our species pages, which provide information on species biology, distribution, and how to hunt the various species available in this region. A complete resource list on each species is also provided.
Black Bear | Brown Bear | Caribou | Moose | Muskoxen | Wolf
You'll find detailed information on 126 common species of big-game, small game, furbearers, marine mammals, birds, fish and shellfish in the Alaska Department of Fish and Game Wildlife Notebook Series, which is available in our bookstore AT THIS LINK.
ADF&G Region 5 Information
ADF&G Management and Harvest Reports, a vital hunt-planning tool, can be found AT THIS LINK. Reports are listed in sequential order by species. For detailed research into population trends, review several reports. For more recent data contact the area biologist.
The biologists for Region 5 are located in the office in Nome. The number there is 1 (907) 443-2271.
Other Activities in Region 5