Tents, Awnings and Shelters
Whether you're relaxing in a campground, or pitching a camp in the remotest regions of Alaska, a reliable shelter is essential to not only your enjoyment of the experience, it can be a matter of survival.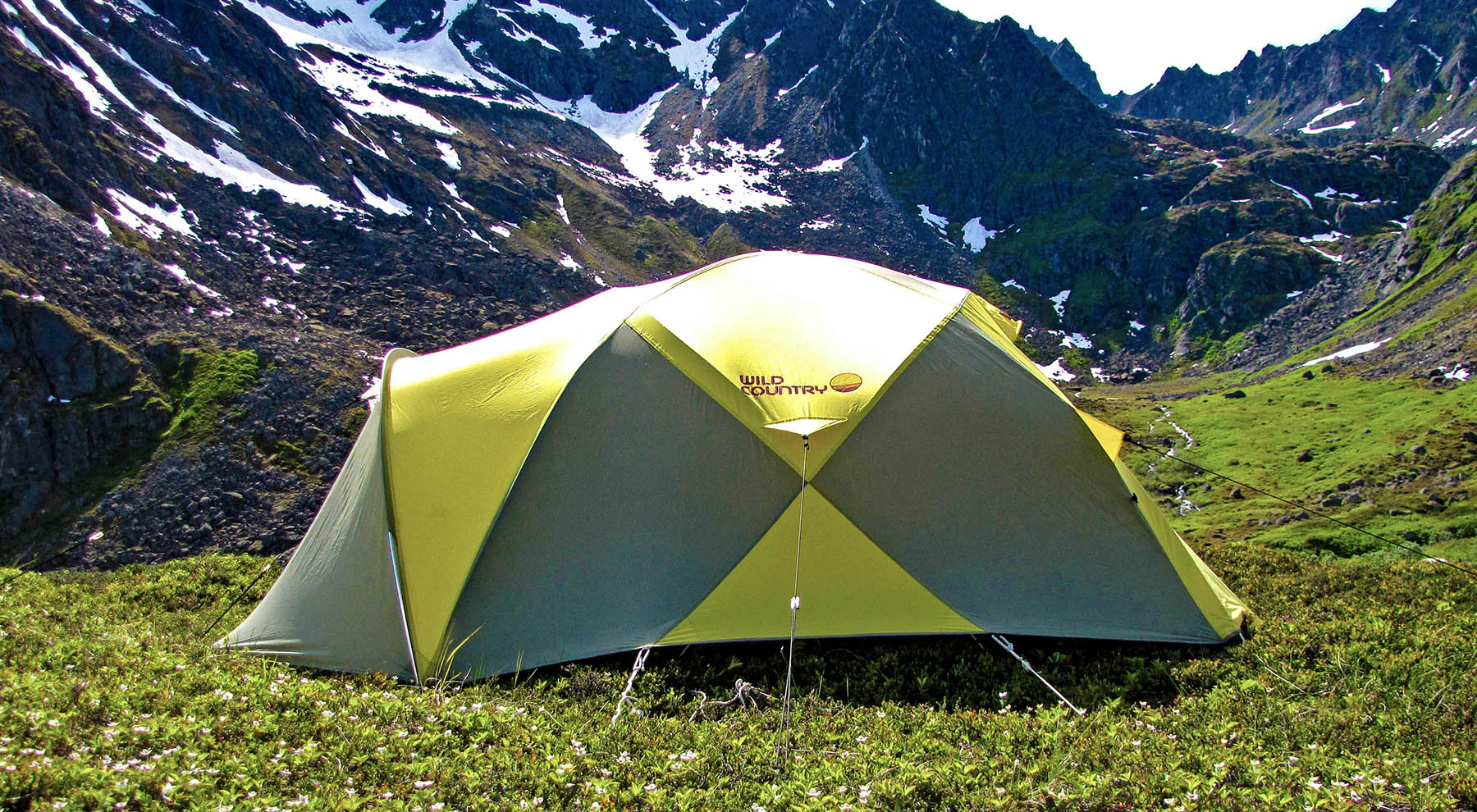 Introduction
Shelters come in all sorts of sizes and configurations, and not all of them are appropriate for all situations. Choose something that fits your situation. If you spend much time camping in Alaska, over time you will likely accumulate a variety of different types of shelters. Let's begin our discussion with an overview of materials and styles.
Materials: Out with the Old, in with the New
The smell of canvas is, for many, the fragrance of days long gone; it brings back memories of pack-in elk camps, horses and red flannel shirts. The old canvas wall tent, long the mainstay of pack-in or fly-in camps, is mostly a thing of the past in Alaska. Canvas tents are still available, but are, for the most part, impractical for Alaska. The material is heavy when wet, making fly-out difficult. Threads can rot, causing seams to come apart. Most commercial camps have moved on to synthetics; primarily nylon.
General Principles
Your tent must accomplish the following three things:
Protect you from the elements

Provide adequate ventilation

Provide visibility from a distance
Protection From the Elements
Alaska is legendary for producing strong winds, heavy rain and snow, and freezing temperatures that provide the ultimate test of gear quality. One of the greatest challenges is keeping moisture out of your tent. If your sleeping bag or clothing gets wet, you could be at risk of hypothermia. If possible, avoid tents with seams in the floor. This includes seams along the corners where the walls join the floor. Bathtub floors, where the floor fabric extends part-way up the sidewalls of the tent, are best. The floor fabric is waterproof, and a bathtub floor prevents wind-driven rain from blowing up under the rainfly and misting through the sidewalls of the tent. Larger cabin and A-frame style tents almost always have a seam in the floor. Ensure that the floor is seam-taped (best) or seam-sealed (good) to prevent leaks. If the floor is seam-sealed, you will need to re-apply the sealer every couple of years.
Your tent should have a rain fly that extends almost all the way to the ground. This keeps rain from blowing up under it and penetrating the sidewalls of the tent body. For protection from heavy wind, the rain fly should have tiedown points all the way around the bottom edge, tie-downs at the mid-body level, and tie-downs along the ridgeline. This allows you to secure your tent from multiple points, which spreads the stress on the tiedown gussets and keeps the tent anchored in place.
Finally, your tent should have a strong pole structure to keep the shelter from collapsing in heavy winds. Aluminum poles are best; they're stronger and they won't shatter or splinter like fiberglass will.
Tent Pole Tip: Choose a tent with all the poles the same length. This eliminates fumbling around in the dark, trying to match irregularly-sized poles to the right spot.
Adequate Ventilation
Another way moisture accumulates in a tent is through perspiration (sweating) and respiration (breathing). A properly-constructed tent allows this moisture to pass through the tent body, where it is trapped under the rainfly. From there, it should evaporate off, carried out of the tent by air flowing between the tent body and the rainfly. Anything that impedes the flow of air through this area will potentially trap moisture and allow it to drip inside the tent. A good example of this is a tent that uses solid fabric pole sleeves. These sleeves prevent air from flowing under the rainfly, so the moisture builds up until it runs down the fly and contacts a pole sleeve. The pole sleeve absorbs the moisture and wicks it back into the tent body.
Visibility
Some hunters prefer camouflage tents or tents that blend in with the surroundings. The strategy is to go total stealth, so nobody knows you're there, whether it's a passing ATV, a boat, or even an airplane. Some prefer a different approach, and here's why.
Brighter tent colors are easier to see from a distance, making it much easier to pinpoint your camp location when you're heading back in the evening. Later in the year when the days are shorter, a strobe can be placed in the tent, which effectively turns the entire tent into a strobe beacon that's visible for miles. This can be a lifesaver if your activities take you away from camp past dark. A lighter tent color also makes it easier for the occupants to see inside the tent; to read, to go through gear, and so forth. On trips where the weather has you tent-bound for several days, the additional light can lift your spirits and save batteries on your headlamp if you want to read a while.
Finally, a brighter tent color is much easier to see from the air in a rescue situation than an OD green color or a camouflage design.
Shelter Types
Choosing a shelter for your trip can present a bewildering array of options, each of which ranks differently on the scale of importance, depending on the type of trip you're taking. Let's look at some options.
Awnings
If you're camped in one place for more than a night or two, an awning system can dramatically improve the quality of your camp. Just having a dry place to sit, to prepare meals, or to store gear can turn a soggy, miserable bivouac in the rain into a delightfully dry, snug camping experience. By far the cheapest way to accomplish this is with the use of plastic tarps or Visqueen and LOTS of rope. Secure your tarps to nearby trees and run lines under them to duct rainwater off into areas outside the traffic pattern. Consider running a tarp partially over your sleeping tent, so you don't have to exit the tent into the rain. Erect a tarp vertically to wall off part of your camp as a windbreak, and place your kitchen in this area.
Several commercial awnings are available that are much easier than trying to rig a tarp over your camp. Some of these shelters, nearly 20 feet long, are supported by poles of adjustable height. These are handy if you plan to leave your camp to fish, hunt, or hike for several hours because you can adjust or remove pole sections and tie the awning low over your camp where it is less likely to catch the wind and blow down.
Awnings can be pitched close to your fire pit, but special care must be taken to avoid trapping smoke or having sparks fly up and burn holes in it. Position the front edge higher than the back, to allow smoke to escape and water to run off the back.
Tipis
Tipi tents are growing in popularity, particularly among folks trying to travel as lightly as possible. Bush aircraft have payload limitations that often require customers to pack light. A tipi, by its design, represents a considerable weight reduction over regular tents.
All tipis have a center pole, which is, for some, an inconvenience as it creates an obstruction in the middle of the shelter. On the other hand, the center height on some designs allows the occupants to stand up inside, which is a huge convenience.
Tipis achieve their light weight as a result of their single-wall, floorless design. This is a plus and a minus at the same time. The floorless design creates a situation where you don't have to worry about dirt and debris getting tracked into the tent. But if the tipi is pitched during a storm, you will have wet ground or even snow inside your shelter. In those cases many users place a tarp inside, to provide a dry interior where occupants may walk around in their socks without getting wet. The single-wall construction tends to collect condensation on the inside, which runs down the sidewalls and drips off along the edges. Keep items away from the edges and out of contact with the side walls or they will get wet. Some tipis have an optional add-on liner that prevents this problem.
Some tipis allow the use of a light-weight sheet metal woodstove, with the stovepipe exiting the shelter through a flange near the ridge pole. This flange, known as a stove jack, dissipates heat and keeps the tipi fabric from catching fire from direct contact with the hot stove pipe. The stove is a huge plus because it provides dry heat. This means that you can dry your wet gear inside, and condensation that would normally accumulate inside the shelter will evaporate off fairly quickly.
Finally there is the issue with mosquitoes, white sox, and no-see-ums. Without a bug screen, your tent will become a warm sanctuary for these pests and your life inside the shelter will be miserable. Pick up a mosquito net for your tipi; some designs offer this as an add-on. It is worth its weight in gold.
To sum up, a tipi can be the ideal shelter on trips where weight must be severely trimmed. But if you rig it with a floor, a mosquito net, a liner and a stove, you might as well go with a regular tent. If you are a minimalist, the tipi may well be the best thing going.
Screen Tents
Alaska's mosquitos are legendary for their ferocity and sheer numbers. Stories are told of hailstorms heard from inside the tent, which turned out to be the sounds of thousands of mosquitos pelting the side-walls in an attempt to get at the occupants inside. Any camping trip in Alaska will be a miserable affair unless some thought is given to mosquitos.
Most tents offer protection in the form of netting that covers doorways and window openings, but common wisdom indicates that meals should be eaten outside the sleeping area as a means of protection from bears. Short of sitting out on a gravel bar fanning mosquitos away from your food, what options do you have?
Screen tents are essentially a cabin-style tent with sidewalls made of mesh material. They form an ideal enclosure to keep the bugs out of your food. The floorless design makes cleanup easy, and the spacious interior allows room for the kitchen plus a fold-up table and chairs for dining in comfort. Extended float or drop-camp trips can add a whole new level of comfort by packing along a screen tent.
Bring along a spare tarp to cover your screen tent and to help hold it down in the wind. The tarp should be long enough to cover the roof and at least two sides, in case of rain.
Larger Tents
Many people prefer a tent that allows them to stand up inside. This makes changing clothes much easier and provides a much more comfortable environment than some of the alternatives. A roomy shelter offers room to move around, a critical comfort factor on trips where the weather has you pinned down into the tent for a few days.
Cabin tents offer the most room; they have near-vertical sidewalls, which allow cots to be placed along the sides. This gives the occupants room in the middle of the tent for getting dressed or going through gear. Some cabin tents, such as the Arctic Oven (made by Alaska Tent and Tarp) offer a stove jack and a sheet metal stove that can be set up inside the tent. This offers dry heat that not only warms the occupants but offers a way to dry out wet clothing. If you go with a wood stove, get the optional burn-resistant canvas floor, to prevent hot embers from torching your floor. Your stove pipe should be equipped with a spark arrestor, or you could end up with burn holes in your rainfly from sparks landing on the roof. The Arctic Oven is offered in various sizes, ranging from a 9.5' x 9.5' model to the giant 19.5' x 9.5' model offering an additional 26 square feet of vestibule area.
The A-frame design offers good square footage, however, the sloping sidewalls limit your headroom in the sleeping area. Greater care must be taken in these tents, to avoid coming in contact with the sidewalls; if you push the walls in too far, they come in contact with the rainfly and can allow moisture to enter the tent or soak your sleeping bag overnight.
Large dome-style tents offer enough headroom to stand in the middle, however, the sloping sidewalls offer limited room while sleeping and the generally weak pole design can be damaged by high winds.
The greatest limitation of larger tents is poor performance in high winds. Regardless of how many tie-downs the tent has for wind protection, gussets can rip out, stakes can pull out, and poles can bend, break or shatter in severe weather. Avoid fiberglass poles; they're weaker than aluminum and they can shatter. At best, they can splinter and you will get tiny fiberglass slivers in your hands from handling them. Go with a higher grade aluminum pole and you'll have much better results.
Smaller Tents
If you're only going to purchase one tent for remote trips in Alaska, go with a low-profile mountaineering tent. They're smaller, lighter, and able to handle much more punishment from the weather than larger tents. Many mountaineering tents are free-standing, which means they can be set up and then moved around to the best spot if needed.
Here are some features to consider when choosing a mountaineering tent.
Four-Season Design
A true "four season" tent should have a rain fly that comes almost to the ground, all the way around. This is to keep wind-blown rain and snow from blowing up under the fly and misting through the sidewalls of the tent, soaking your sleeping bag and gear. But the fly should not come all the way to the ground, because it will inhibit airflow between the tent body and the rainfly.
Bathtub Floor
The tent floor should extend partway up the sidewalls, to provide protection from wind-blown rain and mist that would otherwise blow up between the ground and the rain fly. If possible, choose a tent with no floor seams. On larger tents, you will have seams in the floor, and these should be sealed with a quality seam sealer every two or three seasons.
Aluminum Poles
Some cheaper tents come with fiberglass poles. These can splinter or even shatter and break in heavy wind. Go with good-quality shock-corded aluminum poles.
Ventilation Between Tent Body and Rain Fly
A critical issue on mountaineering tents is condensation buildup on the inside of the rainfly. Moisture is exhaled by the tent's occupants; this moisture passes through the permeable tent body and is trapped on the inside of the waterproof rain fly. If there is not good airflow between the tent body and the fly, moisture can run down the rain fly, and be wicked into the interior of the tent via fabric tent sleeves. Wicking is prevented in one of two ways; mesh pole sleeves, or the clip system, which suspends the tent body to the poles via a series of clips.
Bungee Tiedowns
Some tents come with a loop of elastic "bungee" cord attached to all the tiedown points. The tiedown line is secured to the bungee loop and the tent is staked down. The bungee gives the tent some flex during heavy winds, which could prevent the wind from ripping the gussets out of your tent in strong wind. If your tent does not have these bungee loops, consider adding them yourself. Simply thread four or five inches of 1/4" bungee cord through the tiedown point and zip-tie it to itself.
Long Tiedown Cords
Toss a hundred feet or so of parachute cord into your tent bag. This allows you the flexibility of having enough cord to reach strong anchors (such as brush and even trees).
A Video Overview of Mountaineering Tent Features
Join author and guide Michael Strahan for a discussion of the features of a good mountaineering tent for your Alaska expedition.
What's Next?
This site contains a lot of information related to gear for your Alaska trip. Check out the following areas of interest:
Gear | Tents | Packs | Water Treatment | Stoves | Communications | Inflatable Boats | Gear Reviews