GEAR REVIEW: Carol Davis Sportswear
Are you in the market for some killer long underwear? Here's a review by Steve Stidham, one of our forum moderators and a confessed gearhead, concerning his recent test of Carol Davis Sportswear. He ran the gear through its paces on a few winter and early spring outings in Alaska, and it came through with flying colors.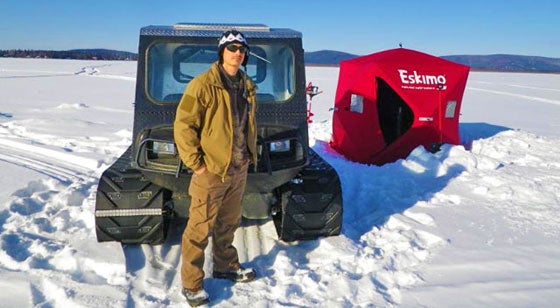 ---

Recently I had the opportunity to try out some great gear made by Carol Davis Sportwear. The Body Sock made from Polartec fleece is so warm and comfy. My Son Zach and I took turns using the body sock for everything from ice fishing to bear hunting and it kept us warm and cozy. The body sock is also great as a layer under your waders to help keep off the chill from being in freezing water. I really enjoyed sleeping in the body sock, it makes great camping wear and the rear flap comes in handy to answer nature's call.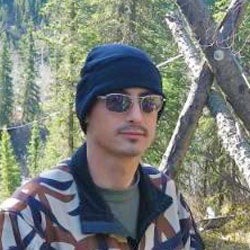 The Web Necks Neckwarmer is a great addition to any of your cold weather gear, is awesome at holding in your body heat and it turns any jacket into a toasty turtleneck. Their Skull Cap is incredibly warm and Zach and I found ourselves fighting over it. The Web Foot Socks are now my go to gear for both wader fishing and as sleeping socks for my sleeping bag. Sure is nice after a long, cold wet day to crawl into my sleeping bag and have dry toasty toes.
During breakup, the time of year when the ice on the river starts to melt, the water is extremely cold. However, the fishing can be fast and furious with the fish eager to feast after a long winter. Our first day out I wore some merino wool long underwear and wool socks under my breathable waders. Even though the fishing was hot, after a couple hours my feet and legs were numb from the cold water and we had to cut our day short. The next day I thought I would try the Body Sock and Web Foot Socks under my waders. WOW, what a difference, I was warm and toasty all day. Never once did I feel cold or damp. By using Carol Davis Sportswear we were able to fish for hours longer and were able to concentrate on the fishing and not being cold.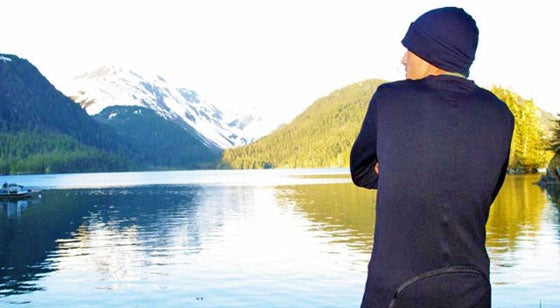 On our spring bear hunt this year we spent some time in the alpine zone and it was still very much winter. We had expected the temps to be much warmer and the sleeping bags we brought were not rated for the colder nights we were having. After the first cold night I decided to wear my Body Sock and Web Foot Socks to sleep in. I was pleasantly surprised at how warm I was the next night. Was also nice to have on for the middle of the night calls of nature. The skull cap, neck warmer and gloves allowed us to sit in the cold and wind for hours while glassing for game.
So, for anyone needing some great cold weather base layers, check out Carol Davis Sportwear.
Steve
---
Here's a quick overview of the Carol Davis line:
Carol Davis Sportswear

| | | | |
| --- | --- | --- | --- |
| Model | Features | Color | 2013 Price |
| | Two-way front zipper that opens from the top and bottom, zippered rear flap for nature's call, knit cuffs at wrist and ankles. | Black | $115.00 |
| | Two-way front zipper, no zippered rear flap, anchoring thumb holes on wrist cuffs which can be worn or pulled back and worn as a regular cuff, lightweight stirrup feet to keep pants legs down. | Black | $115.00 |
| | Two-way front zipper that opens from the top and bottom, zippered rear flap, anchoring thumb holes, lightweight stirrup feet, kids sizes. | Black | $130.00 |
| | Two-way front zipper opens from top and bottom, zippered rear flaps, stirrup feet, anchoring thumb holes on wrist cuffs. | Black | $75.00 |
| | Two-way front zipper that opens from the top and bottom, no zippered rear flap, knit cuffs at wrist and ankles. | Black | $115.00 |
| Web Foots Socks | The Rolls-Royce of cold-weather fleece materials and will keep your feet warm, dry and odor-free. | Black | $20.00 |
| Web Head Skull Cap | Made from the same high-performance Powerstretch Polartech fleece as their other products. The Skull Cap is designed to keep your head warm, dry, and breathable. | Black | $20.00 |
| Web Necks Neckwarmer | Like the old-fashioned "Dickie", but with a generous turtleneck to keep your neck warm. The front and back flaps extend low on the body, keeping the neckwarmer in place and dramatically increasing your comfort in cold weather. | Black | $15.00 |
| Web Paws Hooded Mittens | Hooded mittens with flaps for the fingers and thumbs. Flaps can be folded back so that they remain out of the way. | Black | $25.00 |
Features and Construction
Carol Davis Sportswear uses a high-performance Powerstretch Polartech® material that has been specifically designed for active outdoor use. It's a hydrophobic material that does an excellent job of wicking moisture away from your skin, while providing superior freedom of movement. The breathable material also restricts the growth of odor-causing bacteria, making it ideal for multi-day use.
Do You Have Comments on This Product?
Do you have experience with Carol Davis Sportswear? Send your comments to us and we'll consider adding your voice to this conversation. All we need is a first name and your comments. One or two paragraphs is fine. Submit your comments This email address is being protected from spambots. You need JavaScript enabled to view it.. Thanks!