Canoes
The canoe is the quintessential boat for traveling the remote north. What outdoors enthusiast has not imagined themselves slipping quietly along some remote lake casting for northern pike, or stalking a majestic bull moose while quietly paddling a canoe? Yet using a canoe in Alaska calls attention to some unique challenges that must be met. Hard-shell canoes are difficult to transport by air, so using them in remote locations is a challenging and expensive prospect. Inflatable canoes offer portability, but at the cost of performance. For someone looking to purchase a canoe for Alaska waters, the choices are not simple.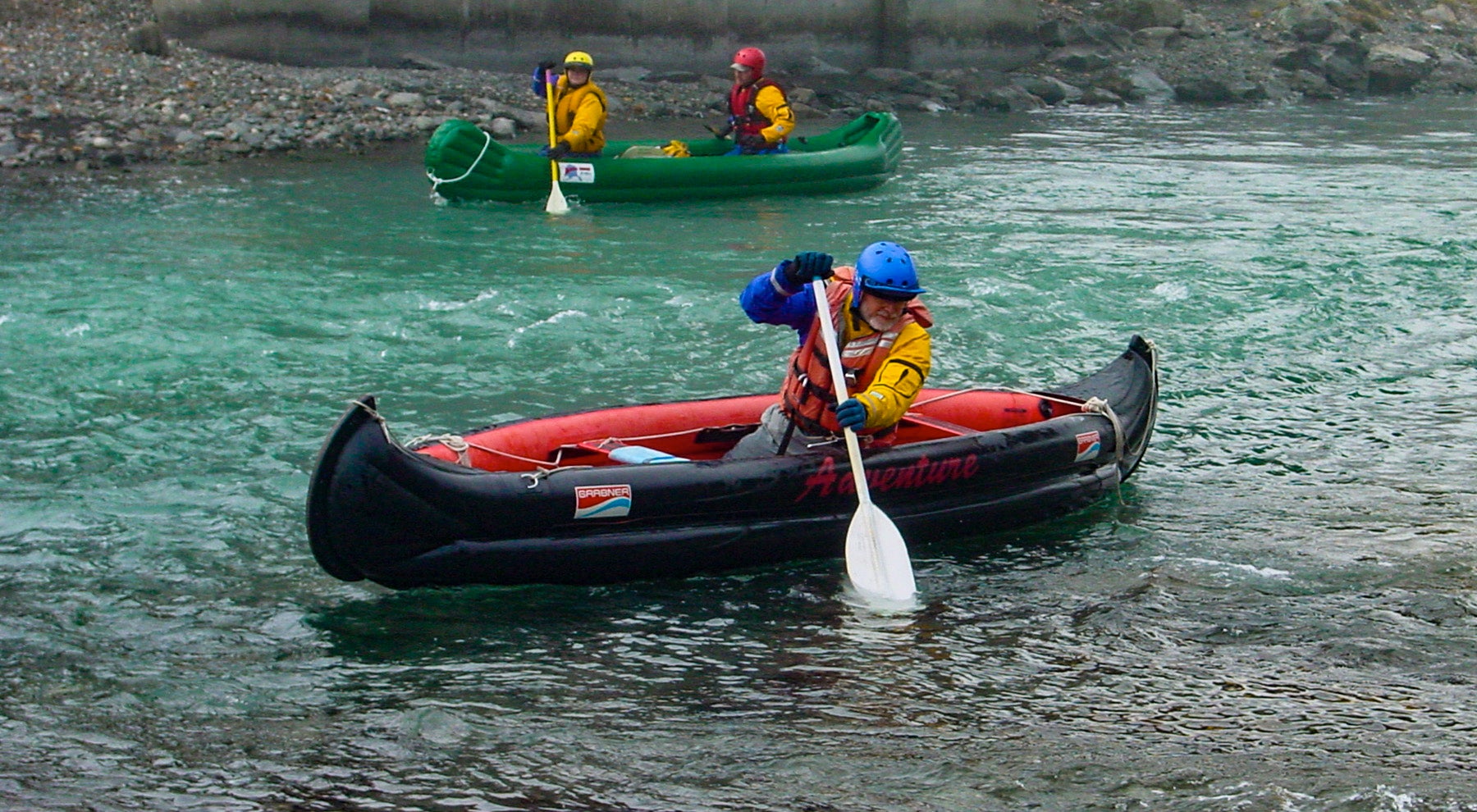 Inflatable Canoes and Kayaks
Today's canoeist has many options when it comes to inflatable canoes and kayaks. Variations in length, width, tube diameter, color and hull configuration are just a few of the options available.
Inflatable canoes are made with either rubber or plastic. Keep in mind that rubber flexes more easily than plastic, so a canoe made of rubber (CSM or neoprene) may actually fold in half (taco) on steep drops or in high waves. This is because the narrow configuration of the hull does not counter the innate flexibility of the material adequately. Plastic canoes (PVC or urethane) can flex under extreme conditions, however this is the exception rather than the rule. Most floaters prefer a stiffer boat over a flexible one, however there are features found in some rubber boats that cannot be found on any of the plastic boats on the market. A purchaser may figure that the flex issue is less important than other features they find. For more details on the performance differences between plastic and rubber, see our Introduction to Inflatable Boats page.
For purposes of discussion, let's begin our look at canoes by organizing them by size / carrying capacity.
Styles of Inflatable Canoes and Kayaks
Canoes and kayaks come in several hull configurations. These designs must be considered in light of the type of water a person intends to float and the loads that will be hauled.
Traditional Design
In most cases the traditional upswept, pointed bow and stern have been abandoned by manufacturers, because it is hard to replicate in an inflatable boat without compromising interior space. Currently there are a handful of traditional designs on the market that have managed to make it work, most notably those offered by Grabner. Their "Adventure" series uses a relatively flat upswept bow that is edged in front by what Grabner calls a "Bow Reinforcement Strake"; a piece of hard curved plastic that provides excellent abrasion protection for the seam. This design was originated by Metzler, but was sold to Grabner when Metzler went out of business. Another Metzler design incorporates an inflatable bow and stern that gets its flat upswept profile from I-beams that attach the hull fabric to the other side of each tube. This design has been replicated by Jim King's Alaska Series in their "14.3 Explorer" and "Tripper 17" boats, and remains popular with canoeists who favor a traditional design. Pristine Ventures out of Fairbanks has designed the Pioneer X-Stream, which incorporates a drop-stitched floor, offering good tracking. The floor fits into a pocket and it can be removed for portaging if necessary. This boat is made with 32 oz. PVC. They also produce the Legend, a 13' boat made of the same materials.
Flat Canoe Designs
Several companies make canoes with pointed bows and a flat tube profile (no significantly upswept bow). Because the bow is relatively flat, care must be taken in these boats to avoid splash-over in rough water. Incept's canoes come in various lengths that incorporate this design, as do others such as the AIRE Traveler.
This picture shows Alaska float hunter Tracey Harmon with a heavy-laden AIRE Traveler. The Traveler is made of PVC, which lends itself well to dragging through shallow water. The material is so slick that some hunters use the boat as a toboggan, dragging meat and gear over the tundra on long portages.
The Traveler is also made in another configuration, which incorporates a transom attached to the back, for the purpose of running a small outboard. This boat is the Power Traveler, and it could be the ideal choice for anyone floating long, slow rivers where downstream speed is important.
Sled-Style Boats
A "sled" canoe is a design that opens the bow and stern sections, creating two parallel tubes that are tapered at each end. Connecting the tubes is a ribbed I-beam inflatable floor, and a fabric piece that forms a deck in both the bow and the stern. From a performance standpoint, sleds tend to plow rather than part the water like a traditional hull. This becomes accentuated with heavy loads, and increases the boat's resistance to rowing and paddling.
The sled design was originated by Metzler and later sold to Grabner, who continues to produce it as the "XR Trekking". This design was duplicated and enhanced by SOAR Inflatables as their "S-16", but the S16 is 16 feet long, compared to the Grabner's 13-foot length. The S16 also sports a larger tube diameter, by three inches. It is interesting to note that the Grabner boat weighs in at a spry 44 lbs., whereas the S-16 tips the scales at 78 lbs. The S-16 was later "super-sized" into the Pro Pioneer, a concept pioneered by Pristine Ventures of Fairbanks, Alaska, whose primary motivation was to develop a slim canoe that could be flown out via aircraft for floating narrow, shallow streams. The Pro Pioneer is similar to the S-16 design, but the tubes are larger and they are both wider and longer. The Pro Pioneer includes enhancements like additional grab handles on the hull and other features float hunters need. On the downside, SOAR canoes are made with a neoprene bottom. This fabric is highly abrasion resistant, however it tends to grip the riverbed when dragging through shallow areas.
| | | | | | | | | |
| --- | --- | --- | --- | --- | --- | --- | --- | --- |
| Model | Length | Outside Width | Inside Width | Tube Dia. | Weight | Kick | Rating* | 2015 Price |
| AIRE Traveler | 15'1" | 47" | 19" | 14" | 70 lbs. | 9" | 750 lbs. | $2,159 |
| AIRE Power Traveler | 15' | 47" | 19" | 14" | 70 lbs. | 9" | 785 lbs. | $2,329 |
| AK Series 14.7 Explorer | 14'7" | 43" | 25" | 9" | 70 lbs. | 25" | 900 lbs. | $4,650 |
| AK Series 17 Tripper | 17' | 43" | 25" | 9" | 90 lbs. | 25" | 1100 lbs. | $5,540 |
| Grabner XR Trekking | 13'1" | 37" | 16" | 11" | 44 lbs. | | | $2,825 |
| Legend | 13' | 46" | 16" | 15" | 56 lbs. | | 1250 lbs. | $1,950 |
| Pioneer X-Stream | 16.5' | 50" | 14" | 16" | 72 lbs. | | 1800 lbs. | $2,300 |
| SOAR S16 | 16' | 40" | 28" | 12" | 78 lbs. | 14" | 1000 lbs. | $1,796 |
| SOAR Pro Pioneer | 16' | 46" | 18" | 14" | 80 lbs. | 14" | 1500 lbs. | $2,845 |
*NOTE: Load capacities posted in this chart are as quoted by the respective companies and do not necessarily reflect actual capacities in field conditions.
Paddling Inflatable Canoes and Kayaks
Many canoeists prefer to paddle their boat, rather than rowing. This is not difficult with hard-shell boats, the thin hull allowing easy access to the water with the standard paddle length. But the tubes on an inflatable canoe creates a distance between the paddler and the water that requires longer paddles. Figure the correct paddle length by resting the blade on the floor. For rigid canoes, the handle should come to just under your chin. For inflatables, it should come to the top of your head.
It's important to master basic paddling strokes before testing yourself on a remote, isolated river system.
Rowing Setups
Whereas hard-shell canoes are designed for paddling, inflatables accomodate rowing setups as well. Several designs exist, but the basic concept is the same with all of them; to provide a solid platform to which oars can be secured. Remember that a rowing setup must provide the following elements in order to offer a firmly-anchored rowing station:
A solid anchor point where oarlocks can be secured. If the oar towers can move, much effort is lost in rowing.

A seat for the oarsman. Without a seat, an oarsman will have to sit on gear, which is pushed down into the floor. This creates a low spot on the bottom of the boat and subjects you to grounding out or tearing your floor.

A foot brace for the oarsman. Without a foot brace, the oarsman has no leverage for the power strokes necessary to skirt or avoid danger.
Most canoe rowing setups fail to deliver these three elements, so oarsmen must look to alternative rigging. Most canoes come with seats that can be repositioned in the boat. Ensure that the seat is properly placed for your reach. In most cases a difference of 19 inches between the seat and the oar stands is about right. Use a rope or a strap, laced from one side of the boat to the other, for a foot brace. Alternatively you could brace your feet on gear, however the gear should be secured into the boat with straps to prevent it from moving when you are pulling hard on the oars.

In this photo we see the SOAR S-16 on the left and the SOAR Pro Pioneer on the right. Both boats are rigged with rowing setups which greatly enhance the user's control of the boat on moving water. Note that in this photo the oar towers on the Pro Pioneer are placed forward of the midpoint of the boat. In most cases such placement is not recommended, as it can cause the stern to swing around in faster water, especially if the boat is heavily-loaded. A better placement is with the oar towers positioned at the midpoint of the boat, with the oarsman's seat aft of that location. This allows the oarsman to spin the boat left or right without the hull overpowering the oar strokes as it is pushed by the current. The exact placement of the oarsman's seat depends on the length of the oarsman's arms, however in most cases the midpoint of the seat should be about 19" aft of the midpoint of the oar tower. This principle also holds true on other oar boats (catarafts and round boats).
---
Additional Information