Alaska River Logs
In the mid-1970's an effort was made by the federal government to study certain rivers in Alaska for inclusion in the National Wild and Scenic Rivers program. Teams were sent, often by helicopter, to rivers around the state, to study the recreational potential of these rivers. These teams kept detailed journals of their explorations, and they have been collected into a series of documents known as the Alaska River Logs. Though the information is somewhat dated, it still has great value to recreational users of these areas today. These reports are available here, and are listed by region.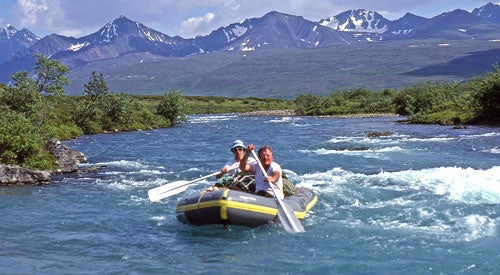 CAUTION: Before embarking on an Alaska river trip, do your homework! Double-check the information in these reports against current information from your air charter, the Alaska-Pacific River Forecast Center (APRFC), and other floaters. Check our Alaska Boating Forums for reports from others who have been there.  Alaska rivers can be very dangerous because of their remoteness, the climate, their sources, and other factors.  Bring adequate and proper clothing, equipment, and food.  File a "float plan" with someone who can call for help if you do not return on time.  Take a satellite phone or other communications tool if at all possible (but not usually a cell phone because of their limited coverage in Alaska).  Plan carefully for a safe and pleasant trip.
Note also that land status information contained in these documents may no longer be accurate. These logs were compiled long before massive land transferrals of unreserved public land to restrictive public ownership or private ownership.  River users should be careful to follow federal or state regulations where appropriate, and to avoid trespassing on private land.  CLICK HERE for additional information on private lands, including maps and native landholders.
Be sure to also check current fishing or hunting regulations, as what was possible decades ago may not be legal  today.
Finally, the Alaska Outdoors Supersite has attempted to make as much of this material as possible searchable by adding a text layer to the original image-only PDF files.  Where possible, we have also converted these to HTML files.  Please note that while we have corrected obvious errors generated during these processes, errors may still remain.
---
Region 2 East (kenai peninsula, north gulf coast)
Region 2 West (kodiak island)
---
Region 3 East (eastern arctic)
---
Region 3 West (central interior)
---
Region 4 East (anchorage, interior)
---
Region 4 West (bristol bay, aleutians)
---
Region 5 North (western arctic)
---
Region 5 South (yukon delta)