Valdez offers a variety of fishing opportunities from the road system and, depending on your timing, it's possible to catch any of five species of salmon, Dolly Varden, rainbow trout, and grayling. Doesn't matter if your offshore charter is down because of weather and you're looking to kill some time, if you're camping out for the weekend, or if you're on vacation and looking for a place to sample some great Alaska fishing, Valdez is the place to be.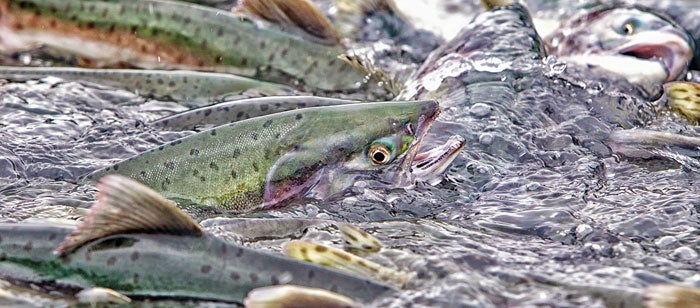 Alaska Fishing: Valdez Saltwater Fishing
Valdez offers direct access to some of the best saltwater fishing in the state of Alaska. Served by a municipal airport, the Alaska Marine Highway, and the Richardson Highway, Valdez is available by land, by sea or by air. It's one of the most strategically-located towns in Prince William Sound, because it's located in the heart of one of the crown jewels of Alaska, Prince William Sound. That said, Valdez is full of surprises, not the least of which is it's small town feel. It's the kind of place where you expect the entire town to get together for a town photo. And that's exactly what they've done! Stop by the Halibut House, a popular local eatery, and you'll see several photos of the entire population, taken over the years. The quiet nature of this town, combined with the many amenities it offers, along with ease of access and outstanding fishing close at hand, make Valdez one of the best destinations for serious saltwater anglers!