Striped Marlin Capital of the World - Baja's East Cape
by Jerry Hall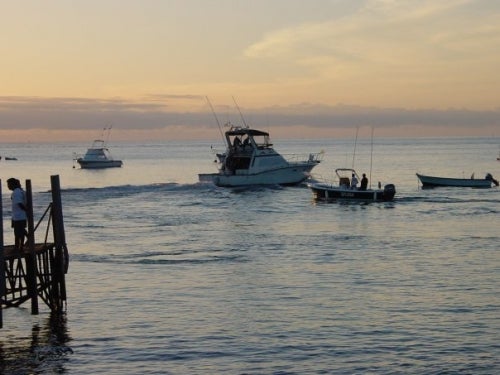 After only twenty minutes, my left arm started to throb from the stress of fighting the fish. Each time I gained line, the fish took most of it back. But, finally, the runs got shorter and shorter until at last, the deck hand grabbed the leader, and my first marlin emerged from the azure waters of the Gulf of California.
We had been fishing in a sturdy 24-foot boat constructed mostly of plywood, but it seemed as diminutive and fragile as old Santiago's rowboat Papa Hemingway described in "The Old Man and the Sea". Until then, I had only dreamed of this majestic fish smashing the water and performing an amazing display of jumps. The battle ended far too soon; I had only been on the fish for 35 minutes before it came to the boat. I was overcome by the accomplishment, yet humbled by the glorious marlin. My euphoria lasted for weeks, and this story became the center of my fishing life. Now, I re-live the event vicariously through the hundreds of rookie anglers I have accompanied to the East Cape, the "marlin capital of the world," to capture their own fishing memories.
The Early Days
I first drove through the Cabo area in February 1974. My destination had been 
Cabo San Lucas, which was still an unpaved small town with some enclaves built by Hollywood celebrities close by. The Hotel Finisterra--on the hill overlooking the bay and the arches--had just debuted its twelve rustic guest rooms. The small communities of Los Barriles and Buena Vista were hardly noticeable as one drove through them, given that the largest of the five hotels had only nine rooms and offered anglers but four old plywood-hulled 22-foot cruisers. There was no international airport at San Jose del Cabo; La Paz, 72 miles north of the East Cape, was home to the closest airport. Acting on a tip from a fellow fisherman, we took our first trip in 1976 to Hotel Buena Vista, initiating our quest for striped marlin, said to be the most magnificent of all fish. The technique for this quest involved trolling large, Catalina Island imported sewn-up flying fish at three to four knots. If you caught even one marlin it was a notable feat back then, and a two-marlin day was very rare. Most (if not all) of the captains and deck hands were local farmers or laborers who fished only on the weekends. Anglers who fished these waters did their best to keep the destination a secret, but to no avail.
The Eighties and Nineties
Several things took place in the 80's, including the advent of trolled lures and the use of live bait. In addition, new cruisers were added to the fleets as the demand increased, and the locale was no longer a well-kept secret. As the years progressed, even newer boats were obtained, and the crews were now fishing several times a month; their skills and knowledge of the newer fishing techniques improved dramatically.  The fishing also noticeably improved, and catching three to four marlin in an eight hour day was not unusual. The hotels were in a constant state of construction, as they added guest rooms, pools, and other amenities. They also added van services to and from the new airport, 42 miles south, in San Jose.
The Present
The VanWormer family owns three of the six hotels in the East Cape, and each one has its own special charm. These three properties share a total of sixty cruisers (28 to 35 feet) and twenty pangas (18 to 22 feet).  This fleet is possibly one of the largest in the Baja peninsula, and, for that matter, in Mexico. The East Cape is one of the few destinations where you can reserve your boat when you make your room reservations. From my own experience, I highly recommend the following four destinations:

This thirty-nine room hotel is known for its excellent rooster fish populations, and they have hosted a sizable tournament targeting these fish for years. The property is situated within two miles of the lighthouse, which marks the southeast landmark for the twenty-two mile stretch of beaches known as Bahia Las Palmas. The hotel is four miles from the village of La Ribera, and the setting is serene and quiet. There is no traffic noise, and an angler can enjoy fishing from the uncrowded beach for rooster fish and numerous varieties of reef fish. Guided beach trips are available. You can fish right in front of the hotel-- at the points area, at the dock area, and in front of the first houses in a new community called The Light House Estates. All meals are included, and special requests or dietary needs are graciously accommodated—as is the case at all of these hotels.
This small twenty-six room property offers an enchanting tropical setting that is a world apart from the hustle and bustle of commercialized resort areas. Enjoy the breath-taking views of the magnificent sunrises over the Sea of Cortez from twenty of the oceanfront guest rooms. Or you can choose to rest and relax in the six peaceful garden-facing rooms. The fishing dock is just a few steps away from the pool and palapa bar and offers the opportunity for some excellent beach fishing, especially at sun-up, in the afternoon when the boats have returned and released their left-over bait, and again at sunset. All meals are included, and the friendly, knowledgeable staff will attend to all your needs.
This is one of the two crown jewels of the East Cape, and it has grown from the original nine rooms to over sixty. It features oceanfront accommodations, poolside guest rooms, palapa-roofed cabanas, garden rooms and two-bedroom luxury condos. The condos can sleep as many as six and have complete kitchens with micro-waves, refrigerators and satellite T.V.  Palmas has also built eighteen new villas, each with one to three bedrooms. All of the "basic" rooms are modern, clean, very comfortable and sleep one to four persons. Palmas offers plans which include all meals at two on-site restaurants, or you can choose the non-meals package and enjoy numerous off-site restaurants as well as the on-site restaurants at a la carte prices. Here, too, you will find the largest swimming pool in the East Cape. It is over 100 feet long and features an infinity edge and thirteen seats at the swim-up bar.  Also featured is a very large jacuzzi-style hot tub. There is a new conference room, available for the use of large groups. Furthermore, massage and a full service beauty salon are available.
This is the second crown jewel of the East Cape, owned and operated by the Valdez family.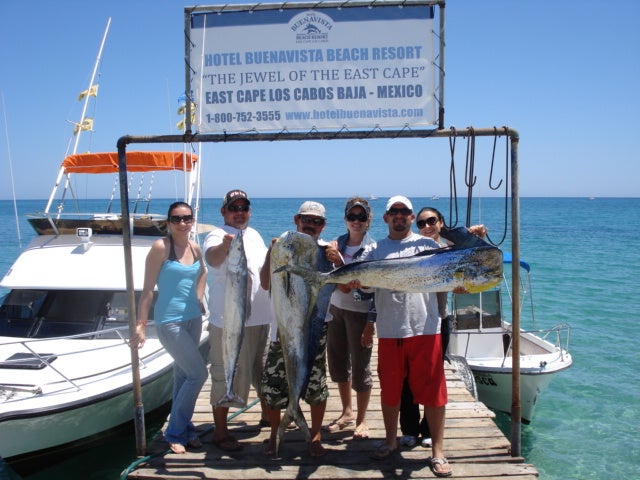 It has also grownfrom nine rooms to sixty rooms and includes private terraces with hammocks as well as in-room coffee service. Two fresh water swimming pools entice guests--one with a swim-up bar—and there are two jacuzzis. Furthermore, a well-maintained tennis court is on the premises. Oceanfront dining inside or outside features Mexican cuisine, fresh seafood dishes and traditional buffets. All meals from the menu are included. Adjacent to the dining area, the ocean front bar offers a pleasant happy hour with discounted beverages and mouth-watering antojitos. The fleet at the Buena Vista consists of fifteen deluxe cruisers and four super pangas. In addition to deep-sea fishing, the unspoiled white sand beaches and clear waters near the hotel team with tropical fish and offer excellent beach fishing. The 2000 square foot conference room with audio-visual equipment, large-screen T.V., overhead projector screen can accommodate up to 251 people. You will also find clear and natural hot springs on site which have made this a paradise, nourishing lush tropical gardens of palms and flowers. First-class spa treatments are offered.
Non-Fishing Activities in East Cape
You can enjoy many activities during days on which you do not fish, and they are a special treat for non-fishing guests:
Guided snorkel or scuba trips, featuring reefs and scores of tropical fish also available on site.

Bird-watching is popular as there are many species indigenous to the area.

A.T.V.'s, Wave Runners and horseback rentals are available for the adventuresome.

Exploring the nearby mountains yields treasures such as hot springs, Indian rock paintings, desert mines, lush orchards and waterfalls.

Hotel Palmas De Cortez offers 3 par golf course; a driving range and archery are also offered.

Canopy zip line with trained enthusiastic guides.

Sunset cruises are available to cap off the perfect day.
Of course, you might consider spending some time in Los Cabos, La Paz, San Bartolo, Bay of Dreams and / or Todos Santos.
Big Game Tackle Suggestions
On-board tackle has really been upgraded; however, if you choose to bring your own,here is what you need for a successful fishing expedition:
Four rods and reels; 25 to 80# line (2-speed reels advised for tuna)


100#-300# test leader material

2/0, 4/0, 5/0 circle hooks

3ea. 11" marlin lures; green/black, green/yellow and red/black

6ea. 5" tuna feathers; green/black, purple/black, and dorado colors (yellow, orange and green)

2ea. 6" natural colored cedar plugs

12ea. 7/0-9/0 J hooks

3 of each; 6oz. and 12oz. torpedo sinkers

12ea. 250# test black swivels / snaps
Surf Fishing Tackle
Unless you want a guided beach or Panga charter where the tackle is provided, you need tobring the following:
15-20# spinning or bass rods

Several #2-1/0 short-shank bait hooks

1oz. egg sinkers & several smaller sizes

Topwater plugs for night fishing

6oz.-12oz. Krocodile spoons (pearl/black)

Small Hopkins and CastMaster lures

Rapalas (fire tiger and perch colors)

Pencil poppers, Zara Spooks and similar lures

Light wire leaders for Sierra Mackerel (winter months)
Be advised when bringing in new rods, reels or terminal tackle, bring the receipts with you.Visitors to Mexico are allowed to bring up to $300.00 in value of new items, per person.
What to Pack for Your Fishing Experience
Ice chests up to 72 qt. The airlines will charge extra for bigger ice chests, and the 50# weight limit is enforced.

Soft canvas bag

Shorts / Tee shirts

Swim gear

Toiletries

Hat / sun visor

Sunscreen

Beach towel

Tennis shoes / sandals
You can pack these items in your ice chest on the way south, and your ice chest can then be used to bring fish home. From December through April, add a light jacket for the morning boat rides to the fishing spots.
Bringing Fish Home
Don't miss the opportunity to bring home this high-quality fresh fish. Each person is authorized to take forty pounds of fillet out of the country.  While most of the hotels offer fish cleaning services, The Smoke House in Los Barriles is highly recommended for processing your catch.  They meet the boats at the dock, remove the fish to their facility, where it is cleaned to your specifications, salt-water rinsed, vacuum-packed and flash-frozen in very heavy gauge bags. The product will remain frozen for at least 24 hours in your ice chest. I have personally opened packages from my home freezer that were up to three years old and that could not be distinguished from fresher packages.
Catch limits change, however; currently each angler can take 2 Dorado, 2 Wahoo, 5 Tuna and--if you wish to take a billfish-- each boat can bring only one each day.
How to Get to the East Cape-- and What You Can Expect to Catch

From the West Coast, I highly recommend booking your flight on Alaska Air. I also suggest that, if possible, you arrange your return through San Diego, as Immigration and Customs are far less crowded than the other options. I can give you an idea of what you can expect to catch, based on my personal experience since 1984, during which I have escorted 96 groups of up to 47 anglers to the above four hotels in the East Cape—in sum, 2,341 anglers. I have also documented and kept track of their catch:
2,176 Marlin (Striped, Blue & Black)

820 Sailfish

2,016 Dorado

3,278 Yellowfin Tuna
In the old days, two billfish signaled an exceptional day! The top single day-catch of my groups has been eighteen striped marlin caught and released by just two anglers! As expected, their arms were very sore the next day, and, as the saying goes, "There isn't anything better than sore arm fishing."
Our Record Fish!
These are the largest fish (in pounds) that have been taken over the years by the anglers in these waters by our groups:
Blue Marlin - 451 lbs.

Striped Marlin - 202 lbs.

Sword Fish - 275 lbs.

Short bill spear fish- 71 lbs.

Sailfish - 135 lbs.

Mako Shark - 277 lbs.

Thresher Shark - 132 lbs.

Yellowfin Tuna - 145 lbs.

Wahoo - 99 lbs.

Dorado - 77 lbs.

Yellowtail - 36 lbs.
My Latest Great Fish
June 11, 2010: We started trolling three lures with a live bait rod at the ready.  In less than an hour, the Skipper spotted the fish's tail on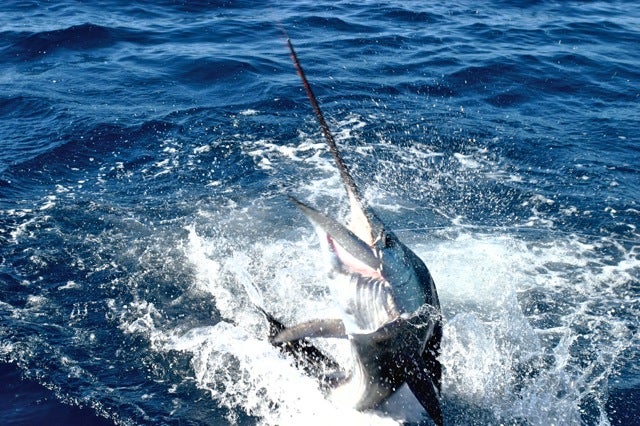 the surface.  The deck hand responded and tossed the live bait towards him. As the bait hit the water, the troll rod on my right bent over and the sound of the reel exploded. Upon setting the hook, I instantly realized the fish was of formidable size, as it stripped 300 yards of 60 pound test line off the reel in less than two minutes.  The battle was on, and after 20 minutes, it jumped three times, then made another screaming run to the north.  The deck hand poured water on the reel on three occasions to cool down the red 6/0 Penn reel. Whenever the boat backed down on the fish, there was a refreshing wave of water over the stern. The fish made several more runs, however shorter, and proceeded to jump on several occasions. He was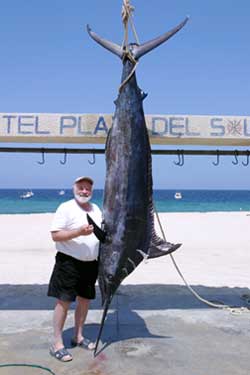 much closer to the boat and after one hour and two minutes the deck hand was able to grab the leader near the swivel.  We had made the decision to release this magnificent fish, but in an attempt to elude us, it made a fatal lunge under the boat, ripping the leader from the deck hand's grip and --unfortunately-- running into the boat's prop, suffering three fatal wounds.
The Blue Marlin weighed in at 451 pounds, my personal best.  The fish fed many people, including the crew and many locals.  I was saddened by its demise and would have preferred to have released him.
Final Thoughts
Fishing the East Cape has been one of the most rewarding experiences of my life.  And, while the Sea of Cortez is still teeming with innumerable varieties of fish, as anglers, we have certain responsibilities to the local inhabitants both on land and in the sea. We do not take these responsibilities lightly, and we strive to contribute to the beauty and abundance of the East Cape. We practice catch-and-release when appropriate, we are ever-mindful of the environment, and we are considered friends by those who live, work, and raise families in the region.
Editor's Note: For those interested in monitoring the fishing situation in the East Cape area, bookmark Baja Papa's website. This is the home of "The Reel Scoop" fishing reports. You won't find a more current, accurate picture of the fishing situation in the East Cape area.