Kenai Peninsula Fishing
Alaska Fishing: Kenai Peninsula (Saltwater)
The Kenai Peninsula offers excellent saltwater fishing opportunities, including sailing, powerboating (by far the most popular), and even sea kayaking. Ocean kayaking is very popular in the Seward area, and also out of Whittier. It is growing in popularity in Kachemak Bay (near Homer), with paddlers crossing the bay on a calm day to visit Halibut Cove, Yukon Island, or the quaint little seaport of Seldovia. Some kayakers can be seen on occasion trolling for king salmon along the Homer Spit, or along the coast past Anchor Point, off the beaches of Ninilchik, or in the Deep Creek area. Some charter boat operators offer kayak drop-offs and pick-ups by prior arrangements, which give sea kayakers the chance to experience remote areas without having to go to the extra work of paddling all the way. A water taxi service offers day-trippers a departure from Homer to Seldovia, where you can wander the streets, have some lunch or do a little shopping before catching a ride back to Homer and the road system. Although the southern side of the Kenai Peninsula offers rugged, rocky coves and relatively deep water, the north side is a sharp contrast, with shallow, sloping beaches and exposed coastlines for the entire distance. Several locations on the north side of the Kenai Peninsula offer boat launch facilities. There are two ways to launch a boat at the Deep Creek State Recreation Area. You can launch the boat yourself from the beach, but you must have some experience with this before attempting it. Launching must be timed with the tides, with special attention paid to the weather and wind-driven waves. There's a tractor service that can launch your boat off the beach, regardless of the tide. It's expensive, but most boaters believe it's worth it, considering the risk of losing a mired vehicle to a rising tide.
Fishing the Central Kenai Peninsula
The central Kenai Peninsula is a road-based fisherman's mecca. Here you will find the crown jewels of the state's freshwater salmon fishing opportunities; the Russian River and the Kenai River. The Russian boasts two runs of sockeye salmon, an annual run of silver salmon, and a resident population of wild rainbow trout and Dolly Varden. The Kenai itself, whether you're fishing the upper, middle, or lower sections, has something to offer anyone in pursuit of salmon, trout, or char. The lower river is renowned for its outsized king salmon, with boaters jockeying for position in the best runs, hoping to hook the fish of a lifetime. The upper river offers a peaceful drift amid stunning snow-capped pinnacles that are home to bear and Dall sheep, while the river is teeming with sockeye salmon, silver salmon, trophy rainbow trout, and Dolly Varden. This is a fly-fisherman's paradise.
Kenai Peninsula Clamming
The Kenai Peninsula offers great clamming opportunities. Some of the best road-accessible areas include the beaches near Ninilchik, Anchor River, Clam Gulch and Deep Creek. All of these areas offer opportunities to camp, and some have portable restroom facilities. If you have a 4WD vehicle, you can drive onto the beach areas, but you must use extreme caution to avoid soft sand spots, and mud extrusions that sometimes squeeze up through the sand. These look like rocks from a distance, giving the impression of stable driving, but the opposite is true. Drive there, and risk burying your rig. Most people park on the hard-packed sand just below the high water mark, and ensure that they are out of there before the tide rises. These are popular clamming areas where you can essentially follow the crowd to the best areas.
Introduction to Fishing the Kenai Peninsula
Freshwater and saltwater road-based fishing opportunities abound across the Kenai Peninsula. All five species of Pacific salmon swim it's rivers, and grayling, lake trout, Dolly Varden, Rainbow trout and northern pike can be found in lakes and rivers throughout the area. The road system allows excellent access to many premium fishing areas, including both freshwater and saltwater opportunities. And don't forget clamming on Kenai Peninsula beaches! For many people, a weekend clamming excursion is just the thing to put a touch of class on an Alaska summer of outdoor fun.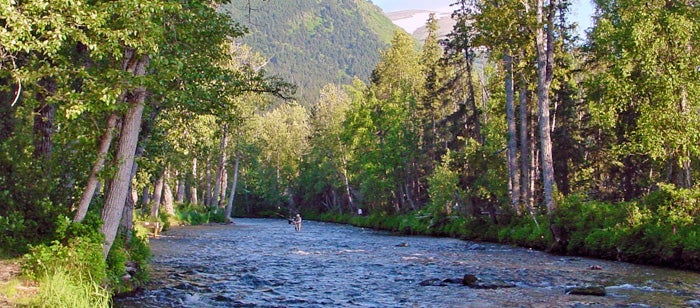 Lower Kenai Peninsula Fishing
The lower Kenai Peninsula offers some great freshwater and shore-based saltwater fishing opportunities without the crowds found elsewhere on the Kenai Peninsula. There is no other roadside fishery in Southcentral Alaska that offers shore-based surf fishing for halibut and king salmon. Many of the rivers here are short, and easily accessed. And finally, the Homer Spit offers some unique opportunities for saltwater king salmon and silver salmon, as well as bottom fish that can be caught from shore (this is a great place for children to catch their first salmon). It's a unique fishery, with diverse opportunities.
Alaska Fishing: Seward Saltwater Fishing
The Seward area offers excellent opportunities for sport fishing for salmon, halibut and rockfish. Check our Upper Kenai Peninsula Fishing page for details on the road-accessible marine opportunities in and around Seward. This page is focused on the offshore opportunties, highlighted in this section. Note that while we are underscoring the most popular areas, there are many other places to discover; hidden coves and bays that rarely see any traffic at all.
Fishing the Upper Kenai Peninsula
The upper Kenai Peninsula offers varied roadside and hike-in fishing opportunities for all five species of Pacific salmon, together with Dolly Varden, rainbow trout, grayling and more. Though most of the fisheries listed here are along the road system, some involve hiking in to areas that can be reached on a day-trip basis, or on a long weekend. Saltwater opportunities exist in the Seward area, where anglers can fish from shore for a variety of species.
Alaska Fishing: Whittier Fishing
Located just a short 40-minute drive south of Anchorage, Whittier offers the closest saltwater fishing opportunities to Anchorage. As a result, this is a very popular fishery for both shore-based and boat-based fishermen. Whittier also offers a good selection of charter outfits that can get you into the thick of the action. Boat rentals are available for those who prefer to hit the salt without the hassles of ownership.
Subcategories