Alaska Fishing: Whittier Fishing
Located just a short 40-minute drive south of Anchorage, Whittier offers the closest saltwater fishing opportunities to Anchorage. As a result, this is a very popular fishery for both shore-based and boat-based fishermen. Whittier also offers a good selection of charter outfits that can get you into the thick of the action. Boat rentals are available for those who prefer to hit the salt without the hassles of ownership.
Introduction to Fishing the Kenai Peninsula
Freshwater and saltwater road-based fishing opportunities abound across the Kenai Peninsula. All five species of Pacific salmon swim it's rivers, and grayling, lake trout, Dolly Varden, Rainbow trout and northern pike can be found in lakes and rivers throughout the area. The road system allows excellent access to many premium fishing areas, including both freshwater and saltwater opportunities. And don't forget clamming on Kenai Peninsula beaches! For many people, a weekend clamming excursion is just the thing to put a touch of class on an Alaska summer of outdoor fun.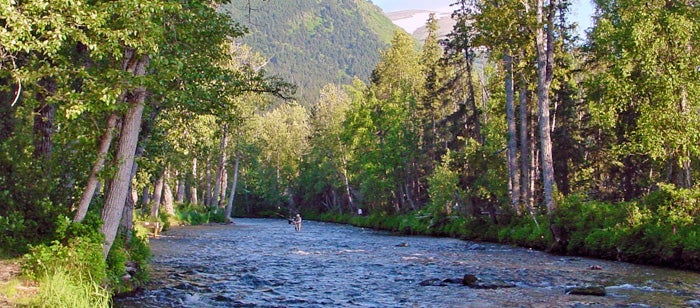 Fishing the Upper Kenai Peninsula
The upper Kenai Peninsula offers varied roadside and hike-in fishing opportunities for all five species of Pacific salmon, together with Dolly Varden, rainbow trout, grayling and more. Though most of the fisheries listed here are along the road system, some involve hiking in to areas that can be reached on a day-trip basis, or on a long weekend. Saltwater opportunities exist in the Seward area, where anglers can fish from shore for a variety of species.
Fishing the Central Kenai Peninsula
The central Kenai Peninsula is a road-based fisherman's mecca. Here you will find the crown jewels of the state's freshwater salmon fishing opportunities; the Russian River and the Kenai River. The Russian boasts two runs of sockeye salmon, an annual run of silver salmon, and a resident population of wild rainbow trout and Dolly Varden. The Kenai itself, whether you're fishing the upper, middle, or lower sections, has something to offer anyone in pursuit of salmon, trout, or char. The lower river is renowned for its outsized king salmon, with boaters jockeying for position in the best runs, hoping to hook the fish of a lifetime. The upper river offers a peaceful drift amid stunning snow-capped pinnacles that are home to bear and Dall sheep, while the river is teeming with sockeye salmon, silver salmon, trophy rainbow trout, and Dolly Varden. This is a fly-fisherman's paradise.
Lower Kenai Peninsula Fishing
The lower Kenai Peninsula offers some great freshwater and shore-based saltwater fishing opportunities without the crowds found elsewhere on the Kenai Peninsula. There is no other roadside fishery in Southcentral Alaska that offers shore-based surf fishing for halibut and king salmon. Many of the rivers here are short, and easily accessed. And finally, the Homer Spit offers some unique opportunities for saltwater king salmon and silver salmon, as well as bottom fish that can be caught from shore (this is a great place for children to catch their first salmon). It's a unique fishery, with diverse opportunities.
Subcategories