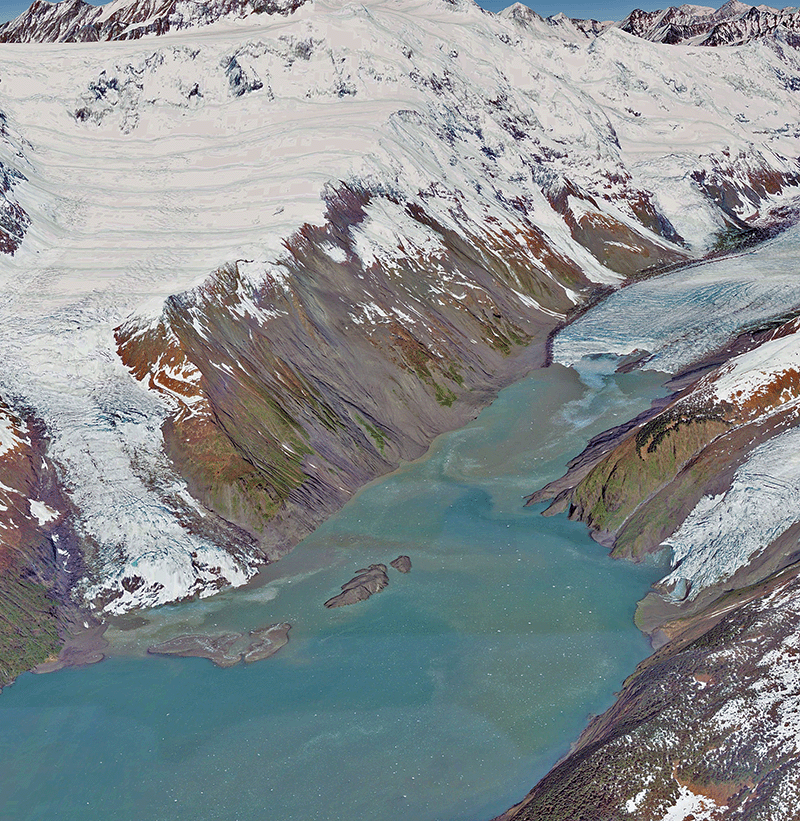 In May 2020, a group of scientists issued a report warning of a landslide-generated tsunami in Barry Arm of Prince William Sound. They cautioned that Barry Glacier has receded to the point that it is no longer supporting the slope west of the glacier. Signs of substantial slippage are evident in recent aerial photos of the area, including Google Earth.
IMPORTANT UPDATE TO THIS PAGE: July 12, 2021
The severity of a potential landslide and resulting tsunami has been downgraded by the U.S. Geological Survey. Current estimates are that, if the landslide occurs, the resulting wave could reach heights of 7 feet offshore of Whittier, instead of the 30-foot wave earlier predicted in 2020. You can find the new report AT THIS LINK. Review THIS LINK and THIS LINK for additional information.
History
Prince William Sound is no stranger to landslide-generated tsunamis. The largest on record occurred in 1958 when 40 million cubic yards of material cascaded downslope into Southeast Alaska's Lituya Bay. That generated a tsunami that ran 1,728 feet up the surrounding mountainsides and completely inundated both peninsulas at Lituya Bay's mouth before making its way out into Prince William Sound. The volume of the material at risk in Barry Arm is substantially greater than Lituya, at an estimated volume of 650 million cubic yards.
Dimensions
The dimensions of the potential slide are approximately 1.7 miles long by 1 mile wide. According to estimates, the slide area comprises 650 million cubic yards of material. That is over 1500% more material than was released in Lituya Bay in 1958. The Lituya bay slide resulted in a tsunami runup of 1,720 feet. The Lituya Bay material's center of mass was at an elevation of 2,000 feet, and the Barry Arm material is centered at 1300 feet elevation.
On the other hand, the landmass in Barry Arm appears to be substantially steeper than the slope in Lituya Bay. So while the Lituya slide traveled farther by 500 feet, the volume and pitch in Barry Arm are much more significant. That gives way to concerns that the Barry Arm material could generate a substantially larger tsunami than the Lituya tsunami, the largest on record.
The Risk
However it plays out, there is much concern that the Barry Arm slide poses an extreme danger to boaters and any other human activity in that portion of Prince William Sound. Whittier is 37 miles from Barry Glacier, putting it well within areas of concern if a tsunami is generated. The movement pattern of a tsunami is difficult to predict beyond the immediate area; however, it is clear that Harriman Fjord would indeed be flooded, as would Barry Arm out into Prince William Sound. A subsurface glacial moraine lies across Barry Arm's entrance, which would substantially reduce the energy generated by a tsunami. Still, at this point, it is a guessing game as to what other areas would be impacted. Esther Passage, Granite Bay, and the north side of Culross Island are certainly at risk, but there is no way to tell how much wrap-around will occur into side bays and fjords. Tsunamis typically maintain most of their energy until they run into shallow water. Deep, narrow passages stand the most significant risk of surges that can sweep hundreds of feet up-slope.
The Timing
It's impossible to say when the slide in Barry Arm will let go. Estimates are that it could slip at any time, without warning.
Precautions
There is little a boater can do if they are on the water as a tsunami is generated. Boaters are advised to monitor emergency channels to be apprised of any issues that may occur. That is important even if you are a substantial distance away, as tsunami waves travel great distances while retaining their power. The safest place on the water in a tsunami is in deep water. Shallow areas and coastlines are hit the hardest as the wave feels the bottom and is forced up. Some boaters may want to avoid Barry Arm and Harriman Fjord altogether as a precaution.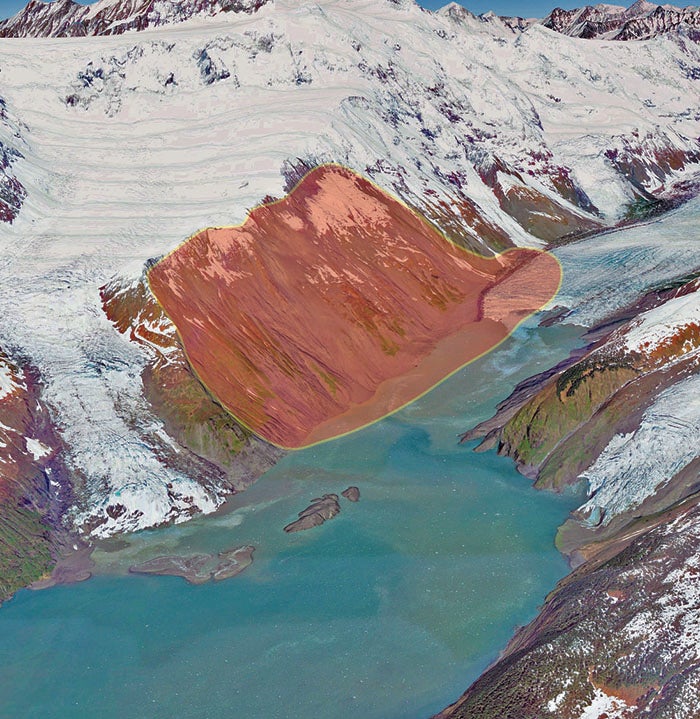 The above photo shows the size of the area at risk. It encompasses an area approximately one mile by 1.7 miles and about 650 million cubic yards of material.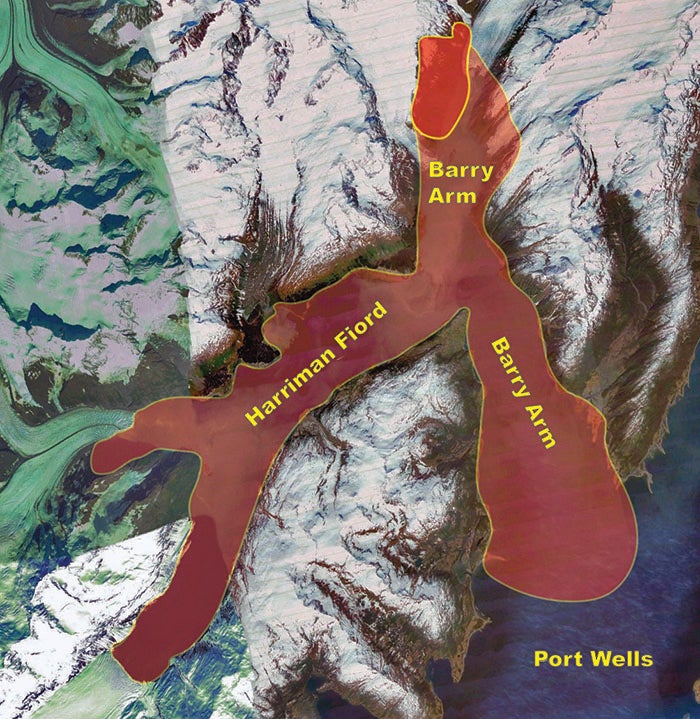 The above photo shows the area of immediate concern for a large tsunami. There is a submerged glacial moraine extending most of the way across the outflow of Barry Arm into Port Wells, and this will absorb some of the impacts of the tsunami. But there is no way to know how extensive the tsunami could be.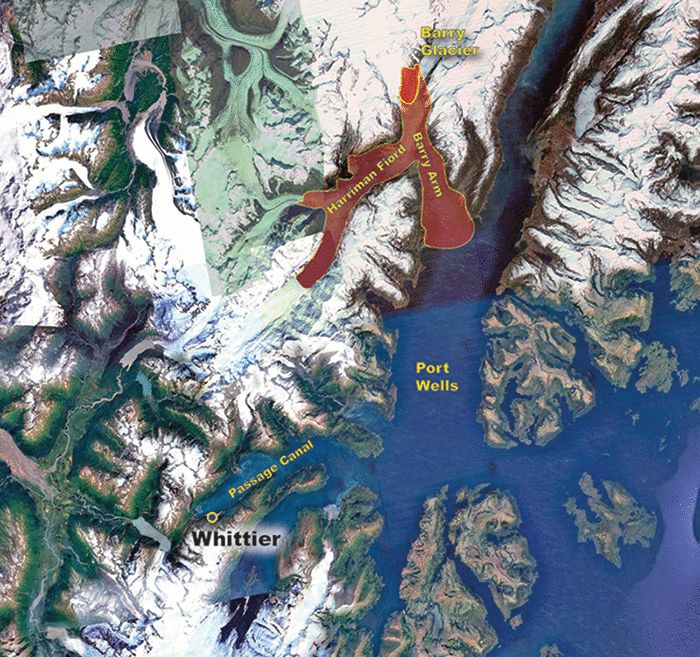 This image shows the area of concern in the context of other areas of concern in Prince William Sound.
READ MORE
The scientific report on this situation can be found AT THIS LINK.
---
Resources
If you plan to fish anywhere on the Kenai Peninsula, you need a copy of Dave Atcheson's "Fishing Alaska's Kenai Peninsula" in your rig. If you're new to the area, a copy of The Alaska Milepost will help you plan your trip, providing maps and detailed information on the locations of campgrounds, cabins, places to eat, fuel stops, and much more. While you're in the bookstore, you might also check out our Kenai Peninsula Road & Recreation Map. Finally, check out Scott Haugen's excellent book, "Bank Fishing for Steelhead and Salmon" for excellent tips that will work on the Kenai River, Deep Creek, and other places on the Kenai Peninsula.
---
Click on the following links to review angling opportunities in the various areas of the Kenai Peninsula.
Whittier Saltwater Fishing | Kenai Peninsula Fishing Intro | Upper Kenai Peninsula Fishing | Central Kenai Peninsula Fishing | Lower Kenai Peninsula Fishing | Kenai Peninsula Marine Fishery | Kenai Peninsula Clamming | Seward Saltwater Fishing | Seldovia Fishing