Kachemak Winter Kings!

Let's get something straight from the beginning. The king salmon that we generally refer to as "winter" kings are simply feeder kings that we target in the winter months. A feeder king is a salmon that is on it's four to five-year ocean run as it feeds and grows toward it's inevitable demise as a spawner in its natal river. Now there are many anglers who may target these fish year round in Kachemak Bay and that is because they are known for their high oil content and delicate flavor. Sometimes in the course of targeting the returning kings that are running up the Inlet toward the myriad of tributaries that drain into Cook Inlet, we are lucky enough to catch some of these feeders as they all chase the same bait fish. Many times when we are fishing for silver salmon in the middle of the Inlet, we will encounter a school of feeder kings and again, feel very fortunate.
Are winter kings white? Well, some of them are. I would guess that over the years, I could say that about ten percent of the feeder kings that I have caught have been white kings. These fish lack a gene that allows the secretion of an enzyme that assimilates carotene in their diet that makes their flesh orange or pink or red. Some people think these white kings might have a higher oil content, but side-by-side taste testing would reveal little or no difference in taste or texture.
Timing
There really is no best month to target king salmon, rather it is a function of convenience and when you have the time. I like building tides and the hour or two before and after the slack, high water in some places, and low water in others. Many think there is no better time to fish feeder kings than January. You are likely to encounter very little competition and in January, you really get the feel for "winter' king salmon fishing. Although I have seen anglers bundled in Carharts and fur hats fishing from open skiffs,  most serious winter fishermen have a good heater of some sort in an enclosed cabin. A bundle of hand warmers are good insurance just in case the heater malfunctions.
Techniques
Although it may be possible to catch feeder kings by mooching around the kelp beds, the preferred and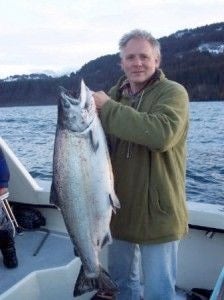 most effective method is by trolling with downriggers. A downrigger can be simply a two-pound ball attached to a quick-release mechanism, but you lose your weight every time you get a strike. There are many planers on the market that will take your bait and flasher to a depth, but not necessarily the particular depth that you desire. The best way to assure that you are fishing the target depth is to use a hand operated or electric downrigger. There are many brands and styles and every fisherman has an opinion of which one is best and why. It might be the very best one is the one that is available at your local garage sale. As you use your downrigger, you will decide on which is best for you. I buy mine from a local tackle shop, which assures that I will get treated well when it comes time for warranty work. In the case of the electric models, there will be warranty work.
Okay, we have a warm boat or we are bundled up and we are armed with downriggers, now, we need some fishing poles. Many downrigger rods are long, at least eight feet, and have good action. The rod needs to have some backbone, as tying into large halibut and the occasional salmon shark is always a possibility. On my boat, I have found a one-piece seven footer to be the best compromise. Every boat and fisherman will have a different idea of the ideal. Reels are generally of the level-wind variety with good anti-backlash devices (clickers). This helps deploying the gear quickly without getting the dreaded birds-nest in the reel. I use 25-pound test monofilament for main line and 40-leaders. Again, mainline and leader strengths can vary and there are good reasons for each individual's preference, but on average, these strengths will work well.
Tackle
Terminal tackle varies widely from season to season, month to month, and locale. Generally, bait herring works well almost anytime. The size of the bait can be very important, though. In the winter, I use the smaller "orange" size trays of herring, while most of the year I use the "red" size. In the spring, I will deploy some "green size to imitate the larger bait fish that are moving up the Bay and Inlet. I have seen bait size be the critical difference between catching and not. If you find there are others catching fish around you and you are not, try either another size of herring, a cut-plug, or an artificial that will imitate another size of bait.
On the subject of artificials, there are so many to choose from, and these vary from year to year, that you will just need to have a good variety and keep changing them up to find what is working the day you are fishing. Those of us that are out there a bunch tend to favor certain ones as we gain confidence in their effectiveness. Try different shapes and colors and don't be afraid to run a spoon with a flasher. I have seen two-inch spoons work when there are needlefish available as feed and also five-inch spoons work when hooligan and herring are around. One winter I noticed that the kings were feeding on small cod and deployed a six-inch J-plug and caught a king right away. Changing your gear is a great way to make sure there is not kelp or grass on your lures and that things are running true.
Something that has become a fun winter day activity for me is tying my own tube flies for trolling. There is no better imitation of the needlefish than these flies. I have tried some pretty fancy patterns, but have settled on a simple three to four-inch model with some flash, a red head, and some small eyes. I tie this in greens and blues and have even made a few purple ones. All have caught kings. There is a lot of satisfaction in catching a fish on a home-tied fly.
Leader length is a something that has been the subject of many discussions on the dock and each fisherman just has to tune this to his particular situation. I know one captain that does real well with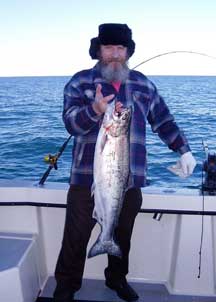 seven-foot long leaders. On my boat, we generally tie our leaders around 34-36 inches. This seems to tune the bait or lure to the flasher at the speed my boat averages. Every boat acts different and every helmsman steers differently. I take a lot of turns in my pattern. Most people agree that a speed through the water of 1.4 to 2.4 knots is a good speed to shoot for. This is not the GPS "over the ground" speed that your unit will read as speed. Rather, you will need to have a paddle-wheel meter on your boat to read "through the water" speed. Another way to judge your speed is to look at your wires as they travel through the water. If you are making more than 30 inches of bubbles down the wire, you may be going too fast.
Herring can be attached to a leader a number of ways and any one can be effective. It is best to get comfortable with one and perfect that method. I use the small hood with the little red peg that the leader threads onto, so that I am not always looking for a toothpick. The peg or toothpick is used to pin the herring head into the hood. I use various colors, but the clear and chartreuse are the most widely available. Probably the most common is the threaded herring, which you need a long needle to accomplish. You thread the needle through the vent of the herring and out the mouth and pull a loop tied in the leader through, placing the treble hook near the vent and then securing the leader to the mouth with a small metal clip. It is best to have someone show you this method and many swear it is the best. There are some hoods that clamp onto the head of the herring and these have fins on them that rotate the herring through the water. Some of these even have electronic chips mounted on them. We have all tried different methods and gadgets and we all have settled on what is effective and comfortable for us. You will have to do the same.
Flashers come in many shapes, sizes, and colors. The most classic is about eleven inches long and three inches wide and is a bit narrower on the leading edge than it is on the trailing edge. It is bent one way on the front and the other way on the back. This is what makes it roll. These have been imitated by many companies, so you just have to shop around and find the one that has the quality and price you can afford. I like the combo blue/green and the red striped ones the best, but I have every color available in my box. Probably my favorite flasher is white and  flat and has a diagonal rudder on it. It has a pearlescent tape on it that when it turns changes to many different pastel colors. This flasher has caught me more feeder kings than any other. I have this same pattern in several different colors, but the white is by far the most effective. Many times you will find that herring trolled without a flasher is what the king salmon prefer. We call this straight bait.
For the beginning troller, whether you are going to fish in Valdez, Seward, Whittier, Kodiak, or Homer, the best way to learn about fishing in an area is to take a charter. You may just find that you had such a good time fishing and not having to worry about driving and all the rest that this is the best way to enjoy winter fishing in Alaska. It can make a great weekend trip in the winter, but be prepared for the weather. Bring layers of warm clothing and if your captain says that the weather is just too lousy to go, respect that opinion. Try to plan two days in town, so that you might be able to get out the next day if the weather is bad on your planned charter day. In Homer, we can generally get out somewhere and get the gear in where there is a good chance to catch fish. This will not always be where your captain really wants to take you, but he will do his best to make the best of a marginal weather day. Be cognizant of the fact that just because the captain is a professional, this does not mean he has control over the weather or whether the fish bite or not. He will do his best for you with what mother nature has to offer that day. The captain will not be around long if he just doesn't care. Be understanding and you will enjoy your day on the water no matter how many fish you catch. Most captains will be happy to share some knowledge of this fishery.
Okay, you've decided to bring your boat to the nearest port that offers a chance at king salmon fishing in the winter and now you need to prepare. Make sure you have all the necessary safety equipment. The Coast Guard Auxiliary  offers courtesy inspections if you are unsure of what is needed. Be sure you have a working VHF radio and make contact with someone before leaving the harbor. In winter, there won't be a lot of traffic, so it is good to pay attention to who might be out that day. In most ports, there is one radio channel that most fishermen will listen to. In Homer, try VHF channel 69. Keep in mind that many fishermen tend to hold information dear, so do not expect every boat to be forthcoming with information. Just keep your eyes peeled for others netting fish and steer clear when they are fighting a fish. Crowding your neighbor is not a good way to encourage cooperation. Pay attention to the general pattern that most of the boats are using and fall into place, or just go off and prospect on your own.
No matter whether you decide to seek the services of a professional or just head out on your own, remember that fishing is more about getting out on the water and enjoying the company of your fellow anglers and what nature has to offer. Catching fish and taking meat home for the table is always a goal, but don't let a slow day of catching ruin a perfectly good day of fishing. Good luck and be safe.